Review and photos by Peter Coates.  
Check out more rockin' stuff from Peter right here… http://www.facebook.com/InsideEdgePhotography
There is nothing terribly original in what Finnish glam rockers Reckless Love offer up, but in a world of "Nobody's Got Talent" and the "XXXX Factor", and too many bland alt-folk bands filling up the airwaves, in a tight cramped sweaty venue like the Barfly, they generate so much energy, and so many smiles, that you can't help but get involved.
The first album caused a fair amount of noise in the melodic / glam rock world, with the echoes of Kiss, Def Leppard and early Van Halen, and their latest offering, 'Animal Attraction', has has extended their repertoire and allowed them to keep the set varied and lively, while they increasingly impress as great musicians who keep things tight and punchy, and provide the perfect backing to the antics of Olli Herman up front – part Vince Neil and part Dave Lee Roth…….but much younger than both.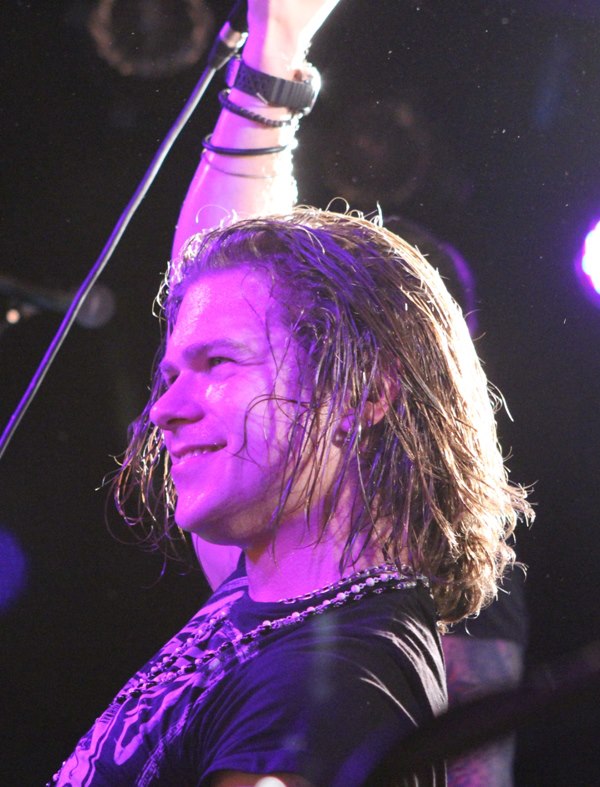 This was the second of four Thursdays at the Barfly, after a sell out night the week before and the evening kicked off with an excellent set from New Device, a band whose debut CD has been on repeat play on my iPod ever since.
Great songs, well played and produced and Dan and the boys really delivered the goods on a cramped stage with an early start.  "Make My Day" and "No One Does it Better" are catchy crowd-pleasers, making these guys one to watch.  Tight delivery, punchy hook-laden songs, and a charismatic front man really impressed.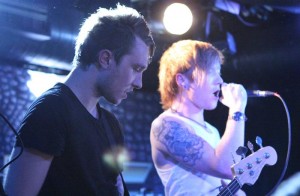 Mallory Knox were slightly outside the hard melodic rock genre, but have been generating lots of interest with a sound that sets them aside from the stereotypes – "Hello" opens the set, and is followed by "Resuscitate", both songs with tight, crushing riffs and Mikey's powerful soaring vocals, slightly reminiscent of Lost Prophets and Three Days Grace.
Despite being sick as a dog, Mikey delivered an excellent performance, with a really honest band keeping the energy high throughout – finishing off with the anthemic "Death Rattle".  Keep an eye on this lot.
The Reckless Love set list has seen a bit of a switch, and the boys hit the stage to kick off with "Feel My Heat", a pounding rocker with huge backing vocals, followed right along by "Wild Touch" and "Born to Rock" – with more gang-vocals and guitar-licks that hark back to the early Danger Danger albums, and have the definite melodic Scandi-rock seal of approval.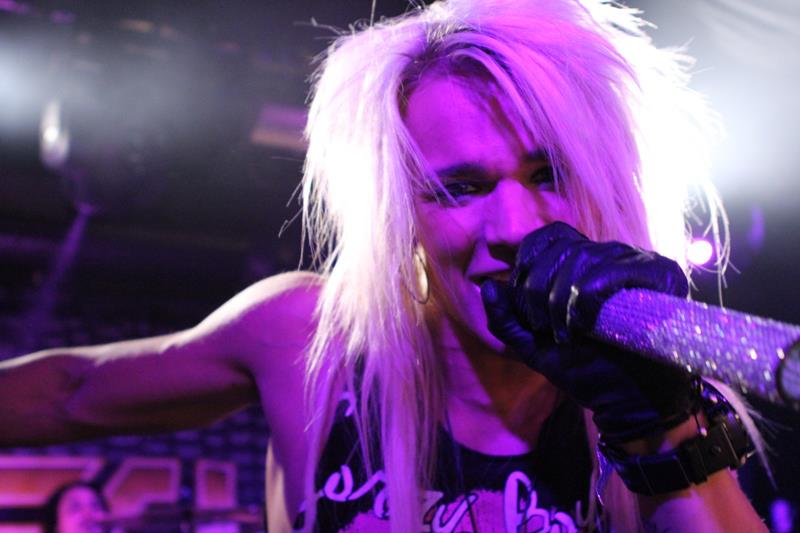 "Dirty Dreams" and "Hot" followed from the new album, and just kept the place pumping – Olli's shades came off, and the high-kicks threatened to decapitate bassist Jalle and the front row!
A creditable cover of "Hysteria" followed, which is not an easy one with no keyboards and only one guitarist, but they pulled it off.  The party anthems continued with my own favourites "Romance" and "Back to Paradise", before Matt from The Treatment joined the band for a cover of Queen's "Tie Your Mother Down".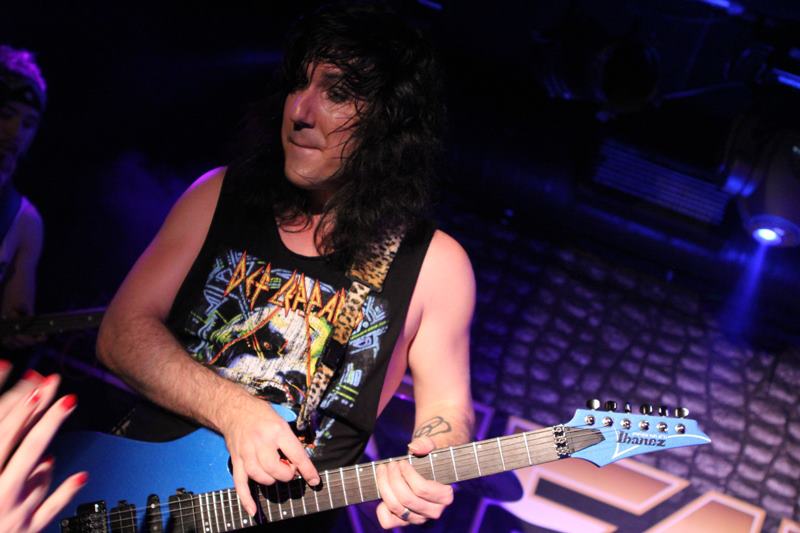 New set-closer "Animal Attraction" saw more classy guitar-work from Pepe, Olli's shirt coming off, and the irrepressible Hessu never stopped driving the beat from behind a kit that was bigger than the Barfly stage.  The boys snuck into the side-room to wait for enough persuasion to come back for a rip-roaring version of "One More Time".
Reckless Love are not trying to be clever, or cynical, they just love what they do, and the songs reflect that joy – they have enough variety to keep them interesting, and they are a fantastic party-rock band who deserve to be seen on bigger stages, in front of big crowds, to thrive on the smiles of thousands!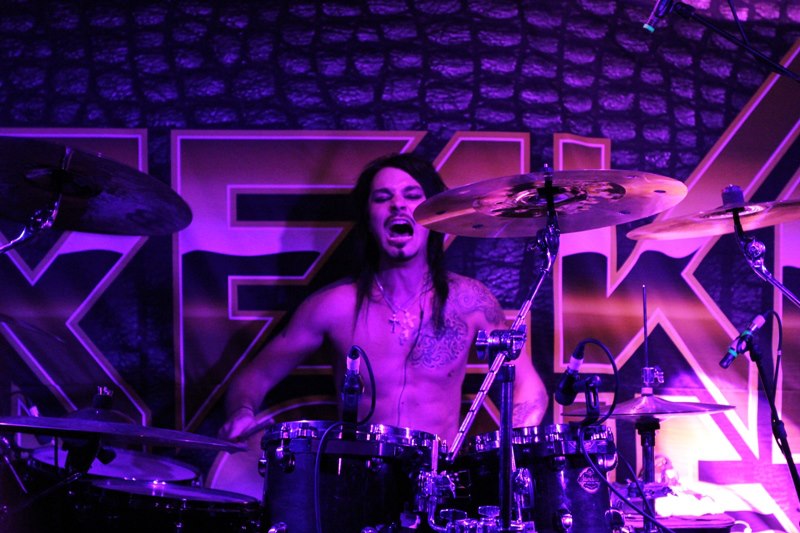 Essential Information
Check out more photos of Reckless Love…
Check out more photos of New Device…
Check out more photos of Mallory Knox…
Venue: Barfly, Camden, UK
Date: October 11 2012
Supports: Mallory Knox, New Device
Website: www.recklesslove.com