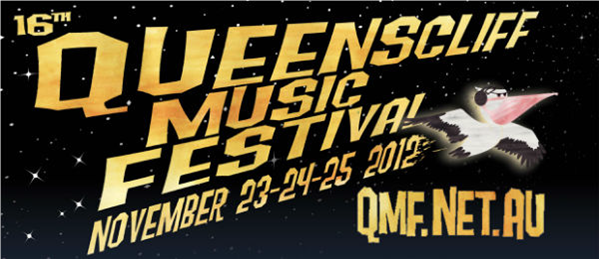 Photos: You can check out more photos of the live action right here….. http://lensofrock.photomerchant.net/galleries/queenscliff-music-festival
For 16 years now, the tranquil 1850's seaside settlement of Queenscliff in Victoria, Australia has been home to one of our premiere music festivals, the Queenscliff Music Festival.  Consistently assembling an amazing array of some of Australia's biggest acts as well as the finest up and coming talent year after year, 2012 proved to be no exception.  From blues, to electro pop, to dirty garage rock, folk, roots, funk, country, indigenous music and just straight up rock n' roll, there's something for everyone at a Queenscliff Music Festival, even the kids are catered for with Banana's In Pyjamas!
Opting instead to take in the scenery of the Great Ocean Road with a spot of horse riding and hiking on the Friday, I didn't catching the opening Friday night festivities which included the likes of Baby Animals, Ian Moss, The Cat Empire, The Beards, Jackson Firebird and Kingswood to name but a few.  But fear not, kicking off proceedings bright and early at 11am on Saturday was the Telstra Road To Discovery Semi-Final, recognised as one of the leading music development programs of its kind in Australia across a range of genres including blues and roots, folk, country and alt country.  Hosted by Ella Hooper of Killing Heidi fame, a highly talented bunch of performers from all over Australia delivered 1 song each, with the top 10 of the 18 performers being selected to go through to the final which will be held at Tamworth in January.  Maybe some of this years selected finalists such as James Sidebottom, Morgan Bain or Karin Paige could join past winners Morgan Evans, Jasmine Rae or Jessica Mauboy and forge ahead to establish for themselves successful musical careers?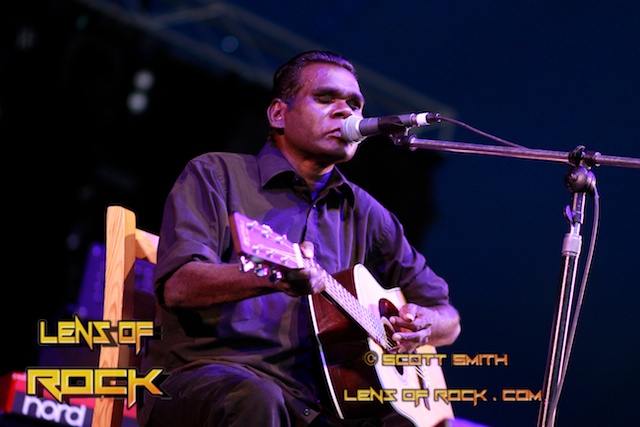 With 5 stages in the festival grounds, a blues train and 4 venues in the town of Queenscliff hosting around 160 performances across the weekend, it's no easy task choosing which acts to watch.  The opportunity to catch something different saw me venture to The Rip Stage to catch Yirrmal, who with an acoustic guitar and some occasional didgeridoo, performed a mixture of original songs, traditional songs from Arnhem Land and a cover or two such as My Island Home,  a song written by Neil Murray, but most commonly associated with Christine Anu.  Gurrumul, who was born blind, certainly was one of the most unique and captivating performers of the festival.  Playing to a completely packed main stage, his entrancing and captivating tenor like vocals, combined with gentle acoustic guitar, saw him deliver the songs that have connected with audiences not only in Australia, but around the world.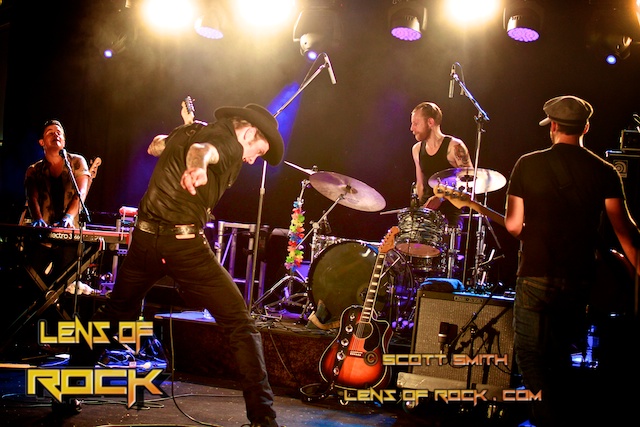 The band I was awaiting to see was Melbourne via New Zealand rockers King Cannons who I first saw supporting The Living End many, many months ago and have caught a few times since they released their debut album this year, The Brightest Light.  It must have been a rather different vibe for the band playing to an audience that was kicking back relaxing on the ground, rather than the toe tapping, booty shaking and hip shaking crowds of normal, but that's just the nature of the relaxed and respective nature of the crowds at QMF.  But by the end of their set, they certainly had more than just photographers up standing and rocking along.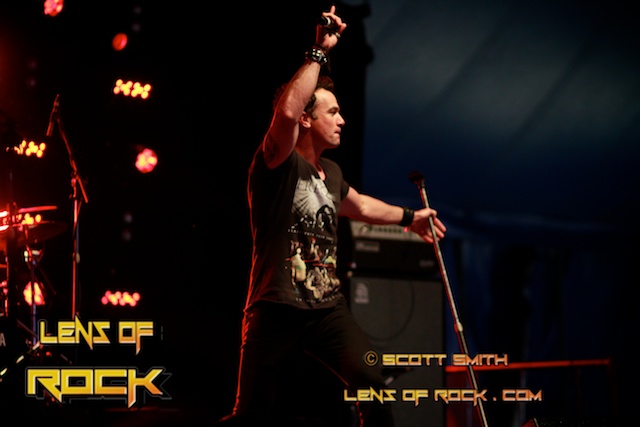 Curious to see some of Lisa Mitchell, given her set crossed over with King Cannons by the time I arrived at the main stage, it was well and truly packed, so all I could do was plonk down on the grass in the delightful summer sun and take in the last couple of songs of her singer/songwriter styled fare.  Melbourne indie rockers Kingswood are a band that's certainly been going from strength to strength and with 4 performances over the course of the festival, I'm sure they've walked away with many a new fan.  As far as those who have come through the Australian Idol channels, Shannon Noll has certainly been one of the more successful.  Playing to what was certainly one of the most hyperactive and vocal crowds, for over an hour Noll delivered an array of tracks from his four solo albums, as well as a few covers from the likes of Green Day, James Brown and Noiseworks, and of course, the song that started it all for him What About Me which as always, had an almost deafening crowd participation.  Seizing the opportunity, The Harlots on the nearby Rip Stage kicked off their set with a thankyou to Shannon Noll for supporting them!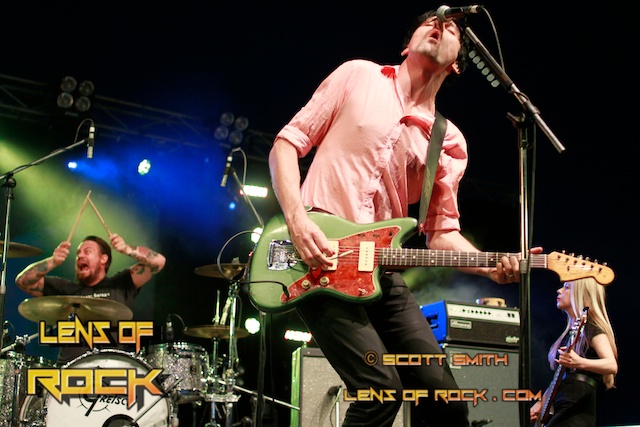 Kicking off the night time session on the main stage, Something For Kate may have been away from the scene for a while prior to releasing their new album Leave Your Soul To Science this year, but given the size of the crowd packing in the main stage, they certainly haven't been forgotten.  A smattering of new songs were thrown in amongst the still ever popular likes of Three Dimensions and Monsters.  With band mates Stephanie Ashworth and Clint Hyndman leaving the stage, Paul Dempsey delivered a rousing solo version of Born To Run from Bruce Springsteen taking out the title for both the best cover version of the festival and tallest performer – I think Dempsey even towers over You Am I's Tim Rogers.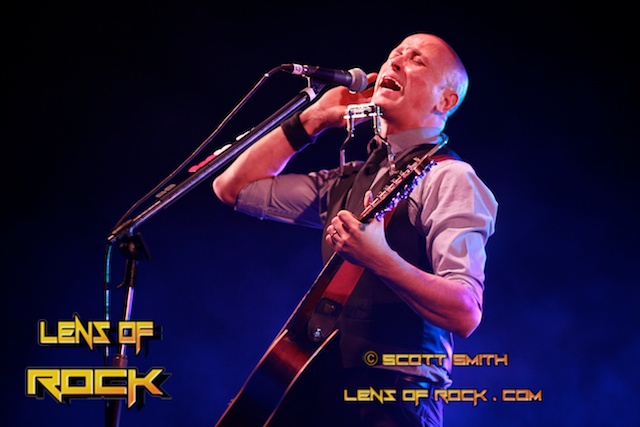 Diesel is sure an artist that has gone under a few different guises throughout his 20 odd years in Australian music, with tonight's set covering all of those.  Whilst songs from the Johnny Diesel & The Injectors such as Soul Revival and Don't Need Love are almost unrecognisable in their current arrangements, once the crowd knew what songs they were, the old memory banks kicked in encouraging some sing alongs.  Tracing his musical roots, we also got a few Muddy Waters covers throw into the set, which gave Diesel a chance to show off his array of guitars and prodigious guitar talents.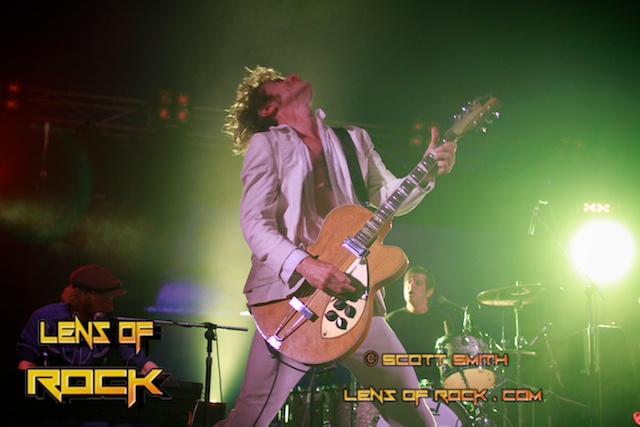 After the more restrained crowd during their earlier set, the 10pm timeslot for King Cannons was a bit more like it, with nobody sitting down and many a booty shaking to their rollicking rock songs….mine included!  Unfortunately due to one to many a' guitar solo from Diesel causing his set to go well over time, the King Cannons much to the chagrin of the crowd who were well and truly enjoying this mighty band, were forced to cut short their set.  But fear not, you will be hearing and seeing much, much more of this band in the time to come, don't worry….  You Am I are certainly one of the biggest names in Aussie rock and tonight they headlined the main stage with enigmatic frontman Tim Rogers not letting some amplifier problems get too much in the way of leading the band deliver a swaggering set of their finest, fuelled by whiskey, or was that just sweet tasting Queenscliff water?
I said that there was literally something for everyone over the course of the weekend and Sunday morning kicked off with a spot of busking outside with a glass ball juggling, sword swallowing and fire throwing performer who also quite painfully (at least to me) could twist and turn his body every which way – including getting himself through a tennis racket!  Remember that scene in Lethal Weapon where Riggs dislocates his shoulder to get out of the straight jacket?, well that same move was used for the tennis racket trick!  Much more family oriented entertainment, the first musical act of the morning was one for the kids with B1 and B2, Banana's In Pyjamas, yes that's right!  Not surprisingly there was a packed house of kiddies jiving along to their set!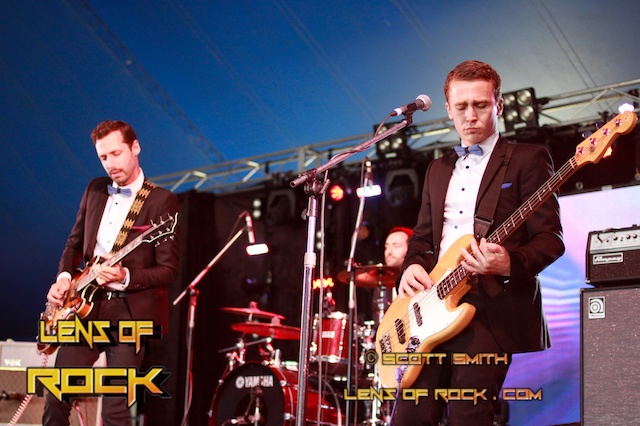 Best dressed band of the festival goes to Melbourne's All The Colours who in suits and ties, unveiled their quirky collection of rock songs that have understandably seen them draw comparisons to The Doors and something you are likely to hear on a Quentin Tarantino movie soundtrack.  I've heard the name Jordie Lane around the traps a fair bit, but had never seen or heard him previously.  His acoustic, country and folk tinged numbers were certainly obviously highly desired as the clocked ticket over into Sunday arvo as he certainly gathered the biggest crowd I personally witnessed at the Hippos Stage over the weekend.  With a dancing, jiving drummer, bongos a'plenty and songs about finding love over breakfast, you couldn't help but smile and be happy whilst watching the six guys and girls who are Keshie.  The electro, dreamy and dance pop of Owl Eyes wasn't something I would normally find myself listening to, but this was a weekend of experiencing a myriad of musical diversity and there was certainly something entrancing about their songs.  British India have seemingly been around for years, well it's really only about 6 years, and they certainly attracted a rapturous crowd up front eagerly awaiting their performance.  Starting off as a band with a heavier and punkier edge, we got a dose of older songs in their set, as well as their more recent stuff.  Facing a two hour drive home and wanting to quickly check out some of the venues and performances happening in the town such as the Vue Grand and Queenscliff Inn, the Sunday headliner Missy Higgins was sacrificed.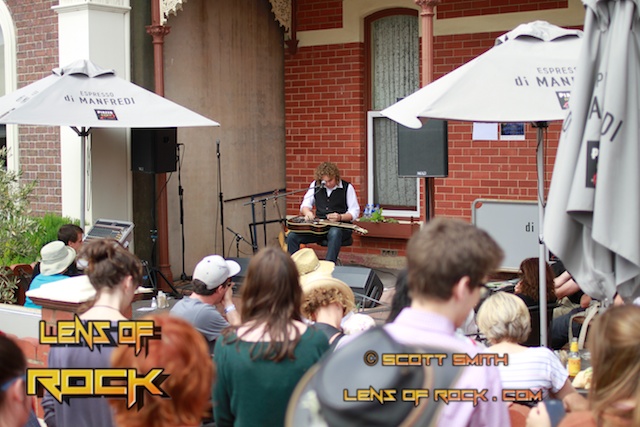 With a crowd of all ages, types and musical persuasions, the Queenscliff Music Festival is one of those prime examples where people from all walks of life and corners of the country are brought together by one of life's greatest pleasures – MUSIC.  Music performed by an amazing array of Australia's most talented performers who at a festival such as this, are essentially treated by the highly appreciate crowds as equals, regardless of the amount of ARIA nominations, records sold or gigs played.  2013 dates are already announced (Friday 22nd, Saturday 23rd and Sun 24th of November 2013), so mark them in your calendar and make the effort to experience a weekend of Australian music and maybe see one of Australia's next biggest things, just as I did about 8 years ago when I saw Xavier Rudd at the very, very beginnings of his rise….and maybe time will reveal another from this years lineup.
Essential Information 
Photos: You can check out more photos of the live action right here….. http://lensofrock.photomerchant.net/galleries/queenscliff-music-festival
Location: Queenscliff, Victoria, Australia
Best facial hair seen: The Beards, who else!
Band of the festival: Without question, King Cannons!
Best food award: Well I think it's gotta be a tie between the mushroom, pumpkin and fetta foldover and the $3 sausage sizzle which went down a treat at 11pm on Saturday night!
Hardest working: Definitely the Poo Crew!
Best t-shirt spotted being worn: John Farnham – Whispering Jack
Encores: None witness thank goodness!
Crowd behaviour: 10 outta 10, best festival crowd I've ever experienced here in Australia!
Website: www.qmf.net.au