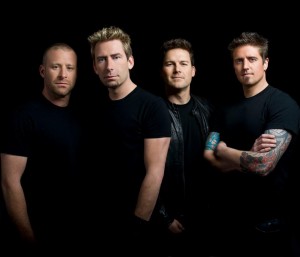 Here at MTRBWY, we are a Nickelback friendly zone and I personally do not understand the hatred towards the band. If they were so hated why would they be back playing arenas and here at the first of two nights in Sydney?  Oh yeah, they must be so awful, surely the 13,000 people here tonight feel that way too…  you get what I'm trying to say…
So, here they are returning to Australia on their 'Here and Now' tour, Nickelback have always put on one hell of a rock show and I guess that's part of their appeal. Where many these days play with no emotion or showmanship, Nickelback have in the past given you everything you, well, I want in a show, that being fire, pyro, heavy guitars and just a fun night of live music so let's see if that continues this time around.
Genuinely excited to be here, Jackson Firebird the duo from Mildura opened the show to a rousing set of applause. Their just dirty 'cock rockin' style truly suits the arena even though I thought it may have suffered after only seeing them previously in smaller venues where their sound was captured perfectly. After each song the applause got louder and that kinda makes me happy. Well done guys, this is a band you should check out live. Between the tub thumping (literally) and the frenzied guitars and drums, yeah, they're on to a good thing.
As I enjoy the preshow music which includes AC/DC, Dio, Def Leppard, GnR, Van Halen and Mötley Crüe, the crowd is starting to get restless. We're now ten minutes away from the show starting and I have a feeling they're going to go a little crazy when the lights go down…
Coming on to 'Walk' by Pantera, the band is dressed all in black and it's heavy from the start, and in almost like a statement the band launch in to new album opener 'This Means War' and it's on. No time is wasted in jumping straight in to 'Something In Your Mouth' with its ever so lovely lyrics that only Nickelback could get away with, but it's songs like this that just suit the live environment as the volume gets turned up to where it should be!
'Bottoms Up' sees Chad take on the guitar solo and man that cat can play. This is one kick ass party song. 'Photograph' had the entire crowd singing along and is an obvious favourite. It also seems any pyro or fire has been replaced by lighting this time around but it works. Oh and I'll never tire of wondering what the hell is on Joey's head? I must say that part of what I enjoy about this show is Chad's banter with the audience and the band, he is here to have fun and it shows.
Slowing it down further with ballad 'Far Away' bringing along its kick ass key change which as you know I'm a sucker for, only to bring it straight back up with an oldie in 'Too Bad' which was always a favourite of mine and kind of odd to think it's now over ten years old… but the jumping mosh seemed to not care one bit and it looks as if a number of fans here had been with Nickelback from the start too. The tempo stays up, and seriously and pardon the French but this fuckin' rocks with 'Animals' being the perfect next choice and this is so heavy. What I should mention is that these guys are so tight in this environment, for a four piece with occasional appearance from touring guitarist Rob, there is not one note out of place and that's testament to a great touring band.
'Trying Not To Love You' from 'Here and Now' is up next and live it is so much more rocked up and just became a stand out for me. It seemed the perfect time for another crowd sing along with 'Rockstar' followed by more witty banter and word inventing, and I'm of the opinion that 'neglective' is a word as the banter leads in to 'Someday' which was killer and even allowed Chad to throw 'neglective' in as a lyric which worked much to the amusement of both the crowd and band.
It's beer time!! In Nickelback tradition here goes the beer thrown in to the awaiting audience and the t-shirt cannons loaded up, hooray for crowd participation. Awww man I missed a shirt by a matter of centimetres… As the beer gets thrown and shirts go flying the band are at their heaviest belting through an instrumental of 'Side Of A Bullet' and 'Because Of You'.
Ryan takes to the piano and to a great reception for 'Lullaby' and a big ballad. 'This Afternoon' gets the crowd clapping and again in Nickelback mode with the fun lyrics you just take it for what it's for. Keeping it less heavy and from new album 'When We Stand Together' is met with a great reception and many hey hey yeah hey yeahs… "And the drum beat carries on…" literally, with the obligatory drum solo from Daniel Adair. I love a drum solo I really do. This was awesome, I'm glad that has stayed a part of their set.
'Figured You Out' just rocks, even with its lyrics it is what it is, even the band took turns singing which was great. As we draw close to the end of the evening of course we aren't going anywhere until they play 'How You Remind Me', the song that started it all and winner of the biggest reception of the hang on… "For handing you a heart worth breaking!!!" Sorry, I love that bit and was having a sing along… now what was I saying? oh yeah, winner for having the biggest reception of the night as you'd expect.
Encore time starts with 'Gotta Be Somebody' which really is such a good song, but to close the show with 'Burn It To The Ground' was perfect and to quote Chad "THIS is how Nickelback says goodnight." To an onslaught of heavy riffs and mayhem, everyone left as they came in, pumped up. Well I did, I'm just assuming the same for everyone else too even though the pyro and fire was missing this time around but I'm OK with that. Just.
Look, I get that Nickelback aren't everyone's cup of tea and that's fair enough. If you don't like them then continue to enjoy not listening to them and in all seriousness the 'haters' probably aren't reading this, but judging by tonight then I can guarantee that they'll be making music for many years to come and I'm sorry people may not dig that, but maybe one day you can get off the bandwagon and go and see Nickelback play a killer rock show. I know I'll be back as will the thousands here tonight…
Essential Information
Venue: Allphones Arena – Sydney
Date: November 24 2012
Supports: Jackson Firebird
Website: www.nickelback.com
Set List:
This Means War
Something In Your Mouth
Bottoms Up
Photograph
Far Away
Too Bad
Animals
Trying Not To Love You
Rockstar
Someday
Lullaby
This Afternoon
When We Stand Together
Drum Solo
Figured You Out
How You Remind Me
Gotta Be Somebody
Burn It To The Ground