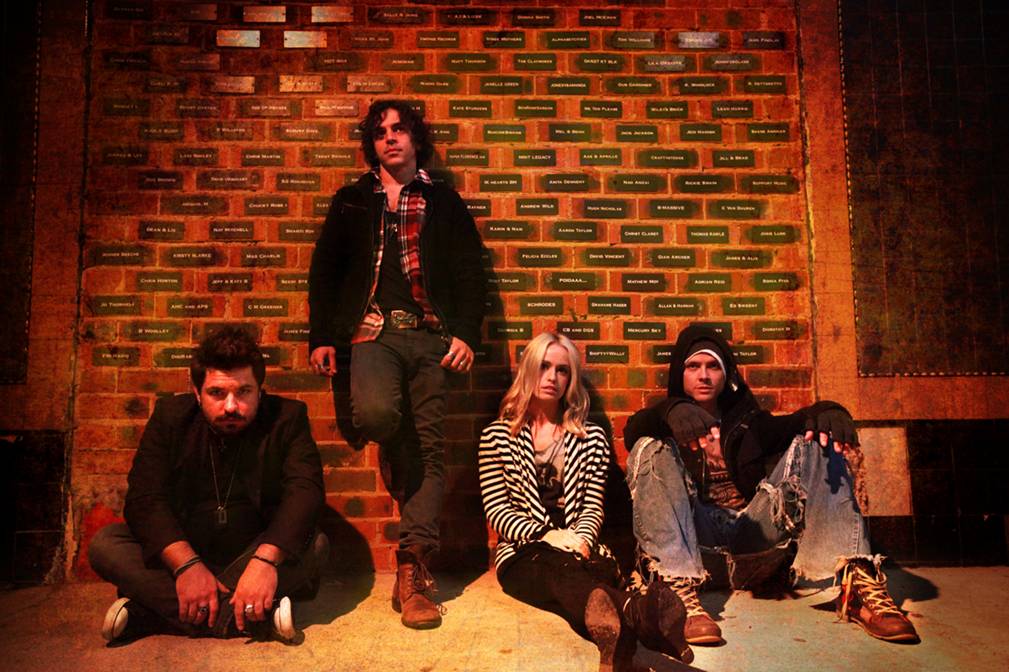 Nat Col & The Kings modus operandi from the get go was to express a bluesy, firey, powerful sonification of freedom without traditional constraints. Nathan Cavaleri, who overcame childhood leukemia to become a household name as a child guitar phenomenon had racked up appearances on CNN, Conan O'Brien, Entertainment Tonight and Good Morning America (among many others) before his tenth birthday.
By the time he first met his Nat Col & The Kings partner-in-crime, Col Hatchman, Nat had already performed at the White House, shared a stage with Etta James, Bonnie Rait, Steve Cropper, Dr John, Joe Lewis Walker; played a festival with Rod Stewart, Chuck Berry, REM, Page and Plant, Sheryl Crow and Elton John, and toured the USA and Australia with BB King. Jamming with Col, though, was a lightning strike moment.
Drummer Hatchman, after relocating from Sydney – where he was one of the most sought after drummers in town – to Newcastle and joining Ausrock legends Screaming Jets for a bunch of national tours (one supporting KISS) began to look for something more challenging and rewarding. He found it on Day One when he dragged his battered body into the jam room with Cavaleri. "There was something about Nathan's song writing that rang Big Ben bells. Our musical compatibility was nothing I have ever experienced before."
"Col rocked up with two black eyes, collapsed cheek bones, high on Panadeine Forte," laughs Nat. "From the moment he walked in with that big mischievous smile – which later I found landed him with the black eyes – I knew we were destined to play the world together."
Before connecting with Hatchman, the still-young Cavaleri had removed himself from the limelight, gotten a more down-to-earth gig as a bricky's labourer and was considering his next move when both jamming with Hatchman and an unexpected call from Deep Purple (guitarist Steve Morse asked him to jump on stage with them for a show on their 2010 Australian tour) reignited his guitar love, and facilitated a return to the stage.
Working up a bunch of songs and playing some "under the radar" shows, the duo enjoyed having "a revolving door of artists" filling out the rest of their live sound until they met bass player Kenny Jewell. "The revolving door was jammed shut by Kenny Jewell," says Nat. "This cheeky little f*ck walked into the room, picked up the bass and started jamming with a riff Col and I were smashing out. He played a one note bass line. His choice was to play one f*cking note! It was GOLD. We had to have him!"
While Nat Col & The Kings' first, eponymously-titled, EP garnered invitations to Byron Bay Blues Fest 2011 and saw them touring the east coast, playing the Indy, Apollo Bay Fest, Caxton Street Fest, Queenscliff Festival, Broadbeach Bluesfest and stacks more shows; the sophomore EP, Simple Things, debuted at No.1 on iTunes charts. Currently touring lead single, 'Coming Home' from EP number three, simply titled III, Nat Col & The Kings aren't interested in putting their flight cases into storage, opting instead to release the EP and kick on with their first run of tour dates.
III
Returning to The Grove to record III under the watchful eye of Josh Telford [Eskimo Joe, Katie Noonan & The Captains] was the only aspect of normalcy for a chronically-fatigued Cavaleri. "Chronic Fatigue Syndrome really f*cked with my head! It's like you've been slipped 10 valiums," he explains, though admitting the illness did create a welcome necessity: "It forced my overly stimulated brain to be in the moment. I didn't have enough energy to worry about tomorrow." Having to strike while the iron was hot – and Nat was upright – in terms of recording, meant the material was recorded fast and live with no interruptions, a process that proved surprisingly easy and incredibly rewarding. Emotion was captured in flux, resulting in real, true, music.
Recording 'Coming Home' was, as Col says, "a satisfying emotional release" given the song had been "bubbling" on the Nat Col backburner since the band's inception. The joy of finally getting it out of the hangar was captured in the accompanying clip, [featuring a dude in a monkey suit, who often appeared on stage during looser moments in the 'Coming Home' single tour] an experience the band claim "was awesome" as it allowed them to "mix with some inspiring, creative people" in the newer medium.
'Hush', built on a simple R'n'R groove that only rolls off the tracks when it goes around a bend, forced the band to push themselves, resulting in a lock-in where "a room full of faces went from expressions of focus, to glowing grins and laughs… like riding your first wave," says Nat. Big arse roomy drums, dirty bass and guitars, the crying organ and rock'n'roll girls – not to mention an hour rolling old train doors from the back of the Grove property to the live room, creating a wall of baffles around Col's kit – gave 'Hush' the punch they had dreamt about – whilst taking their frustrations out by smashing innocent golf balls into a nearby billabong.
In line with the frenetic energy harnessed in 'Hush' and 'Coming Home', 'When I'm Old' came like a hurricane as Nat struggled with a slap in the face from mortality. Incredibly, it wasn't his cancer brush that broke the song, but when his "soul was running hot" words and music flew out "like someone was feeding it to me. Like the track already existed." Stripping the instrumentation back to let the composition "breathe" Cavaleri admits he still "has trouble listening to it. It hits home too hard. [I'm] a little nervous about playing it live…" Col probably has the same nerves, given that the drummer bought his first mandolin – and learnt how to play it – in order to get the song ready for the road.
'Sunshine', the only live inclusion on the EP, was the release's happiest accident. Recorded and filmed as part of Nat Col & The Kings live "Clubhouse" sessions, on play back they were so blown away by what Col calls the "extendy-bendy-extra-stended" version that they couldn't bear not to use it on III. Of the sessions themselves, the drummer shows his true rock colours, saying, "I don't care what anyone says. It's always fun sweating out every last drop of energy in a smelly archway under a train line."
"'Sunshine'," laughs Nat, "is the song we can play on stage in 4 or 15 minutes. I always get a time check [before we play it live] so I know how long we can solo for."
With Nat Col & The Kings' studio, acoustic and live prowess deftly wrapped into their "third chapter" they've never been more amped about touring new material.
III is released via iTunes on Tuesday 23 October.
East Coast tour dates will be annocued for early next year, but first up, catch Nat Col & The Kings:
Tue Nov 6: Perth Blues Club, Charles Hotel, North Perth
Wed Nov 7: Indi Bar, Scarborough
Thu Nov 8: Prince of Wales Hotel, Bunbury
Fri Nov 9: Settlers Tavern, Margaret River
Sat Nov 10 – Sun Nov 11: Bridgetown Blues, Festival
Thu Dec 13: Wickham Park Hotel, Newcastle
Sat Dec 15: Festival Of The Sun, Port Macquarie
facebook.com/natcolandthekings