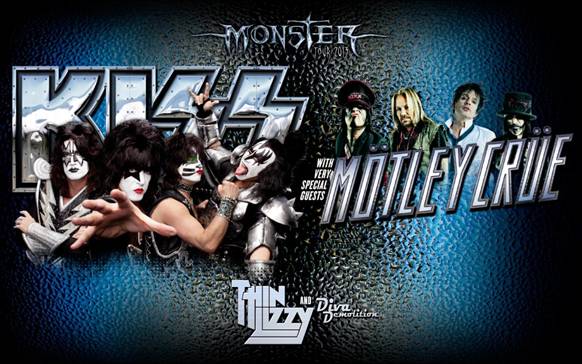 KISS and Mötley Crüe. On the same stage. On the same night.
It's the news Australian fans have been waiting for with the spectacle of all spectacles announced today, KISS with very special guests Mötley Crüe will tour Australia in March 2013.
Presented by McManus Entertainment, the summer's biggest, baddest rock tour will hit Sydney, Brisbane, Melbourne, Perth, Mackay and Adelaide with guests Irish rockers Thin Lizzy along for the ride (*except Adelaide).
KISS and Mötley Crüe's 45 show US summer tour has already gone down as one helluva rock'n'roll extravaganza and now, finally, its Australia's turn!
Not only has it been five long years since KISS last toured Australia, but 2013 marks a very special milestone for this great band – their 40th anniversary. In all their bombastic and unstoppable glory, KISS will perform fan favorites from their treasure-trove of hits along with tracks from their just–released 20th studio album 'Monster', which debuted at #7 on the ARIA Charts. Gene Simmons and Paul Stanley, with longtime members guitarist Tommy Thayer and drummer Eric Singer, are at the top of their game on 'Monster', which embodies all that is KISS and the music that first inspired them to pick up their guitars and flame-throwers and don makeup to entertain millions.
Mötley Crüe last toured here last year, but let's face it, we can't get enough of the Crue! They've recently become the first rock band in history to play an epic sold-out Las Vegas residency at The Joint at Hard Rock Hotel & Casino. The band is best known for continuing to reinvent not only their live show (with mind blowing elements such as Tommy Lee's 360 drum roller coaster) and music (brand new song "SEX" out now), but remain on the cutting edge via social media interaction. Mötley Crüe's New York Times bestselling book The Dirt is currently being adapted into a major motion picture.
With combined album sales of almost 200 million, KISS and Mötley Crüe are more than just iconic; they remain at the height of their popularity, the dominant powerhouses of rock music tallying 30+ chart-topping hits, countless sold out tours and awards and accolades from around the world. Known for their elaborate and spectacular stage shows, each band plans to give fans the ultimate concert experience with the most impressive lighting and sound production ever and their signature over-the-top pyrotechnics.
And if that wasn't enough, classic Irish rockers Thin Lizzy will be back in town with the line-up that has been winning over fans and critics alike for the past two years. Along with Scott Gorham, Brian Downey and Darren Wharton, the additions of vocalist Ricky Warwick, guitarist Damon Johnson and Bass player Marco Mendoza, Thin Lizzy have been re-introducing their music to a whole new generation of fans to overwhelming success and now it's Australia's turn.
Brisbane up-and-comers Diva Demolition have won the highly-prized local support act spot and will open all shows on the tour.
About KISS 
KISS remains one of the most influential bands in the history of rock and roll. Having already broken box office records set by The Beatles and Elvis, KISS have more than 28 U.S. gold albums, the most for any American rock band, with 40 million sales in the U.S. and a total exceeding 100 million worldwide. Most recently the band announced the December release of "The Casablanca Singles 1974-1982", a box set consisting of the band's 29 singles on the legendary Casablanca label which began their career.  The KISS legacy continues to grow, generation after generation. The unparalleled devotion and loyalty of the KISS Army to the "Hottest Band in the World" is a striking testament to the band's unbreakable bond with its fans. KISS remains unparalleled as the juggernaut of them all, with 3,000 licensed merchandise products, including the KISS golf course in Las Vegas.
About Mötley Crüe 
Hailing from Los Angeles, CA, the quartet – Vince Neil (vocals), Mick Mars (guitars), Nikki Sixx (bass) and Tommy Lee (drums) – has commandeered the rock pantheon for over 30 years. The Crüe's bragging rights comprise worldwide album sales exceeding 80 million, seven platinum or multi-platinum albums, 22 Top 40 mainstream rock hits, six Top 20 pop singles, a star on the Hollywood Walk of Fame, three Grammy nominations for Best Hard Rock Performance, a New York Times bestselling memoir and countless sold out gigs across the globe, playing to millions of fans.   After three decades of decadence Mötley Crüe maintains its iron will, capturing new fans and influencing musicians across multiple generations. The group recently invaded Las Vegas with the city's first ever hard rock residency, "Mötley Crüe in Sin City" leaving the loud impression that what happens in Vegas can be heard around the world.
About Thin Lizzy 
Led by the incomparable Phil Lynott, the fiery Dublin band influenced generations of musicians with classic tracks such as 'Jailbreak', 'The Boys Are Back In Town', and 'Don't Believe A Word'. Twenty six years have passed since Lynott's untimely death, but the amazing body of work that is Thin Lizzy still retains all of its vibrancy.   A new lineup formed to take Thin Lizzy's music to a new generation of fans. Led by alumni Scott Gorham (guitar), Brian Downey (drums) and Darren Wharton (keyboards), all of whom played with Lynott in Thin Lizzy, and with Damon Johnston (guitar), Marco Mendoza (bass) and Ricky Warwick (lead vocals/guitar), this stellar line-up has been racking up the road miles since announcing this line-up in 2010.  Last month the band announced that after a lot of soul-searching and out of respect for Lynott, they would not release a new album under the Thin Lizzy name, and would also retire it from live performance next year.
About Diva Demolition 
Singer, songwriter and bass player Kylie Cowling and guitarist Sheree Newton head up Brisbane rockers Diva Demolition who will open all shows on the Australian tour. The band who morphed from Adelaide all-girl trio Legless, has just recorded their debut album with producer Craig Porteils for release in 2013, which while showcasing their exuberant Aussie rock, also fixes one firm eye on the international market.
For VIP packages, including opportunities to meet KISS and Mötley Crüe, please visit www.themonstertour.com.  Package tickets go on sale at 2pm November 14 via Official premium ticket & packages partner www.showbiz.com.au.
To be the first to purchase regular tickets become a'Friend of McManus' via this website. The McManus VIP pre sale will start this Friday (Nov 16) at 9am.
Tickets for the general public will be on sale via Ticketmaster and Ticketek on November 22.
Tickets starting from $99 plus fees.
Rock'n'roll doesn't get any bigger than this!
AUSTRALIAN TOUR  DATES:
Thursday February 28    
PERTH ARENA
Bookings through ticketek.com.au & 132 849 
Sunday March 3      
CLIPSAL 500, ADELAIDE
Currently on sale through ticketek.com.au & 132 849
* KISS and Motley Crue only
Tuesday March 5
ETIHAD STADIUM (Intimate Arena Mode), MELBOURNE
Bookings through ticketmaster.com.au & 136 100
Saturday March 9  
ALL PHONES ARENA, SYDNEY
Bookings through ticketek.com.au & 132 849
Tuesday March 12     
BRISBANE ENTERTAINMENT CENTRE
Bookings through ticketek.com.au & 132 849 
Saturday March 16     
VIRGIN AUSTRALIA STADIUM, MACKAY
Bookings through ticketmaster.com.au &136 100
For VIP packages, including opportunities to meet KISS and Mötley Crüe, please visit
Official Premium ticket & Packages Partner www.showbiz.com.au.
TICKETS ON SALE THURSDAY NOVEMBER 22