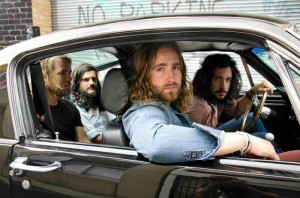 PRESENTED BY STREET PRESS AUSTRALIA & FASTER LOUDER
KINGSWOOD HIT THE ROAD WITH NEW SINGLE 'SHE'S MY BABY'
They kicked arse in the triple j unearthed Splendour in the Grass competition and got down and dirty in the fields of Byron Bay alongside Jack White, Bloc Party, The Smashing Pumpkins and At The Drive In.
First they gave you the thunderous rock track 'Yeah Go Die' and the Now, Melbourne's indie rock four-piece KINGSWOOD present 'She's My Baby'.
Hard-edged uncompromising rock recorded by Cam Trewin at Woodstock Studios (Melbourne) and mastered by Brian Lucey (The Black Keys); 'She's My Baby' is set for release 1st November with a super-wild B-Side titled 'Wolf'.
KINGSWOOD are about to get right back to the one thing they love most, playing hard hitting sweaty live performances. Taking in shows around the country in their own right as well as joining The Living End, The Saints and British India, before winding up the year with a huge blow out at Pyramid Rock Festival.
TOUR DATES:
2nd November – The Espy, St Kilda VIC
6th November – Ding Dong Lounge, Melbourne VIC
10th November – FReeZA, Beechworth VIC
23rd November – The Corner Hotel, Richmond VIC – Supporting The Saints
23rd November – The Rip Stage, Queenscliff Music Festival VIC
24th  November – The Rip Stage, Queenscliff Music Festival VIC
24th November – Pelican Bar, Queenscliff Music Festival VIC
25th November – After Party, Queenscliff Music Festival
29th November – Prince of Wales, Bunbury WA – Supporting British India
30th November – Metropolis, Fremantle WA – Supporting British India
1st December – The Capitol, Perth WA – Supporting British India
14th December – Goodgod Small Club, Sydney NSW
15th December – Rock Lily, Sydney NSW
16th December – The Corner Hotel, Richmond VIC – Supporting The Living End
21st December – Cherry Bar, Melbourne VIC
30th December – Pyramid Rock Festival, Philip Island VIC
31st December – Front Bar, The Espy, St Kilda – VIC
Tickets available at all the usual outlets