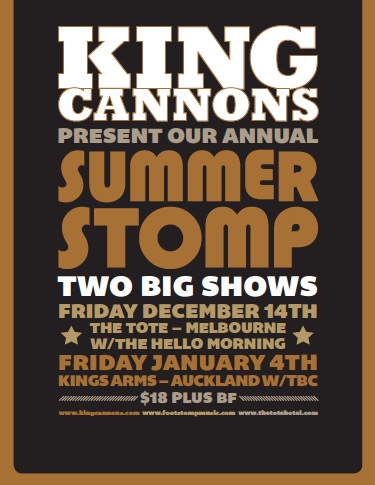 KING CANNONS have two hometowns.
The 6 piece rock n rollers started their life as a band in Auckland before making the jump over the Tasman to base themselves in Melbourne town.   Both cities have made huge contributions to what has shaped KING CANNONS and the band have decided to choose the start of each summer for annual celebrations.
KING CANNONS released their critically acclaimed debut album "The Brightest Light" in mid 2012 in Australia, New Zealand, Germany, Holland, Austria and Switzerland.  They have played shows in all of those countries and Australian Big Day Out and support slots with The Living End and Shihad.
KING CANNONS are not a band that you can expect to fit into the traditional 2 year release, tour, release cycles.  Only months since the release of their debut, they are already in the studio tracking new tunes because they are the best songs that they have written.
Both summer stomps see KING CANNONS choosing their favourite new bands as support and they will be playing extra long sets including a catalogue of tunes old and new.
KING CANNONS SUMMER STOMPS
FRIDAY DECEMBER 14TH – THE TOTE – MELBOURNE W/THE HELLO MORNING
FRIDAY JANUARY 4TH – KINGS ARMS – AUCKLAND
TICKETS – www.kingcannons.com