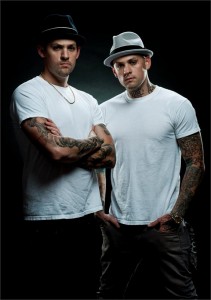 Multiple Grammy Award winner and two-time ARIA Award winner Keith Urban will kick off his sold out The Story So Far Tour this January. Chugg Entertainment and Nine Live are happy to confirm the news that US rockers, The Madden Brothers will open all shows, except the final Brisbane performance, where Australian chanteuse, Washington, will warm the stage.
Coaches on the smash hit Australian debut of The Voice, Urban and Joel Madden sparked a friendship early in 2012 based on their shared love of music of all kinds. Performing on stage with twin brother and Good Charlotte co-member, Benji, these shows will be audiences first ever time to see the famed brothers present their newly created live format with a brand new band. Currently writing and recording in their new LA studio, creating a brand new sound, The Madden Brothers will be bringing audiences a dynamic set including new tracks from their upcoming album, as well as some Good Charlotte classics and a few selected covers. Joined by their newly formed live backing band, this is set to be something not to be missed.
Joining Keith Urban for the Brisbane show on Sunday 27 January, is 2-time ARIA Award winner, Platinum album seller and APRA Breakthrough Songwriter, Megan Washington. As well as these many accolades, Washington has also been named the inaugural Vanda & Young Songwriter of The Year. The full depth and breadth of Washington's talent however was best signified in the release of the critically acclaimed 'Insomnia' EP and associated live show. Where most artists would have pursued obvious commercial routes, 'Insomnia' presented a darker, more intimate side to Megan's writing. Comfortable as a mentor on The Voice, as she is performing songs from 'Insomnia' with members of the ACO – Washington is the real deal.
These shows have been completely sold out for some time, but with the possibility of new seats being released, fans that missed out are advised to stay tuned for more details.
KEITH URBAN: THE STORY SO FAR tour dates:
Friday 25 January Entertainment Centre, Brisbane – with special guests The Madden Brothers
Saturday 26 January Entertainment Centre, Brisbane – with special guests The Madden Brothers
Sunday 27 January Entertainment Centre, Brisbane – with special guest Washington
Wednesday 30 January Allphones Arena, Sydney – with special guests The Madden Brothers
Thursday 31 January Allphones Arena, Sydney – with special guests The Madden Brothers
Saturday 2 February Rod Laver Arena, Melbourne – with special guests The Madden Brothers
Sunday 3 February Rod Laver Arena, Melbourne – with special guests The Madden Brothers
www.keithurban.net
www.chuggentertainment.com
www.theinsoundfromwayout.com