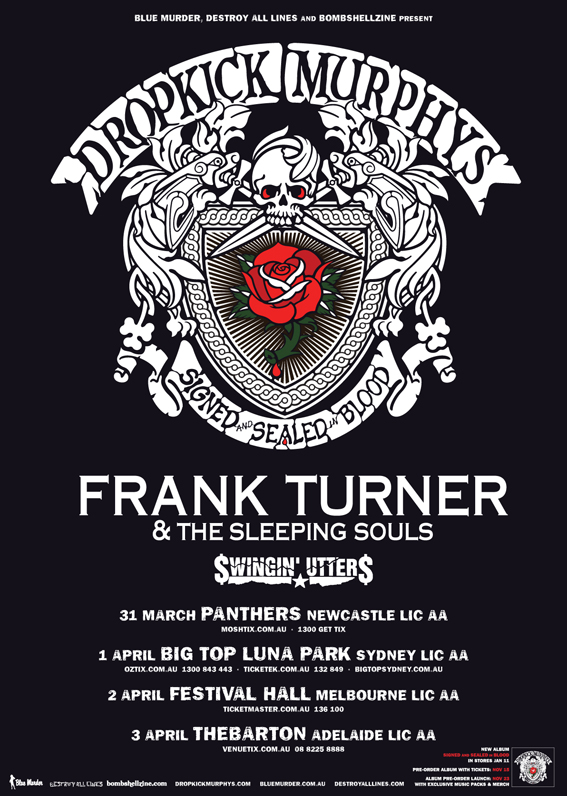 ---
Already revealed to be representing the folk punk genre on the epic  2013 Byron Bay Bluesfest lineup, Dropkick Murphys and Frank Turner And The Sleeping Souls will team up and take to the road next March/April, bringing with them Californian punks, Swingin' Utters.
Dropkick Murphys will come out swinging on the back of their new album SIGNED and SEALED in BLOOD, due out via Dew Process on January 11, 2013. The album, said to resemble the 'last 30 seconds of a Stanley Cup hockey game: frenetic and dangerous', is the band's eighth-full length effort and sees the seven-piece totally on top of their game as songwriters and performers. Australia is already familiar with their raucous live presence; a stage swarming with sweat and swagger. Dropkicks have an enviable reputation for delivering a live show that can satisfy fans of any age and predilection. Everyone from old school skate punx to those more recently recruited by the foot stomping Celtic anthems ofGoing Out In Style can emerge from a Dropkick Murphys show with an irrepressible smile.
From the other side of the pond, Britain's Frank Turner will deliver a revitalised performance after bunkering down in the studio for a good portion of 2012, recording his yet-to-be-titled fifth album. It'll be a triumphant resurfacing for the much loved Winchester lad, whose highlight of 2012 must surely have been performing at the London  Olympic Games Opening Ceremony celebrations in front of a massive worldwide audience. Or perhaps his most impressive feat for the year is finding the time to unveil a new hardcore side project, Mongol Horde, who debuted at Reading and Leeds Festivals this year.
Finally, embarking on their first ever trip to Australia is Fat Wreck Chords punksSwingin' Utters, who reformed from a seven year hiatus in 2010 to create one of their finest albums to date, Here, Under Protest. Thankfully they returned to the studio once more this year to incubate a new collection of melodic punk gems, destined to ignite the hearts and loins of skate punk fans upon release in early 2012.
---
New Dropkick Murphys album SIGNED and SEALED in BLOOD in stores January 11th
Worldwide pre-orders (with exclusive music and merch) are available atdropkickmurphys.com from November 23