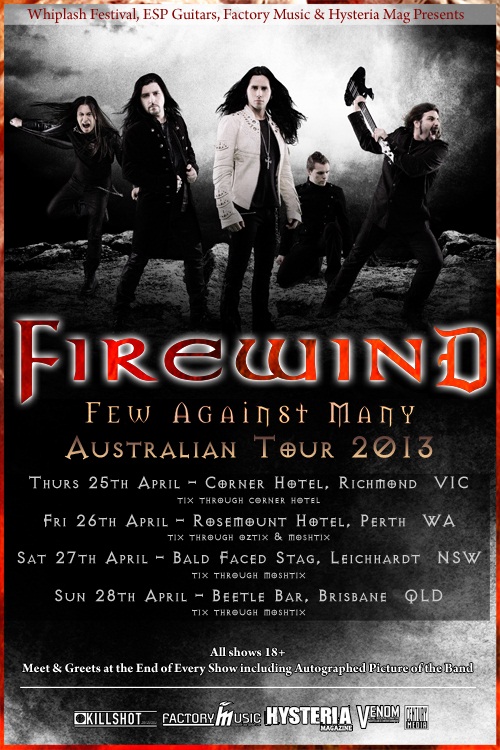 Whiplash Festival, ESP Guitars, Hysteria Mag & Factory Music presents…
FIREWIND – FEW AGAINST MANY OZ TOUR
Feat. Ozzy Osbourne Guitarist Gus G
It's been a busy few months for FIREWIND and their talismanic leader, guitarist Gus G. ever since releasing their highly anticipated and heaviest album to date; "Few Against Many."
With a subsequent world tour under their belts (as well as Gus' arena-filled tour of the world as Ozzy Osbourne's right hand man), the band headed straight back into the studio to begin work on what would become the band's latest, and heaviest, album "Few Against Many".
Workaholic doesn't even come close to describing Ozzy Osbourne's right hand man and Metal Hammer Golden God winning shred technician. In fact it was on the road when Arch Enemy needed a temporary tour guitarist at their 2005 Ozzfest appearance which first caught the eye of the Osbourne camp. Leading to his invitation to audition for the guitar role in Ozzy's band and eventual first performance with the band at 'Blizzcon 2009', where he ripped through Ozzy classics such as 'Crazy Train', 'Mr Crowley' and 'Bark At The Moon' with aplomb. This subsequently lead up to Gus playing on Ozzy's "Scream" record and touring the world not only as Ozzy's new guitarist but also releasing his own band, FIREWIND's acclaimed "Days Of Defiance" album in 2010, and hitting stages across the globe.
The "Days Of Defiance" tour took FIREWIND across the world again, including appearances at Hellfest, Sonisphere UK, Graspop and Basinfirefest, plus tours of Japan, U.S.A., Canada and Europe.
Not interested in taking any time off to rest, FIREWIND directly followed up on the touring and the inspiration gained on the road by working on fresh song material for a next studio album effort.
"Few Against Many" marks a clear next highlighting step forward in the band's stellar career and showcases 10 extremely versatile and entertaining new songs, which amalgamate the undeniable musical chops of all the involved players with truly effective and always catchy song-writing, featuring of all the band's trademarks: From the furious 'Wall Of Sound' (the album's first single) opening, the epic 'Losing My Mind', the strong album's title track as well as the infectious 'Glorious' and the atmospheric 'Edge Of A Dream', which features a special guest appearance from Finnish cello-masters Apocalyptica, "Few Against Many" is a monster of an album waiting to be unleashed upon the Metal masses.
All the while FIREWIND has traversed many musical boundaries they still had not taken their musical tapestry downunder.
April 2013 will see FIREWIND land on Australian soil in late April in support of their current release "FEW AGAINST MANY."
FIREWIND – FEW AGAINST MANY OZ TOUR Dates :
THURS 25TH APRIL – CORNER HOTEL, RICHMOND VIC
Tix thru Corner Hotel
FRI 26TH APRIL – ROSEMOUNT HOTEL, PERTH WA
Tix thru Oztix & Moshtix
SAT 27TH APRIL – BALD FACED STAG, LEICHHARDT NSW
Tix thru Moshtix
SUN 28TH APRIL – BEETLE BAR, BRISBANE QLD
Tix thru Moshtix
EARLY BIRD TIX GO ON SALE ON THE 15TH NOVEMBER $30 + BF
All show are 18+.
Meet & Greet plus signed autograph at the end of each show.
Sponsors : ESP, Hysteria Mag, Factory Music, Venom Nightclub, Killshot PR, & Century Media.