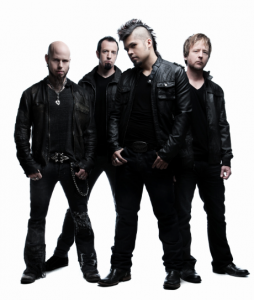 Noisecreep premieres 'Saturday Night,' the  first song from Drowning Pool's upcoming album to be released this winter on Eleven Seven Music.  "The question I am most often asked is 'What's life on tour like?' This song is my best description of a typical day on the road," Drowning Pool bassist Stevie Benton tells Noisecreep about "Saturday Night."
Drowning Pool announced this summer that fellow Texan Jasen Moreno is their new lead singer. In an exclusive interview in the September 2012 issue of Guitar World magazine, guitarist C.J. Pierce explains, "Jasen came up in the same Dallas scene as us… We brought him in to sing, and he nailed it."
Moreno said, "I am extremely happy and very grateful to be a part of the Drowning Pool family. Everyone's been so welcoming, especially the fans. I can't praise them enough. They've made me feel right at home. This first run of live shows couldn't have gone any better!"
Pierce adds, "It's been a pleasure working with Jasen. He's everything we hoped for in a singer and he jumped right in, stepped up to the plate and got straight to work. Jasen has brought not only a new voice but a new fire to the Drowning Pool sound and we can't wait to share the new music with everyone."
Drowning Pool turned the world into believers with their breakthrough single "Bodies" in 2001. Ten years, four singers and four albums later, they're giving fans a new reason to believe.  "Feel Like I Do," the lead single from their self-titled fourth studio release [Eleven Seven Music], became the band's biggest radio hit to date, reaching No. 2 at Active Rock Radio, and remaining in the Top 5 for 12-weeks.  With 2009's "37 Stitches" off of Full Circle reaching #4 at Active Rock and "Feel Like I Do," the band had 2 consecutive Top 5 Active Rock smashes and cemented their place as one of the top hard rock acts today. The band's sophomore album, Desensitized with second singer Jason Jones spawned a Top 10 hit with "Step Up." Recent successes have paved the way for unique opportunities such as presenting the Lane Evans Mental Health Care Reform to then-senator Barack Obama on Capitol Hill, performing for our troops all over the world and partnering with organizations like The Wounded Warrior Project and the G.I. Film Festival.
Drowning Pool's fifth album and their first with Moreno is due out early 2013. The band teamed up with producer Kato Khandwalla at House of Loud Studios in New Jersey earlier this year, and will be finishing the album in Dallas.
Drowning pool is C.J. Pierce – guitar/ vocals, Stevie Benton – bass/vocals, Mike Luce – drums/vocals and Jasen Moreno/vocals.
Official Site: drowningpool.com
Facebook: facebook.com/drowningpool
Twitter: twitter.com/drowningpool
YouTube: youtube.com/artist/drowningpool
MySpace: http://us.myspace.com/drowningpool