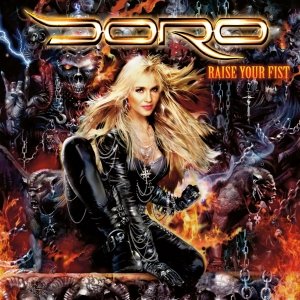 The undisputed queen of metal, Doro, marks her arrival on new record label Nuclear Blast with the release of new album, Raise Your Fist, which sees her close in on nearly 20 album releases in around 30 years, whether that be as Warlock or Doro.
Title track Raise Your Fist can be best described as a fist-pumping anthem, basically, I would have been disappointed if it wasn't given the songtitle!  If you dig something like All We Are by Warlock and the Scorpions, then you will dig this one.  Coldhearted Lover is a straight out rock number, whilst Rock Till Death is a massive arena anthem that I'm sure will catapult itself into an immediate fan favourite on Doro's upcoming world tour shows.
There are a few quieter moments throughout the album, the duet It Still Hurts with Motorhead's Lemmy and Engel a soaring ballad sung entirely in German.  Take No Prisoner does just that, with it's full blown metal assault and on Grab The Bull By The Horns, Ozzy Osbourne and Firewind guitarist Gus G contributes some guitar wizardry.  Revenge sees Doro at her most venomous with riffs that nearly head into speed metal territory. Victory takes on a dark and more menacing tone and closing track Hero sees Doro deliver a touching tribute to Ronnie James Dio, a heartfelt way to end the album.
It's been well over 3 years since Doro's last studio release Fear No Evil and Raise Your Fist has well and truly been worth the wait, a classic album from one of heavy metals most essential artists.
Essential Information
For fans of: Doro, Warlock, Heavy Metal!
Release date: October 19th, 2012
Record label: Nuclear Blast/Riot! Entertainment
Website: www.doro.de
Track listing
1            Raise Your Fist In The Air
2            Coldhearted Lover
3            Rock Till Death
4            It Still Hurts feat. Lemmy
5            Take No Prisoner
6            Grab The Bull (Last Man Standing) feat. Gus G
7            Engel
8            Freiheit (Human Rights)
9            Little Headbanger (Nackenbrecher)
10            Revenge
11            Free My Heart
12            Victory
13            Hero