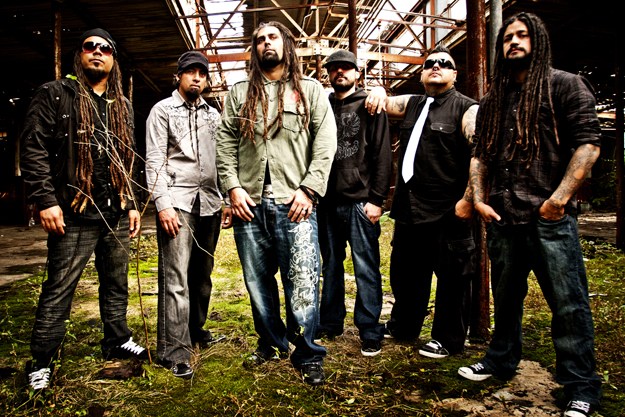 "We started with fifteen songs, got rid of four and then got rid of five and kept ten songs, we have the ten strongest tracks on the album, we didn't want any B-sides so to speak for the record, just the best ten songs you know?"
For nearly fifteen years now, Ill Nino has gained a loyal and dedicated fan base while creating their own unique style of Latin-influenced, aggressive metal. They have just released their sixth full length album titled Epidema and it's a monster. Utilizing bilingual vocals, Latin/tribal rhythms and powerful melodies, this Epidemia is bound to spread worldwide.
We chatted to Ill Nino drummer Dave Chavarri about 'Epidemia' as well as touring and some great news for Australian fans… just a heads up keep early / mid 2013 free…
So, 'Epidemia' has just been released, for those that haven't heard it, give us 5 words that you think sum up the album perfectly.
Five words… Energetic, tribal, heavy, memorable and original.
What's the meaning behind the title?
'Epidemia' to us is epidemic in Spanish and 'Epidemia' to us is just all the different beliefs and different races and backgrounds and what's going to happen in December 21 2012 at the end the Mayan calendar, the planets are supposed to be lining up.  Our singer wanted to write the views of ten different people on how they view the end of the Earth or the end of the planet, this feeling, believers, non-believers, people with faith and people without faith.  If you read the lyrics of the tracks on the records it's about ten different people being believers and non-believers.
Was there a specific concept you were going for song wise?
Well that is the concept, when we started talking about 'Epidemia' and talking about all the religious groups with a lot of people saying it's a hoax, a lot of people saying it's not, so we wrote in different views, one is a priest, a construction worker, a homeless person, a crack head, prostitute, just different views of different people you know?
There is a major tribal element to this new album, what was the idea behind exploring this sound?
On this record we tried to explore the different Latin rhythms we haven't explored in the past and not be so busy.  In the past we've done layering of seven or eight Latin percussion instruments and on this record we kind of stripped it down and wanted to get back to the basics of Latin percussion and how the marriage between drums and Latin percussion lays between the rest of the instruments.
How has this transposed to the live show?
Yeah we play two songs so far and it's going well, they're perceived really, really well.  So far so good, the new record is just very energetic and it's just so similar in attitude and writing style to our debut 'Revolution Revolucion' And 'Confession' and we're very proud of it being released and we came out with the exact record we wanted to come out with and wanted to write and so far so good.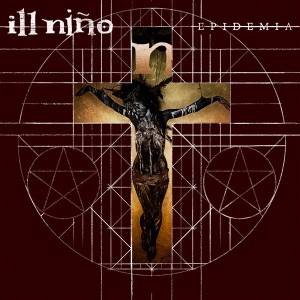 Did you have any preconceived ideas heading in to making this album to try and make it different previous releases?
No, we just basically got together in New Jersey first and threw out some riffs and then got together and recorded and did the pre-production and if you noticed but on previous records we had eleven, twelve, thirteen songs but we have ten songs on the record and we wanted to cut the fat.  We started with fifteen songs, got rid of four and then got rid of five and kept ten songs, we have the ten strongest tracks on the album, we didn't want any B-sides so to speak for the record, just the best ten songs you know?
So there will be no other songs floating around anywhere after that?
No, we didn't even record them, we didn't want to record them.  They just weren't up to par of the other songs.
Using bilingual lyrics in the songs is not really the norm across the board, were you in any way nervous trying to in essence change it up a little?
No, this is my second language.  My wife's Australian and my daughter was born in Australia and she's half Australian half Peruvian, half Spanish which I have her talk Spanish and to me there is no nervousness because it's normal to me.  Especially the way we talk to each other in America there's a lot of Spanish people.  I've seen some crazy stuff, I've played Australia and I've had people sing the Spanish lyrics in Australia, I've seen it happen in Russia, I've seen in happen in China, in Japan and it's pretty crazy, people mouthing and singing the Spanish, it's like how the fuck do they know what we're singing?  It's really cool, actually mind blowing.
You've been a part of the Victory family now for 2 albums, what is it about this label that works for you?
I really have a lot of respect for Tony from Victory, he definitely knows what's he's doing with the label and how he treats his label and he knows what kind of plans to put behind a band and he's got a great personnel . Labels these days are a ghost town, everything's outsourced, you have the one person that answers the phones and the one person that does the marketing, but how can one person do the internet marketing, interviews, press, radio when you have fifteen to eighteen bands on a roster, obviously something is going to fall through the cracks and you're not going to be taken care of you know what I mean?  With a label like Victory he's got like twenty something people working for him, the label is fully staffed.  You've got a video department, a marketing department, every department that you need to help your band become a success.
Touring wise, you were here last year for Soundwave but when can we expect to see you back in Australia?
Yeah we're actually in the process of booking a tour for Australia at the end of April, first couple of weeks of May, we'll be coming back and we'll be co-headlining with a band who are great friends of ours, I really can't say who that is until it's all done and blah blah blah but it's going to be a kick ass tour and we're looking forward to coming back without a doubt.
With the festival crowds, how is that experience for you over here?
Soundwave is fuckin' amazing you know. I'm very good friends with AJ the promoter from Soundwave, he's awesome and we had a kick ass time, we were slotted between Dimmu Borgir and Slayer… it's a tough slot but we pulled it off and had fuckin' great crowds and great response and we've been coming to Australia since 2006 when we did a co-headline with Static-X and then came back for soundwave and now coming back two years later.  We always have great turn outs and great response in Australia.  I think actually 'Dead New World' exceeded our last record 'Enigma' which is very unlikely these days with all the illegal downloading but I think it outdid the record by ten or twelve percent and hope it's the same for this one.
Do you have a cool memory of Australia you can share with us?
Oh man, musically or personally?  I hate to be biased, the birth of my daughter, like I said, my wife is Australian and we met in Australia, we were married a year and half later and now my daughter is two years and eight months old, and the birth of my daughter was actually in the Gold Coast in Australia and that was probably the best day of my life, so that's the best memory of Australia I will ever have (laughs).
As the member who has been with the band from day one, are you at a point now where the band is the perfect cohesive unit you need it to be?
I mean the original members of the band are me, Cristian the singer and bass player Laz but I mean Danny has been an integral part of the band since 'Confession' as our percussionist Daniel and our guitar player Ahrue used to be in Machine Head at the same time, so to me they feel like the original members and to me Diego is definitely a soul part of the band also, we're a very close knit and we don't have any issues, we're just really fuckin' crazy.  The band's been together for thirteen years and it's an odd situation because the first three or four years we used to argue a lot and bicker a lot as people were unhappy with this or unhappy with that but everyone is an adult now and this is our business and we treat it as our business, we enjoy what we do.  We are very thankful, I am very thankful, I wake up every day and I'm super thankful that I'm able to bring music to the masses and be able to live out my passion so to speak.
Lastly do you have a message for your Australian fans?
Man, we fuckin' love Australia and we thank Australia for always having our back, probably the most loyal fan base in the world and we just can't wait to see you guys in the middle of next year.  We'll rock the fuck out!
Well I can't wait to check out the new stuff live, it's going to be great.
Awesome brother, thank you, I hope to see you there, make sure you pop up and say hello to us.
Essential Information
From: New Jersey, USA
Band members: Cristian Machado – lead vocals, Dave Chavarri – drums, Lazaro Pina – bass, Ahrue Luster – lead guitar, Daniel Couto – percussion, Diego Verduzco – rhythm guitar
Website: http://www.illnino.com
Latest release: Epidemia (Victory Records / Riot! Entertainment)