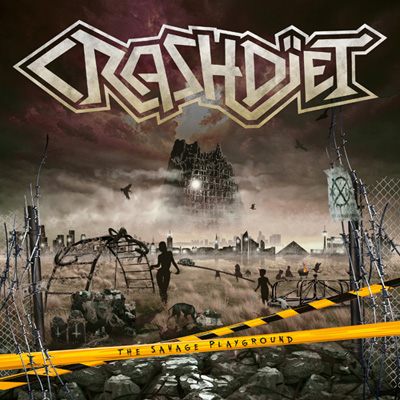 Press release: With the "The Savage Playground" recorded during summer/autumn 2012 at Kingside Studios outside Stockholm with producer Otto Wellton, the band has their minds set to break through on a worldwide basis with a tour that will see the band going back to the U.S. as well as going to Japan for the first time.
"We will put a lot of effort into the U.S. for our new tour," continues Sweet. "We will start in Scandinavia in February, Then we head to the U.S. and Canada. Coming back end of April to do U.K. and then Europe and Japan will follow with festivals in the summer and then South America to kick off in the autumn."
The new album sees CRASHDÏET going in a heavier direction. "'The Savage Playground' is our playground, it's the beginning and the end, it's the place where we eat and breed," says Sweet. "We thought the time was right for us to do a edgier and not-so-polished-sounding album, kinda like what we sound like live.  It's more organic and rough-sounding. And, of course, we're always evolving as musicians and like to try new ways of expressing ourselves, and that can most definitely be heard this album."
Out January 22 (Worldwide) and January 25 (Scandinavia).
"The Savage Playground" track listing: 
01. Change The World
02. Cocaine Cowboys
03. Anarchy
04. California
05. Lickin' Dog
06. Circus
07. Sin City
08. Got A Reason
09. Drinkin' Without You
10. Snakes In Paradise
11. Damaged Kid
12. Excited
13. Garden Of Babylon
And here's a sample of the first single "Cocaine Cowboys" (out on iTunes & Spotify December 14) – Cocaine Cowboys (SoundCloud Sample)