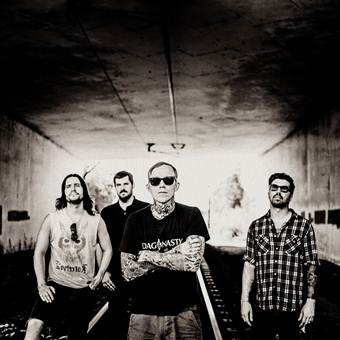 CONVERGE UPS THE ANTE WITH BEST NEW MUSIC
All We Love We Leave Behind Receives Acclaimed Reviews from Press
Heavy music's most established and innovative band, Converge will return to Australia in February 2013.
Considered one of the most intense, important, and influential metal/hardcore bands of all time, the band's latest album "All We Love We Leave Behind " is the most integral album to date in a catalogue that's celebrated to an almost religious degree by countless fans of punk, metal and hardcore.
Credited with giving rise to a genre and influencing countless bands all over the world, Converge have always been the type of band that never fit into one subculture, creating a sound that is entirely their own.  The band attribute that to the fact that since their 2001 landmark album Jane Doe, they haven't had any member changes and maintain the unwavering individualism and uncompromising artistic vision they had when they formed over 21 years ago.
What The Critics Are Saying About All We Love We Leave Behind:
"As such, there's never a dull moment across AWLWLB's 38 minutes. It's all peaks." – Pitchfork (8.6/10)
"…there are enough tortured screams and catastrophic riffs strewn about this LP's 38 minutes to carry fans another three years, until the boys conceive their next multi coloured, limited-edition musical apocalypse." – Spin (8/10)
"Like the seven studio albums that preceded it, "All We Love We Leave Behind"  occupies the unruly intersection of metal, punk and progressive music, weeding out the weaknesses the band perceives in each genre and saving the good stuff for its rigorously constructed songs." – Chicago Tribune – (4.5/5)
"Final question, does Converge bring something new to the table? Oh yes my friends, they do." – Crave Online (8.5/10) 
"… need one more reason to believe that Converge is capable of churning out quality song collections until the apocalypse and beyond? There's an All We Love We Leave Behind for that." – Lambgoat.com (8/10)
"As daring as it is confident and poignant in its execution, this album captures both the Converge we know and love and a Converge we're not quite accustomed to – leaving us with an album arguably as striking and challenging as anything the band has done before." – Absolute Punk (9.3/10)
"Still, this is a monumental release…but moments on this record set a precedent for this decade just as "Jane Doe" did in the 2000s. Quite an achievement for anyone, let alone Converge."  – Ultimate – Guitar (8.3/10)
'All We Love We Leave Behind is liable to have the hardcore world rocking a big, collective, shit-eating grin'. – Themusic.com.au
'All We Love We Leave Behind is undeniable, it's assertive…it is simply Converge'. – Kill Your Stereo
'Converge really are a band like no other. Continuously on the fringe of two worlds, they have yet again produced another record that flirts with both camps, yet broad enough to attract members from both'. – Tone Deaf
'Truly magnificent' – No Heroes Magazine (5/5)
'All We Leave Behind is another sterling addition to this four-piece's already impeccable catalogue. Despite lasting only 38 minutes, this album will have a shelf life of decades. Rest assured that it will be largely touted as one of the best of the year'. – Stack Magazine (4/5)
'One of metal's most anticipated releases, Converge's latest is a chaotic barrage of riffs, blast beats and screams. Mixing elements of punk, grindcore, hardcore and death metal, All We Love We Leave Behind isn't for the faint hearted and is brutally intense throughout.'- HEAVY Magazine (4.5/5)
 "Converge are simply untouchable" – Blunt Magazine (5/5)
Joining them on the dates will be US supergroup Old Man Gloom. Tickets go on sale November 9.
Converge Australian Tour February 2013
with special guests Old Man Gloom
February 12 – Amplifier, Perth
Tickets from Oztix outlets and oztix.com.au
February 13 – Fowlers, Adelaide Lic / AA
Tickets from Clarity Records, Moshtix outlets, moshtix.com.au and Venue Tix
February 15 – Billboard, Melbourne
Tickets from billboardthevenue.com.au, Ticketek, Oztix and Moshtix outlets
February 16 – Manning Bar, Sydney
Tickets from www.manningbar.com and Oztix outlets.
February 17 – Hi Fi, Brisbane
Tickets from www.thehifi.com.au, tel 1300-THEHIFI (8434434) and Moshtix outlets.
Tickets go on sale November 9.
www.convergecult.com
www.resistrecords.com
www.epitaph.com
www.facebook.com/converge