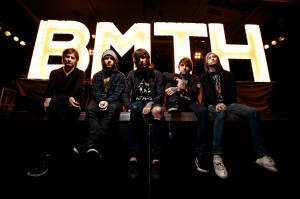 BRING ME THE HORIZON are redefining modern metal as we know it.
It's not often scene kids, screamo fans and metal-heads can agree on a band, but after their explosive rise in popularity, BRING ME THE HORIZON have cemented themselves as the dominant force in the scene. Nowhere was this more evident than when they exploded on to the Australian charts debuting at No.1 with their latest album 'There Is A Hell Believe Me I've Seen It, There Is A Heaven Let's Keep It A Secret'. "It's an album that bursts with ambition, and that Bring Me The Horizon pull it off so powerfully further confirms their greatness". – Kerrang!
With their brand new album, 'Sempiternal' to be released in time for their Soundwave appearances, BRING ME THE HORIZON will also be tearing Sydney and Melbourne a new one as part of their Sidewave shows.
Joining this killer bill is PIERCE THE VEIL. Whether they're screaming their hearts out or gently bearing their souls proves PIERCE THE VEIL are seemingly still one step ahead of everyone else when it comes to concocting energetic slices of post-hardcore.
PIERCE THE VEIL have reinvented themselves on their latest album 'Collide with the Sky'. It amalgamates the finest moments of both previous releases (A Flair for the Dramatic-'07 & Selfish Machines-'10) to create an adventurous masterpiece. "Collide with the Sky oozes with a creativeness most bands spend entire careers trying to harness…and they have crafted an arsenal of songs that would make most veteran bands question their musical endeavors." – Property of Zack
TICKETS ON SALE THURSDAY 6 DECEMBER, 9AM
TUESDAY 26 FEBRUARY
SYDNEY, THE HI-FI – Licensed All Ages
www.thehifi.com.au
THURSDAY 28 FEBRUARY
MELBOURNE, BILLBOARD – 2 shows – Under 18 afternoon / 18+ Evening
www.oztix.com.au, Oztix outlets / www.ticketek.com.au / www.moshtix.com.au