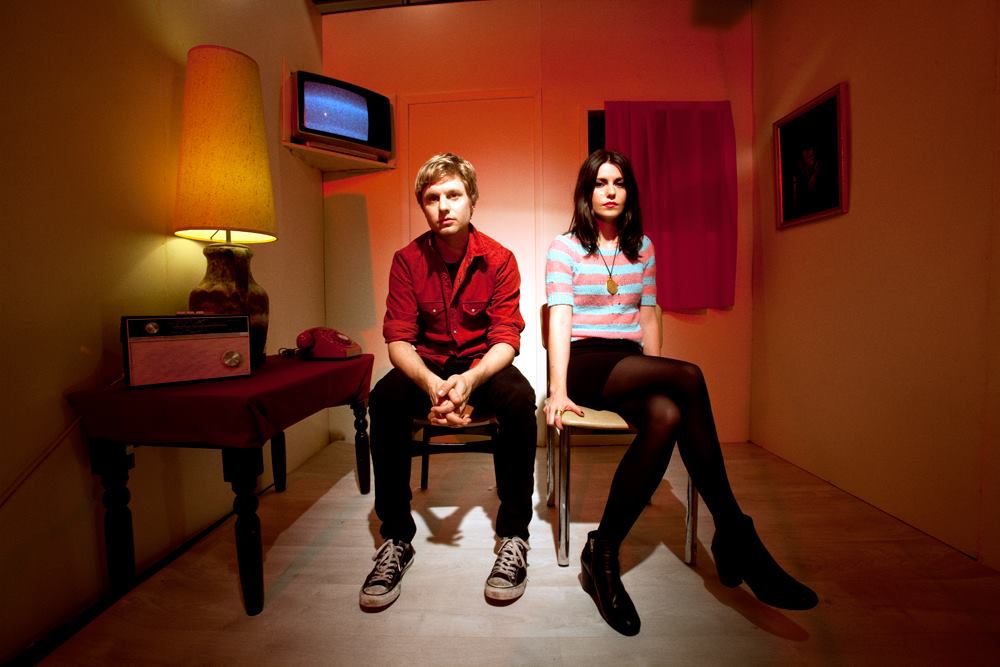 Official tour press release: "Brighton-based duo Blood Red Shoes (Laura-Mary Carter and Steven Ansell) have announced they will be making their first trip to Australian shores in 2012, playing two headline shows as well as at this year's Pyramid Rock Festival at Phillip Island in Victoria and Peat's Ridge Festival at Glenworth Valley in NSW. Blood Red Shoes released their third album, 'In Time to Voices', in July this year.
The new album was recorded at The Motor Museum in Liverpool with producer Mike Crossey (Arctic Monkeys/Foals/Tribes) who has partnered with them on the production side since their debut album Box of Secrets in 2008.
Their live show is certainly not to be missed, as Steven emphasizes that anything can happen when Blood Red Shoes goes on tour: "From getting arrested after spending a night drinking in a biker den, Laura fighting bouncers…twice, to the two of us breaking up onstage or having a giant fight in Prague and me getting found in the street robbed by two prostitutes. Oh and there was the time where we were invited to a hotel demolition party in Paris where we broke into Keith Richard's room and totalled it…"
Blood Red Shoes three-dimensional new sound encapsulates heavy rock as much as it does as sweeping, melancholy soundscapes and classic songwriting drawn from the likes of Black Sabbath, Fleetwood Mac, Led Zeppelin and The Rolling Stones."
Steven Ansell checks in with us whilst out on the road in snowy Europe, where they've been playing with The Gaslight Anthem and now doing their own run of headline shows… 
Thanks for taking the time to chat with us about your upcoming Australian shows! It's the first visit for Blood Red Shoes to Australia, assuming this is also your first personal visit to Australia, what are you anticipating the most from either a musical or personal point of view?
Well we've heard really good things about Aussie crowds, all the bands we know who've been over said that people are well up for it and a lot of fun. so we're hoping that's true.  I guess it could be dangerous going into it with these kind of expectations, but fuck it, I have a good feeling about it.
Here in Australia you have appearances at Pyramid Rock and Peats Ridge Festivals, in addition to a few of your own headline shows. As far as performing live, how do enjoy these quite different scenarios?
Yeah we enjoy all of them.  I think the festivals especially will be great for us, especially in a new country because there are always so many people there who wouldn't come to your headline shows, who'll just check us out and hopefully we can convert them into Blood Red Shoes fans.  That sense of a challenge and the chance to get to new people is always exciting.
Being your first time Australian audiences have had the opportunity to see you perform, how would you describe what we can expect from your live show?
They should expect a fast, loud, energetic rock band.  We have no tricks, no extra musicians or backing tracks, no lighting or special effects…just two people rocking the fuck out.  We play songs from across all 3 of our records, mostly just the singles – we like to get people by the throat in the first song, and not let go until the end.  There won't be any slow jams where everyone gets bored and goes to the bar put it like that.
You are currently touring through the snowy depths of Europe, playing with one of our favourite bands The Gaslight Anthem, as well as your headline shows. How have those shows been going so far?
Yeah they've been great. The Gaslight Anthem have been really fun to tour with and we've definitely made some good friends right there.  We've literally just finished the run with them and now we're into our own headline shows which was a little bit of a shock since we're now playing double the length sets we were a week previously! It's cool not to have to drop loads of songs though.
You also recently ventured to the USA, is this a territory already somewhat familiar with Blood Red Shoes, or would you perhaps liken it to Australia where the opportunity awaits to really establish your presence?
Yeah with this 3rd record we really felt like it was time to push our way into some new places…USA and Australia being two places high on the list.  We've done 2 tours in the USA now and the momentum seems to be really going which is great, we had a fuck load more people show up on the 2nd tour than the 1st one and that's a great start.  It does seem like people over there are familiar with all 3 of our albums which is pretty incredible considering we've done so little there until very very recently.  We'll see how well people know us in Australia in a couple of months won't we!
Earlier this year, you released your third album 'In Time To Voices' – how have the fans seemed to respond to this album, from all that you've seen and heard as you tour around the world in support of it?
Actually I think it confused a few people, which is great.  Some people really didn't see it coming that we'd do something more experimental and have slower and more sombre moments on there.  We like to fuck with people, and fuck with ourselves, so that was great.  In terms of the live shows, we've been playing some of the biggest shows we've ever done in most parts of Europe and people seem to react really well to the songs from In Time To Voices, so it's a nice feeling, even tho I'm well aware we lost certain people along the way who I think expected us just to keep making fast punk-inspired songs all the time.
How many new songs have you now slotted into your setlist, and how do you feel they work in amongst older material?
They fit in just fine.  I mean, they sound more similar to our older songs when they're in the live set because we can't recreate all of the layers we did on the record, so they're just stripped down to the raw rock n roll version of the songs. We're playing 5 or 6 of the new songs most nights, depending how long the set is.
Thinking back to the writing and recording process for that album, what are a few of the most vivid and perhaps random memories when you look back now?
I just remember going completely insane writing it. It totally fucked with our heads and we really did ourselves in, probably over-thinking and setting too high expectations of ourselves as if we were going to create a masterpiece every day we walked into our practice space.  I remember really well when we wrote Lost Kids because it was bang in the middle of the London riots.
We've picked out a couple of our favoured songs from the album, share your comments and thoughts on each:
Cold – this is probably the archetypal Blood Red Shoes song if you ask me.  It's got a heavy rock sound to it, with loads of vocal hooks everywhere and we tried to structure it in a way where you get surprised by what happens next and not an obvious verse-chorus-verse formula.
The Silence And The Drones – this was the song that when we finished it, we realized we wanted to explore more sombre, dynamic, filmic atmospheres on the album.  It kinda opened a door for us when approaching the rest of the songs and it's my favourite song on the album.
Je me perds – this is the most fun to play live.  It was literally a 1 minute drunk punk rock jam we had and luckily we had a laptop rolling recording our whole practice, so we kept it EXACTLY as is and just re-recorded it in a proper studio.
What or who would you consider to be the greatest influences on the music of Blood Red Shoes?
The only way I could even begin to answer that is by saying something general like punk rock.  That's our first love, not just musically, but the attitude, the approach of punk rock is something that's inspired us and continues to inspire us now more than ever when you see how much superficial bullshit is going on around us.
So looking forward, what lies ahead as the key priorities in 2013?
Well…we're gonna take the whole year off from touring in UK and the rest of Europe, except for one London show.  If we tour anywhere, it'll be USA, South America and Australia again if we get asked back.  We have some plans for releases though, I can't say too much right now, but we have 2 different releases in the pipeline for early 2013 and in the meantime we'll be continuing writing songs and thinking about a 4th album.
Essential Information
From: Brighton, UK
Band members: Laura-Mary Carter, Steven Ansell
Website: www.bloodredshoes.co.uk
Latest release: In Time To Voices (2012)
Tour dates:
PEATS RIDGE FESTIVAL
Sunday 30 December
Glenworth Valley, Australia
PYRAMID ROCK FESTIVAL
29 December to 31 December
Phillip Island, Victoria
www.thepyramidrockfestival.com
MELBOURNE
Thursday 3 January
The Hi Fi
www.chuggentertainment.com
SYDNEY
Friday 4 January
The Hi Fi
www.chuggentertainment.com