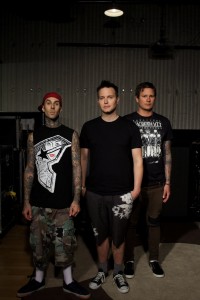 It took 3 minutes for BLINK 182 to completely sellout their Melbourne show at the Myer Music Bowl. Brisbane fans were not far behind in the expediency with which tickets were feverishly snapped up.
The Blink army has spoken, so Melbourne fans have a second and definitely final show at the Myer Music Bowl on Wednesday 27 February. Brisbane fans now have an extra allocation for their show at the RNA Showgrounds on Friday 22 February.
Tickets for both these shows go on sale Friday 23 November, 9am.
—————————————————————————————————————
It has been 8 long years but pop punk titans BLINK 182 have finally announced their triumphant return to Australia!
To make up for lost time, as well as performing at all 5 sold out Soundwave Festivals, Mark, Tom and Travis will be bringing their monstrous live show to sideshows in Brisbane, Sydney and Melbourne!
With a catalogue of hits that make most bands run for cover, BLINK 182 will be delivering a show encompassing their storied career to date. It will also include songs from the new album 'Neighborhoods' which had Absolute Punk exclaiming "If every eight-year absence will spawn a great record like Neighborhoods, I think it's safe to say that I'd be willing to encounter the wait again."
TICKETS FOR THE SECOND MELBOURNE SHOW AND EXTRA RELEASE OF TICKETS IN BRISBANE GO ON SALE FRIDAY 23 NOVEMBER, 9AM
WEDNESDAY 20 FEBRUARY
SYDNEY, ALLPHONES ARENA – Licensed All Ages
www.ticketek.com.au
FINAL RELEASE OF TICKETS JUST ANNOUNCED
FRIDAY 22 FEBRUARY
BRISBANE, RNA SHOWGROUNDS – Licensed All Ages
www.oztix.com.au and Oztix outlets
TUESDAY 26 FEBRUARY
MELBOURNE, SIDNEY MYER MUSIC BOWL – Licensed All Ages – SOLD OUT!
www.ticketmaster.com.au
SECOND AND DEFINATELY FINAL SHOW
WEDNESDAY 27 FEBRUARY
MELBOURNE, SIDNEY MYER MUSIC BOWL – Licensed All Ages
www.ticketmaster.com.au
Presented by Triple M, Channel V and Soundwave Touring