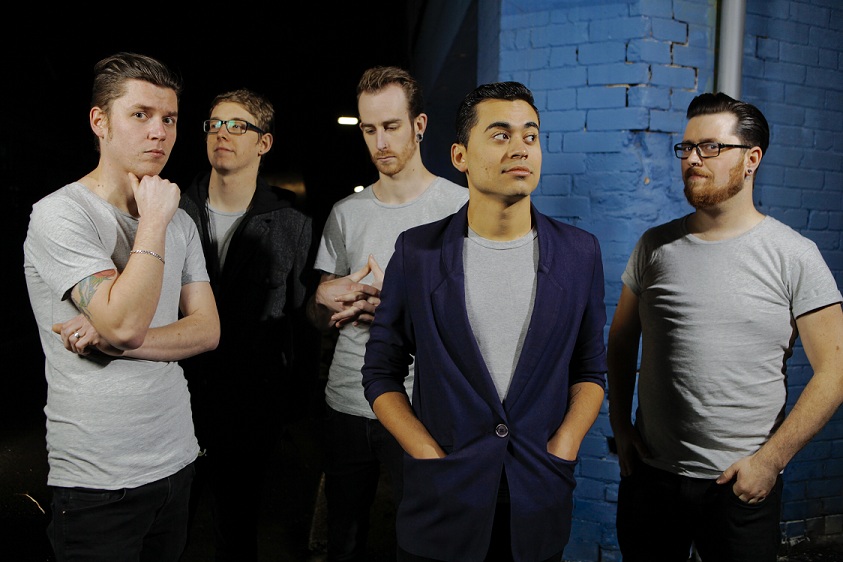 We love having the opportunity of seeing a new band, well, new to us, when at a gig and think, OK, wow… That happened when at the Everclear gig in Sydney and when 'Ashes' took the stage.  A great sound, great presence and they clearly knew what they were doing.  So it was a no brainer that we wanted to add them to our 'Best Things You've Never Heard' list.  Check them out!
Oh and make sure you read the bio at the bottom, it's classic!
Let's start with the basics, can you please give us the abridged version of the Ashes story (your band, not the cricket match)
Smithers, Kurtis, Matt and I were playing in the final incarnation of a melodic punk & hardcore band called Me vs. You. A guitarist left, and after five years and various line up changes, it was time for that chapter to come to an end. The four of us still wanted to make music together, so we agreed to start from scratch and jam out some new ideas. Scott came on board after some heavy campaigning from the rest of us. He'd given up on his rock & roll fantasy years ago, but we managed to convince him to entertain dreams of superstardom at least into his mid 30s.
Can you now please introduce each other and give us a rock 'n' roll fact or myth about each of you?
It seems only natural that we should begin with me, Raj Wakeling on lead vocals. I yell into a microphone because I'm too lazy to master an instrument. We've got two guitarists, Chris Smithers and Scott Best. Smithers was an accomplished ballroom dancer in his younger years. We call Scott 'Papa Scott' or 'Old man Scott', because he is a walking encyclopaedia of rock & roll history. Kurtis Veness plays bass. He nearly became a church pastor. Finally we've got Matthew Perriman on drums. His drum kit is more like a set of cannons. I flinch every time he hits his snare.
If you had to give us your best door to door sales pitch to convince someone to listen to your debut EP before they slam the door in your face, what do you say to them?
'Don't be a fuckwit!' Assuming that doesn't work I would then stick my foot in the doorway and say the following: The EP is loud and proud Australian rock. Loaded up with big guitars, catchy melodies, rhythms that will get you moving and lyrics that are personal but relatable. It's the result of a lot of hard work and love. Gluten, dairy, and auto-tune free.
With your EP out at present, are you currently working on new material and if so, when do you think we can expect to hear more from you?
We're always writing new stuff. The challenge for us is to think about what we've created and established with that first EP, and determine where we go from there. We've got a few songs that we like enough to start dropping into our live set among the EP tracks and crowd favourites.  They're all indicative of different directions we could go. We're also dusting off old stuff that never made the cut originally and looking at how we can rework it. We're hoping to get back in the studio and at least do a new single, if not more. I'd say early next year you can look forward to some new tracks online.
In terms of your song writing, what do you consider to be the most important ingredients that make up an Ashes song?
We almost always build things up from a guitar idea. A good chord progression or riff is the foundation on which we build our songs. Then it's over to Matt and Kurtis to figure out a good groove for the drums & bass. Quite often they take it somewhere I might not have expected when the idea first germinates. Melody is the other major ingredient. In my opinion if you don't have a good melody then you don't have a good song, at least when you're writing pop music. I just want our songs to be as catchy and infectious as possible, and I think melody is king.
I have to ask about 'Barry Dawson' now that song has a chorus catchier than the common cold, so, who is Barry Dawson and if there is one can you share the story behind the song?
Barry Dawson is a friend and fan of the band. When we played our first ever live show, we encouraged our mates to create their own piece of Ashes merchandise. He printed off our logo and traced it in texta onto a t-shirt, with '#1 Fan' written beneath it. For his efforts, we named a song we were working on after him. Barry competes in strongman competitions, lifting boulders and all that stuff. The lyrics were still forming at that time, so the line 'lifting weights like a strongman' is a direct reference to Barry. It ended up being a song about putting the most into every challenge and having the patience to see it pay off.
Both lyrically and musically, what or who inspires/influences your music the most?
I could write you an essay on this subject, but I'll spare you – this time! As far as the lyrics go, I usually start with a personal experience, or sometimes even just a feeling or thought, and spin off from there. I like to let the mood of the music determine what the subject matter of the lyrics will be. As far as the music goes, we have tried to capture what we love about Australian rock. I think you can hear bands like Gyroscope, Bodyjar, and Motor Ace in there. Overseas acts like Say Anything, Hot Hot Heat, and The Gaslight Anthem are in the mix too I think. On a personal note I'm a huge Smashing Pumpkins fan and regardless of what the music I'm making sounds like, I always see them as a guiding light.
In winner of the best bio for 2012 written as a letter from 'Phil Collins', it seems fair that you like to have some fun in what you're doing, is it fair to say that is the Ashes philosophy as a band?
Dude, that letter was legit. Phil Collins fucking loves us! He was over here just the other day, we started jamming on 'Against All Odds', it was awesome! … Okay fine Phil Collins has no idea who we are. Fun is central to everything we're doing as a band. I don't want to make miserable music, give a sad performance and then cry myself to sleep. I want to jump around the stage, put a smile on people's faces, and collapse exhausted in the back of the tour van after an awesome night playing music with my best mates. If we didn't make things fun, I don't think any of us would be interested in keeping this going.
At only two years as a band, to me it seemed like you'd been doing it for much longer as you all seemed comfortable, what is it about the band that gels so well?
As mentioned earlier, some of us have been playing together longer than that. Smithers and I in particular have been making music together for around 7 years, so we're very familiar with each other's writing and performance style. We also just do a shitload of practice. At the end of the day, that's the only way to get things tight and develop together as a unit. As far as being comfortable goes, I think it has a lot to do with us all feeling like Ashes is the best band we've been a part of to date. There is genuine joy going on every time we hit the stage together.
Touring wise, are you playing gigs anytime soon and if so, what can people expect if they come out to one of your live shows?
We've just wrapped up a bunch of dates, but there'll be more on the way. My best advice is to follow our social media pages to get the latest on where we're playing. In terms of what you can expect, it's a rock show! We keep the energy high, there's a lot of movement, and we demand the same of the crowd. We've been pushing the EP tracks hard, but are also chucking in new material and the occasional cheeky cover. Rod Stewart's 'Maggie May' goes down a treat!
Now we had the chance to see you open for Everclear in Sydney and loved what we saw, enough so to grab your EP, did Art give you any advice after the show that you took on board?
I definitely took something away from that show, but it wasn't so much advice, it was more perspective. We were chatting to Art and the boys after their sound check, and I commented that the stage at the Hi-Fi was about ten times as big as the stages we normally play on. Art just looked at me and said, 'Man, we've been there. We did it for years.' It's easy to get jaded about putting so much of yourself into something and waiting for the big pay off. It was nice to hear from someone who's been through it all.
For a bit of fun, say you get the chance to open for any artist in the world, who would they be and why?
This one's easy. The Presidents of the United States of America. They were the first band I got into, the first CD I bought, they were the band that made me want to make music! They're coming out here next year, so we've added our name to what I'm sure is a very long list of bands that would like to support them! I mean talk about fun, those guys are the very definition of the word. I caught them the last two times they came out and left with the biggest smile on my face. They're everything I want our band to be – catchy, funny, good to watch, and great to be a part of.
Lastly, here's a chance to gaze into your crystal ball.  In the next year, Ashes will:
1. Cross all fingers & toes in the hopes of getting that Presidents gig!
2. Risk life & limb in a desperate stunt aimed at raising our profile.
3. Post a Facebook status update.
Essential Information
From: Sydney, Australia
Sounds like: Pop & Roll
Band members: Raj Wakeling, Chris Smithers, Scott Best, Kurtis Veness, Matt Perriman
Website: http://www.facebook.com/ashesau , http://ashesau.bandcamp.com , http://twitter.com/ashes_au
Latest release: Debut EP
Biography:
Hi I'm Phil Collins, and today I'd like to talk to you about my favourite band, Ashes.
When I was at the peak of my superstardom (1984-1992 according to Wikipedia), I thought I had it all. I'd wake up every morning, look in the mirror and say to myself, "Enjoy it mate, it doesn't get any better than this."
And for all I knew, it didn't. I had a beautiful (second) wife, and an amazing daughter (
love you Lily). I spent my life playing music to sell-out crowds, going to all the best parties, eating in the finest restaurants, and generally having a bloody great time.
Then the dark times came. My second divorce hit me hard, much harder than the first, and possibly even harder than the more recent divorce I went through back in 2007. I was so caught up with my personal affairs that I barely noticed the gradual extinction of my signature sound, the gated reverb snare drum.
It's only by chance that I happened upon a dingy pub in inner-city Sydney and caught my first glimpse of the band now known as Ashes. I had been staring into the bottom of an empty schooner for what seemed like hours, when a soul shaking blast of crunchy overdriven guitar nearly knocked me clear off my stool. I was drawn to the stage by a force akin to that which propelled me to pen my hits "In the air tonight", and "Another day in paradise", which I'm sure you'll remember featured my good friend David Crosby.
And yet, musically, this band sounded nothing like my own revered body of work… It was imbued with a certain vitality and… I guess one could say, élan, that I'd not come across since I first jammed with Pete and the Genesis lads.
To borrow a line from The Cars, Ashes were "just what I needed". I heartily encourage you all to get a long to a show and check them out for yourselves.
Love,
Phil C