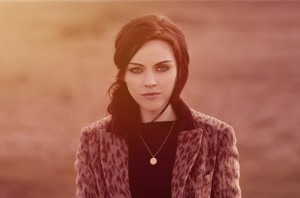 The recent announcement by the Frontier Touring Company that the iconic Bryan Adams would be embarking on a national arena tour left fans across Australia overjoyed.  The excitement doesn't stop there with today's news that UK and European superstar Amy Macdonald is confirmed to support in what will be her first ever Australian performances.
When Macdonald exploded into the musical stratosphere in 2007, the Scottish singer-songwriter was a breath of fresh air, standing out from the crowd as a self taught prodigy whose raw lyrics have struck a chord with audiences everywhere.Her debut album 'This Is The Life' charted at #1 in 5 countries, with the single of the same name reaching #1 in 10 countries. Her second offering 'A Curious Thing' hit the Top 10 in 10 countries across Europe and Amy has been awarded 25 platinum and gold discs in 17 countries.
'Life In A Beautiful Light', the 25 year-old's acclaimed third album (out now through Universal Music) is a soaring declaration of her growth as an artist, with the new collection of stirring tracks hitting #2 in the UK.
"Macdonald has an impressive vocal range and sings in such a natural and unaffected way that it is impossible to avoid being caught in her spell. On this excellent album, Macdonald demonstrates once again that she is a skilled purveyor of sparkling roots-pop fit for the stadium." – Graham Blackley, Beat Magazine
 Current single; the rhythmic, pulsating 'Slow It Down' was produced by long term creative partner and manager, Pete Wilkinson and mixed by the legendary Bob Clearmountain (Bryan Adams, Rolling Stones, Robbie Williams).
With a staggering 56 million views on Youtube and over 4.5 million albums sold worldwide, Amy Macdonald supporting Bryan Adams for his 2013 Australian arena tour is a match made in "Heaven". This is definitely one of those times where you want to be one of those people "who was there"!
BRYAN ADAMS APRIL 2013
Thursday 18 April
WIN Entertainment Centre, Wollongong
Ticketek 132 849 or www.ticketek.com.au
Friday 19 April
Sydney Entertainment Centre
Ticketmaster 136 100 or www.ticketmaster.com.au
Saturday 20 April
Rod Laver Arena, Melbourne
Ticketek 132 849 or www.ticketek.com.au
Wednesday 24 April
Adelaide Entertainment Centre
Ticketek 132 849 or www.ticketek.com.au
Friday 26 April
Newcastle Entertainment Centre
Ticketek 132 849 or www.ticketek.com.au
Saturday 27 April
Brisbane Entertainment Centre
Ticketek 132 849 or www.ticketek.com.au
www.bryanadams.com |  www.twitter.com/bryanadams
www.facebook.com/bryanadamsofficial
www.amymacdonald.co.uk | www.twitter.com/Amy__Macdonald
www.facebook.com/amymacdonaldmusic
www.frontiertouring.com/bryanadams | www.twitter.com/frontiertouring
www.facebook.com/frontiertouring