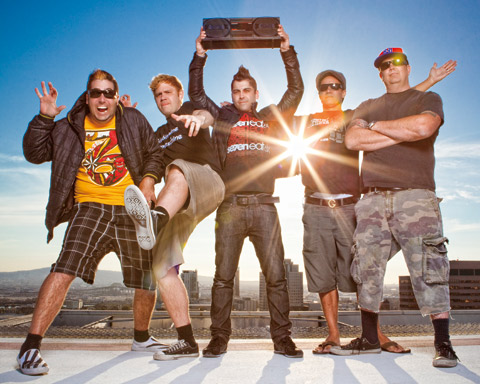 Well it may have taken them around 15 years to hit Australia, but pop punksters Zebrahead are sure making up for lost time, with their second visit to Australia in 2012 due in a matter of weeks, along with their good buddies, Reel Big Fish and Goldfinger. Having released their most recent album Get Nice late last year, the year that has followed has taken the band all over the world, more appropriately, to most major continents renowned for their beer!
Chatting with Zebrahead frontman Ali Tabatabee it comes as no surprise that his message to Aussie fans is to expect one drunken tour…  So get your beer on and pop along to check out what will undoubtedly be one hell of a fun show!
Hey Ali, so when I last spoke to you, it was back in July 2011 and whilst you didn't end up getting to share a stage with Van Halen, you did make it for Soundwave Festival earlier this year.  It took you 15 years to get here, now you've got 2 trips in one year…
Yeah man we were really stoked when we were there for the Festival, we had such a great time and we are all very excited to be coming back!
So how did you find the whole Soundwave Festival crazy madness – you got both the festival shows and some club shows, so the best of both worlds?
You know, the shows were really fun and it was cool to finally play to our Australian crowd.  But the thing that was really interesting to me, as you said, it was just so crazy, there was so many bands and you're constantly meeting other musicians and hanging out, because you fly a lot from city to city.  It's kind of tiring in that way, but it forces you to get to know the people you are touring with that little bit better, as it's just this intense kind of tour experience.  That part of it made it rather unique.
This time around, you are touring with some punk rock royalty with Reel Big Fish and Goldfinger – these shows will be massive, what can we expect?
It's going to be cool, we've got six shows lined up and we are old friends with Goldfinger and Reel Big Fish, we've toured with them before so it's going to be nice to be able to hang out and play shows with those guys again.  It's going to be one fun, drunken tour!
As far as 2012 has gone – you unleashed Get Nice and you guys have sure racked up plenty of miles, Japan, Australia, all through Europe – even including Russia, it must have been a pretty rewarding year!
Absolutely man, we released Get Nice and we've been touring on it for a long time now as you said and at this point, we're kind of back in the studio starting to write stuff again, so another album cycle will be coming around and the touring will be starting up once again.
Travelling to a lot of different countries and cultures this year, what's one of the strangest or funniest things you've seen at a Zebrahead as you've looked out into the crowd?
Man, that's pretty hard, I will say that one of the coolest things about playing to different countries and cultures is when you look out into the crowd and it's amazing to see everyone singing along and knowing the words to the songs.  It's always a trip for me to see that.  I think that one of the standouts for me though is we were playing this show and Matty was so sick and looked like he was going to throw up.  So he walked behind his guitar amp and just puked everywhere and came back smiling and then just played the rest of the show.  I thought that was pretty funny.  You know, random sicknesses always amuses me…
Get Nice has been out now for the best part of a year, how have the new songs slotted into the set list amongst the older stuff?
You know we try and have a nice balance of styles of song in the set list and have a good flow from one song to another.  I have to say the newer songs are a little more fun to play as we haven't been playing them that much so they're fresh and we are excited to be playing them, especially after working on them for so long.  Well for me anyways, I really love playing the newer stuff.
A song I've got to ask about from Get Nice is She Don't Wanna Rock, referring to the lyrics, so who in the band are the big Slaughter and Stryper fans, which incidentally are a couple of my favourite 80's rock bands!
(Laughs) Yeah you know growing up I was more into rap stuff, but Matty and Ben, I know they were all about Slaughter and that kind of stuff, so I think you would have a great conversation with them about that!
So you mentioned earlier you had started writing/working on stuff for a new album.  Where are you guys at with this exactly, what can you tell us at this stage?
We pretty much ended the touring cycle two months ago and came back home and been writing ever since.  We are taking a break to come back to Australia for this tour, then after that we will be back in the studio and hopefully finish the album.
Compared to the Get Nice process, how are things coming along so far with the new songs?
You know it's a little bit different now that we have our own studio, which we had for Get Nice.  We can go in whenever we want and don't have to work around other people's schedules or anything.  So it's great to be able to head into a studio whenever we might feel inspired to do so, where in the old days we rented out time at different studios and just didn't have that flexibility.  This time around it's just great that it's back to familiar surroundings and kind of like dejavu to be back in there working on new songs.  We are excited to be working on these new songs, we've got about 10 or 12 we are working on right now, and I'm sure we will write another 10 or 12 and then whittle it down to 12 or 13 songs for the album.
It's pretty exciting to think that for a band over 15 years old, that there are parts of the world such as Australia that Zebrahead is only really starting to infiltrate…
It's kind of ironic that way, we've been trying to get to Australia for some time but it just hasn't worked out and here we are coming twice in one year.  It's all a bit surreal!
So Ali, what can Zebrahead fans expect in 2013, a new album by the sounds of it?
Yes that will come out in 2013, we are looking for a summer release, so something around June we should hopefully have that out!
Essential Information
From: USA
Band Members: Ali Tabatabaee – Vocals, Greg Bergdorf – Guitar, Ben Osmundson – Bass, Ed Udhus – Drums/Beer, Matty Lewis – Vocals/Guitar
Websites: www.zebrahead.com
Latest Release: Get Nice – (2011, 3Wise Records)
Tour dates:
THURSDAY 29 NOVEMBER, BRISBANE, THE TIVOLI – 18+?www.ticketek.com.au
FRIDAY 30 NOVEMBER, GOLD COAST, COOLANGATTA HOTEL – 18+?www.oztix.com.au & Oztix outlets
SATURDAY 1 DECEMBER, SYDNEY, UNSW ROUNDHOUSE – Lic A/A?www.ticketek.com.au
SUNDAY 2 DECEMBER, MELBOURNE, THE PALACE – 18+?www.oztix.com.au, Oztix outlets and www.ticketek.com.au
TUESDAY 4 DECEMBER, ADELAIDE, HQ – 18+?www.venuetix.com.au, www.oztix.com.au and Oztix outlets
WEDNESDAY 5 DECEMBER, PERTH, METRO CITY – 18+?www.oztix.com.au and Oztix outlets
Presented by Soundwave Touring.