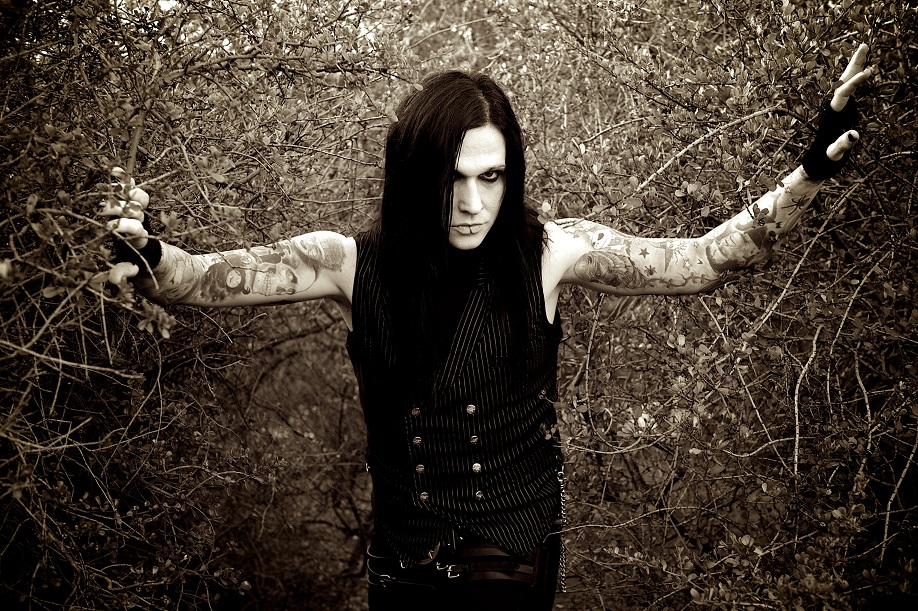 "I don't have to play by the rules, I don't have to follow record company rules, having this freedom is amazing, the fans that I have that are in to what I do gives me an open book, I can do what I want and I'm in a really, really good place right now, so I like being Wednesday 13 right now."
Wednesday 13 has to be one of the busiest guys in music, with endless touring, recording and releases making him a fan favourite around the world as he's never far out of their reach, and it doesn't seem like there's any threat of slowing down.  A new EP titled 'Spook & Destroy' has just been released and features new tracks as well as remixes of a couple of Wednesday's hits.  No stranger to Australia, Wednesday 13 is heading back to headline some shows and kick some ass for the second time in 2012.
We chatted to Wednesday 13 about the upcoming Australian tour which kicks off next week, memories of previous visits to Australia, his new EP and plenty of plans for HIS year next year… read on to see what we mean…
You were only here in February, now you're heading back for a few super quick shows in October, seems you can't stay away, are you pumped to back in Australia twice in one year?
Absolutely it's really, really cool to be able to come back and, two times in one year and that close together and being able to do Soundwave earlier this year was amazing and to be able to come back and do our own headlining shows is just unbelievable. It's gonna be great because the audience in Australia through the years has just really turned in to some if not my craziest and rowdiest audiences out there, period.
Your live show is always a spectacle, are you bringing any kind of production to the headline shows this October?
No, I always did everything on a low budget, kinds bare bones and we're the characters, we're the pyro, let us be the entertainment.  I bring as much as I can to it, but don't expect any levitating drum risers or fire or anything, just expect us to be breathing fire ourselves and doing somersaults and stuff like that, just basic action from us.
It must be a great feeling when your show has to move to bigger venues to cope with demand as it did in Sydney…
That doesn't happen to me a lot, so when it does it's a great feeling to hear the words 'Sold Out' especially in a place that's so far away from you and to just go 'Wow, that's cool' and I knew we were starting the world tour in Australia and I knew that was the right place to go, so the fans have not let me down.
You have a new EP coming to support the tour, with a couple of new tracks and some remixes to tide fans over for a new album, was 'Spook & Destroy' planned or were you itching to get something new out?
Basically, I've pretty much put a solo release out every year since 1996, so I have so many records and different projects and stuff, so when I released my solo album 'Calling All Corpses' at the end of 2011, I knew I wanted to put something out in 2012 but I knew I had to put a record out in 2013.  2013 is my year, so I knew I had to save the big one for that. So I went alright what can I do in 2012 that I can put out to hold the fans over until we get the new release out, so in June we had just enough time before our Summer tour, we went in the studio we tracked the 'Spook & Destroy' EP, got it done, finished the US tour came back and recorded it.  So yeah I just basically to hold people over until we get the new release out and I wanted something in time for the tour as at this point 'Calling All Corpses' will be a year old by the time  we get there again.  I wanted something new and it's always good to pull out something new, even if it's one or two songs, for a band that tours as much as we do, for us to put something out new and play one or two new songs is a breath of fresh air for us.  This was just something new for us but something new for the fans too, I don't think anyone will be complaining that they get two releases within six months of each other.  It's fun like that, I like to keep my fans happy and I like to keep myself happy and putting out music and as long as I'm putting out quality things and stuff like that, just keeping it out. Some of my favourite bands back in the day Alice Cooper and KISS, they released albums one every year, their greatest stuff, sometimes two a year, so I've kinda always worked in that ethic of my heroes, so as long as I'm putting out good stuff I'm gonna keep doing it.  Next year you're gonna get a lot of stuff from me… even a movie as well…
Well of course that'd make it Wednesday 13 13…
I've been looking forward to this year coming up for a while just because it is 2013, and what a better year than to really make my mark.  I feel like I've made my best solo record, period, for this release, I also have a movie release I'm working on right now that works a long side of one of the songs on the new album as well.  I've got a lot of plans for next year, I am a free agent, I'm not tied to a label or anything like that, I'm able to pretty much do what I want and it's great I can do things different, I don't have to play by the rules, I don't have to follow record company rules, having this freedom is amazing, the fans that I have that are in to what I do gives me an open book, I can do what I want and I'm in a really, really good place right now, so I like being Wednesday 13 right now.
So are you leaning towards more of a concept for the new album?
Yeah, it's not just a concept, there's one song on the album and I can't announce it yet as it's the title of the album as well which we'll be announcing within the next week as well (NB: Album now announced as being called 'The Dixie Dead'), it's a song that I'm going to turn in to a movie as well.  It's a song and the theme of the new album it definitely has the spooky kind of horror thing everyone knows and loves or knows about me over my career making music.  I feel like I've summed it all up in this one record, it's got a little bit of everything, it's not like the last record at all, I don't think it's anything like my last record, even remotely, there's one song that could maybe fit on that album and that's a big maybe.  This whole new CD is well thought out , I wrote the songs earlier this year, we sat down and worked on them and tweaked them, and for me it's a thought out record, for me I'm used to doing things in a week and being done and things like that, so I'm super proud about this one.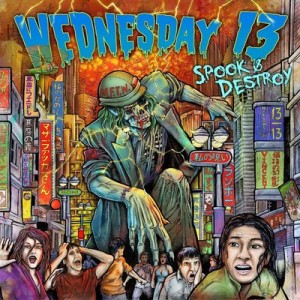 Remixing older tracks can sometimes be an exercise in caution as to not change up fans favourites, but when choosing a song to remix, do you have an idea in your head as to what you want it to sound like?
Absolutely not… The cool thing about the remixes is the only thing I really have influence on the remixes, I have a friend of mine who did the remixes for this new album and for him, he's an old friend who helped work on my 'Weirdo A Go -Go' project and some other things I've done over the years and for him, he's a friend of mine and I know what he's in to and when it was time to do the remixes I picked out 'Rambo' and 'Bad Things' and sent them to him and just said do your thing.  He would send them back to me and if anything I would be like 'Alright why don't we tidy up this part or change this little part here or there' but for the most part I found the remixes version find their own beat and that's the cool thing about it, it takes it out of my hands and puts it in somebody else's brain who says 'OK, well I hear it this way.'  So that's the cool thing about the remixes and these two in particular on the album, the 'Bad Things' remix, I had no idea what I would get when I got it back to me and when I heard it, it blew me away.  It's so not what anyone would ever expect to hear from 'Bad Things' and it turned out really cool, you gotta hear it.  It's something you'll never hear from us live or you're gonna hear us attempt music like that, it's just interesting to hear how someone can take a rock song like 'Bad Things' and look what it turned in to, it's pretty cool.
No stranger to Australia, do you have a memory you can share with us that stands out from previous visits?
So many man (laughs) a lot of amazing cool moments, I always think of disturbing things first or something that may have been weird.  I remember my first time in Australia when we did the Big Day Out festival with Murderdolls in 2003 I believe it was, and I can't remember what show it was but within the first song someone threw a full can of beer and hit me in the head (laughs) and it was like the first song and it hit me right between the eyes and left a big goose egg.  I found the guy that did it and yelled at him in the crowd , but a couple of years later I actually found a photo of me yelling at the guy and I can tell it was from that thing as I looked so furious with this knot on my head (laughs).  It's not so much a happy memory but that's my memory of Australia, my first time there.
As far as good things, everything, the shows, I remember playing one of my solo shows there in 2010 and the crowd was so insane we had to have ten security guards on stage to hold the audience back, it was like the biggest sweat fest, I've never been a part of anything like that, so always good memories of Australia.
I got to see you guys play with Manson earlier this year, that must've been cool.
Oh yeah that was awesome too, to be able to do gigs with him earlier this year was really, really cool.  Actually from doing those shows we struck up a friendship, we hadn't even met prior to that show, we actually started talking at the very last show we did with Manson in Perth, right before I went on stage, I ran in to him in the hallway and we started talking about 'Eastbound & Down' the Kenny Powers show and he's a big fan of it and so am I and we started talking about that and since then we've kind of stayed in touch by text and stuff and send each other funny pictures, he's a cool guy.  It was really surreal to grow up listening to his music and be a fan and to play shows and strike up a friendship with him is just crazy.  So yeah that was a cool too, so thanks Australia and thanks Soundwave for starting up a new friendship, another cool memory from Australia.
You talk about 2013 being your year but do you have any plans on releasing a live DVD?
Way ahead of you, that's something that we're planning on doing on this part of the tour, we're going to be filming a live a lot of things and if I get my way we're going to film my DVD on Halloween night in London and we'll have a release for that sometime next year as well.  Next year I'm looking at a full length release, DVD release and me also doing my first movie as well.  Told you, I've got it lined up, fully loaded, next year people are going to be sick of me. For me it's such a cool thing to have so many ideas all at once and I'm just figuring out how to pace them without stepping on each other you know, it's going to be an interesting year for me.
It seems as if you've been nonstop since 'Calling All Corpses' was released, how long are you expecting to be out on tour, is 2013 already full or are you heading in to down time soon?
No, the touring stuff, we tour maybe seven or eight months out of the year it seems like with the life we lead, but this year we toured, so the time off in between tour dates people were like 'well what were you doing when you didn't tour for two months?' Well, we recorded two albums (laughs)… So we're always staying busy when you don't see tour dates or anything like that.  I find myself when I'm on tour and I'm in the middle of the tour I want to get home and rest, then I find as soon as I'm home for two days I'm rested and I'm twiddling my thumbs and I don't know what to do.  Being on tour is the only place I feel like I'm worthy of anything I feel like so I think that's why I stay on tour so much.
Now since you've explored so many music genres with country, metal and rock, are there any other genres of music you'd like to explore and record in?
No, I did my 'Gunfire 76' project which was kind of more of a kind of rock and roll thing, to me it wasn't that much different than the Wednesday stuff, I mean it was, the subject matter definitely was.  I kinda feel like I've always kinda played rock and roll, I've just been able to meddle in things and honk at things as well, but my country project 'Bourbon Crow', so as far as any other type of project or any type of thing I wanted to do, the thing I really started doing on some of my releases and you'll hear it on my 'Spook & Destroy' EP, we did an acoustic version of one of our songs 'Curse of Me' and I did some acoustic versions on a prior release, the 'Bloodwork' EP we put out a few years ago, it had some acoustic songs.  So that's something I've actually got a lot of feedback from fans, I've actually thought about doing an Unplugged album of studio acoustic songs and just giving them a weird, creepy, eerie vibe.  You'll hear on the 'Curse of Me' song on the EP like I said, that song had such an eerie, dark vibe to it, when I did that it kinda struck a bone and I like what went off my head and I was like, alright, that would be kind of cool to put a record out of this creepy, dark acoustic songs.  If anything else that could be something I do in the future, but I think I'm pretty full for the next little bit (laughs) so I think we'll hold off on any new projects for a little while.
What is the status of The Murderdolls at the moment if you don't mind me asking, anything on the horizon?
Murderdolls, we took our break after we stopped touring on our last record in April 2011 and that's pretty much where it stayed.  Joey went back to Slipknot, I was busy with my stuff and that's pretty much where it is right now.
Lastly, as you're heading back do you have a message for your Australian fans heading out to see your shows?
Get ready because I'm bringin' it.  That's my message.
Good luck on the tour and good luck for Wednesday 13 13…
Awesome man, thank you so much, see you then.
Essential Information
From: Hollywood, California, USA
Band members: Wednesday 13
Website: http://www.wednesday-13.com
Latest release: Spook & Destroy EP
Catch Wednesday 13 in Australia at the following dates:
THURSDAY 25 OCTOBER – BRISBANE, THE ZOO – 18+
www.oztix.com.au
FRIDAY 26 OCTOBER – SYDNEY, MANNING BAR – 18+
www.oztix.com.au
SATURDAY 27 OCTOBER – MELBOURNE, THE ESPY – 18+
www.oztix.com.au
Presented by Soundwave Touring and Fiend Magazine