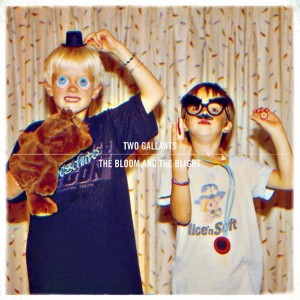 A band with which I was not previously familiar previously, Two Gallants return after a five year hiatus with their aptly titled fourth album, The Bloom and the Blight.  Friends since they were five (maybe that's their first meeting on the album cover?), the San Francisco natives Adam Stephens (guitar and vocals) and Tyson Vogel (drums and vocals) have obviously grown up together, none more so than in recent years, with respective journeys of self discovery, musical discovery and in Stephens' case recovering from injuries sustained in a road accident.  All this combined has produced an album that balances a new found musical ferocity, with equal parts the restrained folk and alt-country roots of their past.
The gritty bang crash fuzz of opening track Halcyon Days was my first introduction to the band and from the outset, the vocals of Adam Stephens zeroed into my ears.  Think of a cross between the late Andrew Wood of Mother Love Bone and Jeff Keith from Tesla and you've got your man, love it!  As much as the use of melody is evidently high on the duo's songwriting modus operandi, so is the use of light and shade, both within song and from song to song.  My Love Won't Wait as the first single is a great representation of the bands 2012 sound, with some Black Sabbath grungy sized riffs sandwiched in between some delicate vocal harmonies. Speaking of delicate, Broken Eyes strips things right back with just an acoustic guitar and harmonica.  Ride Away is a personal favourite track of mine, which I liken to the sound and style of those 60's pioneers The Animals, but imagine a classic rock/metal sized sound.  On the Australian version of the album, we get a double shot of willie – with not only the charming little ditty Willie, but one of the two bonus tracks being a cover of American blues guitarist/singer Blind Willie Johnson's Dyin' Crapshooter's Blues.
The Bloom and the Blight poises the band nicely to capitalise on their already well established following, whilst with their new found musical ferocity, this duo is going to be one sight to behold in all their live glory.
Essential Information
For fans of: Fuzzy, distorted, but blissful rock n' roll
Release date: September 7th, 2012
Label: Warner Music Australia/IndoChine Recordings
Produced by: John Congleton and Two Gallants
Website: www.twogallants.com