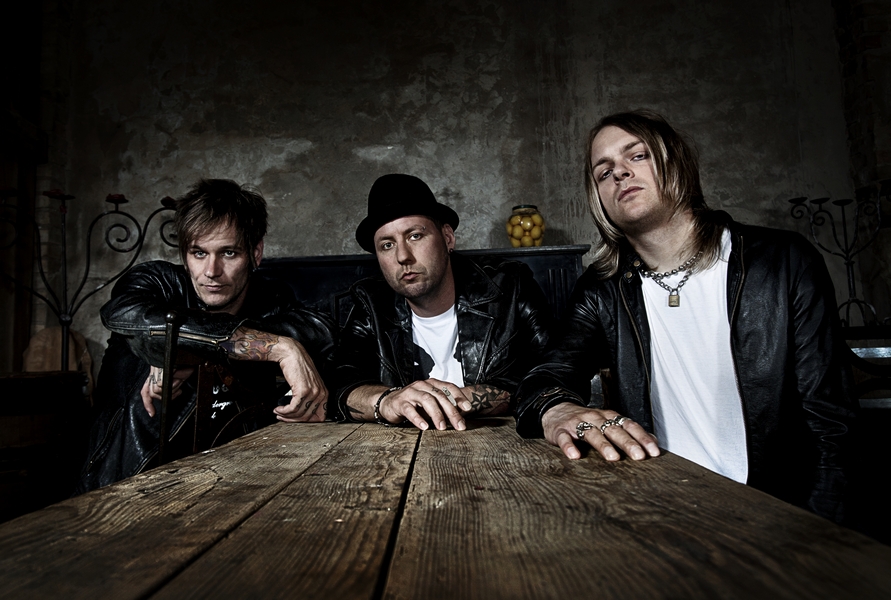 At May The Rock Be With You we take great pride in uncovering awesome rock from all corners of the globe to share with you, our readers.  But sometimes, that awesome rock finds us, before we can find it.  That is the story of Torpedohead, who we were alerted to way back in 2009 by their singer/guitarist Sven Spacebrain.  That first introduction was their debut album Lovesick Avenue, followed on by the EP Let's Go For A Ride and now comes their eagerly awaited new full length album Greetings From Heartbreak Key.  Straight ahead, high octane rock n' roll with massive hooks, sing-along choruses and blazing guitar solo's, you know, all the fun, essential rock n' roll stuff.
Sven and Torpedohead have been massive supporters of May The Rock Be With You over the years and it's great to have been along for the ride from the very beginning.  Greetings From Heartbreak Key is an album that deserves to be heard by the masses, so check them out and if you dig, do your bit and spread the word.
We checked in with Sven Spacebrain for an in depth chat about the new album…
Hey Sven, thanks for taking the time to do this interview.  You have your new album 'Greetings From Heartbreak Key' coming out in late October.  What can you tell us about what we can expect from the new album ?
Imagine a 70's stadium rock n' roll tape coming through a trashy 90s pop-punk stereo, digitally remastered today for speeding down the autobahn !
For those of us familiar with your past releases 'Lovesick Avenue' and 'Let's Go For A Ride' how would you compare those to the new album?
Our first album was written and recorded before we ever played a live gig and we were still looking for a sound that would fit us.  For us we didn't focus on making a record to please the press or the audience, it was all about having a blast and making music that we love.  So there's a big range in style on Lovesick Avenue, that focuses around the rock n' roll river and all it's side arms.  We just let ourselves drift along and got back to shore whenever we liked.  In the end we had a very fresh sounding record that we produced DIY.
When we started touring and playing gigs, we found out more and more what sound fit us and we worked on shaping that to its best.  We wrote a ton of songs that all had a more fast forward rock drive than our debut album.  After doing a lot of demos we decided on working with a producer whom has a big name in the German rock/metal scene called Siggi Bemm, because he is known for his huge rock sound.  We wanted to move away from the garage sound of the first album and take it to the next level.
The EP Let's Go For A Ride was a preview for our second album.  Not only production wise but also from a song point of view.  We made the fast rock tunes faster and we made the melodies bigger.  So what we've got now is a rock album that leaves no questions unanswered.  You've got action, riffs and killer hooks, all you need for a good drive on the highway !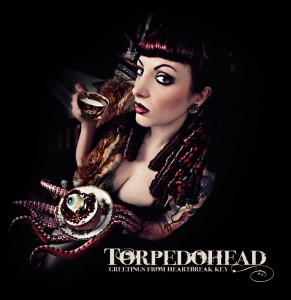 I always love to find out the meaning behind the choice of an album title…so 'Greetings From Heartbreak Key', what does that represent?
Heartbreak Key is a song on the album that was inspired by a lot of personal turmoil going on with some of the band members at the time. It seemed that everyone was into their heads with strange relationships that didn't seem to work out and moved on from one to another.  After this, the band took a holiday to get their heads cleared up again, because the tension grew heavy on the whole band and got in the way with the whole project.  While on leave, I was reading  a book by Tim Dorsey down in France on the beach, which is set around the Florida keys and I suddenly had this picture of Heartbreak Key in my head, took up the guitar and it started to pick up from there. The whole song is a kind of satirical view on the relationship business.
When looking for a title for the album we came up with 'Greetings From Heartbreak Key', because a lot of songs on the album seemed to fit with this comical view of the subject. "Hey everybody come down to "Heartbreak Key" and get your ass beaten and heart broken by the octopus-woman… ha ha "!  After our graphic designer showed us the picture of the lady that ended up on the cover, we where just stunned because it seemed to fit right on the spot.  That's it, that's how "Heartbreak Key" looks like !
First single from the new album, 'Rotten Radio', was released a few months ago, tell us a little bit about what inspired the lyrics to this song?
Actually Rotten Radio is an old song that was written back in 1999 when I still had my old band but it never got released commercially.  The song got lost along the way and Hardy our bass player hit me up to get it out of the closet again.  We tried it out and punched it into shape and it just sounded great.  Meanwhile it's gotten quite a killer on stage and a mainstay in our live set.  At the time it was written, MTV took over the whole music scene and seemed to dictate what everybody should listen to and look like.  So for us it was like: "fu%&  this, I'd rather be on the radio"  Not specific to actually BE on the radio, but to do something else than follow this trend.  Today, when I read or sing the lyrics, it kind of takes on a whole new meaning: Everybody wants to be a singer nowadays an appear on all those "Idol-shows".  So it shows more of a twisted and satirical view on the whole situation.
When and where did the song writing and recording take place for this album.  Was this something significantly different to the approach you may have taken in the past?
In terms of recording there was a totally different approach compared to the first album.  For the first record we set up our equipment in a small cottage in the woods and used the whole house as a studio.  Kind of like the Stones on Exile on Mainstreet but without the ocean and the villa … ha,ha.  The recording was done by ourselves and for the mixing we moved to a studio.  While touring with the album on the setlist we worked more and more on our sound and after writing a huge pile of new songs and adding a new drummer back in 2010 we decided to work with producer  Siggi Bemm and record in his famous Woodhouse Studio in Hagen, Germany.  Siggi is known for his "huge rock" sound and worked with artists like Kreator, Dave Lombardo (Slayer) and Lacuna Coil. A lot of heavy stuff but he also produced some famous German pop-rock artists.  So he has an ear for the in between sounds and is not pushing you in one direction.  He just gets the best out of your sound and drives you to do just that.  We recorded the EP Let's Go For A Ride and it turned out killer, so we decided to go back last year and record a follow up album with him.  For this we did a lot of pre-production in our rehearsal room and worked out the songs until every last note fit.  So by the time we moved to the studio there where no questions left and it was all up to nailing the songs down as best as we could.
Would you say there were any major influences on the new album both musically and lyrically?
Musically we drew a lot of influence from our own sound because we did a lot of raiding on our own demo vaults.  We have recorded and demoed around 30-40 songs in the last years that we have forgotten about.  Good thing is that Hardy keeps a good archive on them.  We sat down a lot of times and listened to them over some beers.  Reworked ideas, took riffs and made something new out of them, or even just to get inspired again.  A few weeks before it was time to go to the studio, we figured it would be better to have some more fast n' heavy tunes, because it was all getting a bit too pop… and out came three great new songs that all made it on the record.  Speaking lyrically, one of them is a tune called Love Is A Dog that is inspired by a collection of poems by Charles Bukowski.  Besides his known reputation for stories about drunks and women he wrote a lot about the exploitation in the mass media business.  It just seemed to fit the fact that being a writer of music and lyrics, that part of the industry seems to fit either way with all its exploitation ways.  But, there are a lot of other doors left open in the song, that let you read something else.  Also there is an influence we draw from old movies. The song Lovewreck is partly inspired by an old Gary Cooper movie called The Wreck of the Mary Deare.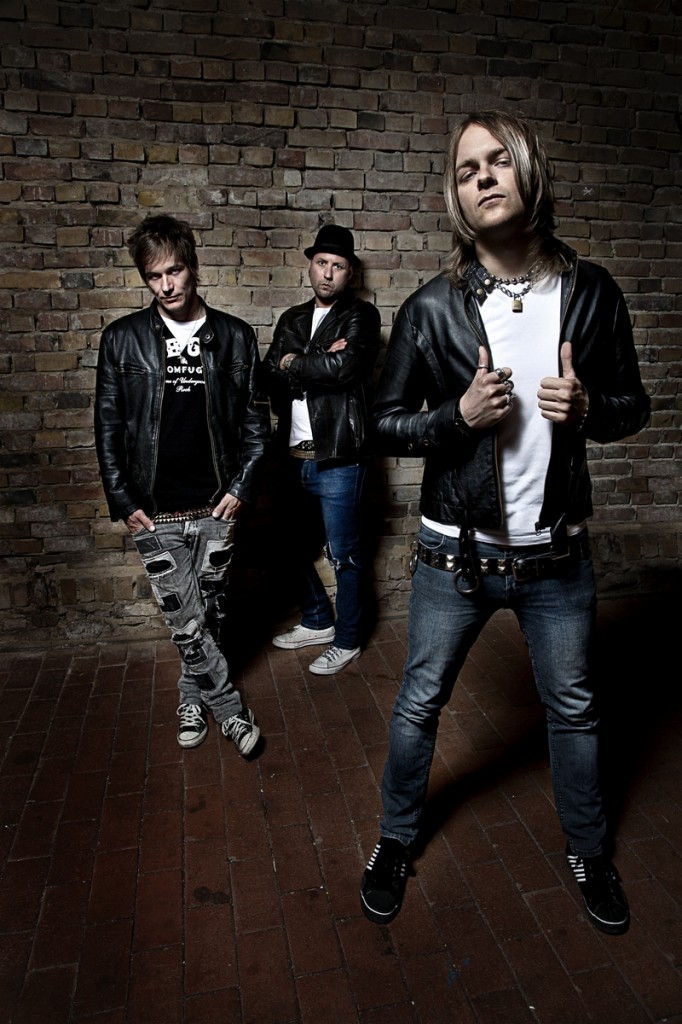 Given we haven't seen a tracklisting for the album yet, here's an opportunity for you to mention 3 songs from the album and some comments/thoughts on each:
1) Rock n' Roll Satellite  – It's been a hit in our live set since day one.  If our show did not grab you until that song is played in the set (which is highly unlikely if you're into rock n' roll !), you will be singin' along to this track.  Crank it up and check for yourself.
2) Burning Bridges – This song is a bit different than the other tracks, although it still has the Torpedohead sound in it.  We do a little bit more riff raff in the middle (C-part) than usual and end that with some twin guitar soloing.
3) Red City Lights – This song was recorded completely live without any overdubs. It's just me sitting in my kitchen strummin' the guitar. We tried to record that song with the whole band, with overdubs, but in the end it just sounded best to play it simple, just sitting down with the guitar and singing it live in one take.  It's also a bit of reminiscent to our first record, which featured a lot of acoustic guitars.
When you think back to the recording sessions for 'Greetings From Heartbreak Key'', what are 3 thoughts/memories that most immediately come to mind?
1)  When we recorded the last two tracks Rotten Radio and Burning Bridges we got stuck in the snow on the way to the studio. In fact that was the ONLY day in that year that it snowed.  But we made it through, put in some extra time and had the backing tracks nailed until the night.
2)  Working in the brand new studio of our producer Siggi, which has an excellent sound, as you can hear on the record and learning a bunch of new stuff production wise.
3) A lot of coffee!! You have to check our studio diary for that one !
You have a few German based shows already announced following the album release, beyond those shows, do you have any firm touring plans for the rest of 2012, or looking further ahead into 2013?
We will be touring around Germany until the end of 2012 and starting 2013 we are working on shows for Italy, France and the UK.  Hopefully we will get Down Under sometime too !
How would you describe the bands live performance using just 5 words?
Raw, energetic, rock n' roll !
Here you are doing an interview for an Australian based rock website, how much International interest have you noticed in the band over your history so far?
Great! There's a lot of interest coming from overseas toward us.  Mainly because we don't see Torpedohead as a German band that's stuck in Germany.  We play rock music that's inspired by bands from the US and UK and thanks to our great producer Siggi we have a sound on the record that can stand up to any big major rock production.  Lately there's a lot of American podcasts and Internet radio stations that get drawn to our songs and play them on their shows.
What would you say have been some of the biggest learning experiences so far in the life and times of Torpedohead?
This whole rock n' roll thing is one big roller coaster ride.  A lot of ups and sometimes even more downs.  Never a dull moment, but in the end you are thrilled and need to jump on the next ride…. Let's go for a ride!
Here's a chance to gaze into your crystal ball, over the next 12 months, Torpedohead will have:
1.  A new video out.   2.  Played a lot of shows    3.  A damn good time !!
Check out our review of Greetings From Heartbreak Key right here…
Essential Information
From: Germany
Sounds like: Killer rock n roll with big hooks, sing a long choruses, guitar solos a'plenty…you know, all the good stuff!
Band members: Sven – Lead Vocals, Guitar, Hardy – Bass, Backing Vocals, Zasch – Drums
Website: www.torpedohead.de
Latest release: Greetings From Heartbreak Key (October 26th, 2012)