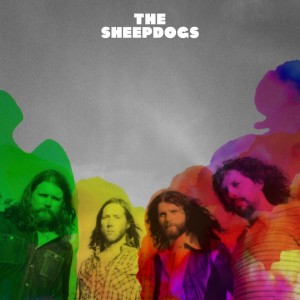 From Official Bio: "The Sheepdogs built their name on hard work and determination.  Having funded their first three albums and early years of touring on their own, this rock and roll band's momentum began to build exponentially with the release of the 2010 album, Learn & Burn. The band would go on to win three 2012 JUNO Awards (the Canadian equivalent of a Grammy): New Group of the Year, Single of the Year and Rock Album of the Year.  With a list of accolades this impressive the band is on the brink of engaging fans on a wider scale.
The Sheepdogs will do just that with the release of their new self-titled album, produced by The Black Keys' Patrick Carney and Austin Scaggs, which will genuinely introduce them to the U.S. and beyond.
Hailing from the small Canadian town of Saskatoon, SK, The Sheepdogs won an international competition in 2011 securing them the cover of Rolling Stone, making the group the first unsigned band to appear on its front page. The win, decided by 1.5 million public votes, also scored them a record deal with Atlantic, which offered up a new EP from the band, Five Easy Pieces, in August 2011."
If you love your rock n' roll with melody, harmonies and groove, then The Sheepdogs could just be one of the best things you've never heard.  To give more of an insight into the band and their new album, we chat with the bands Australian born lead singer/guitarist, Ewan Currie.
Congratulations on your new self titled album.  For those already familiar with The Sheepdogs, musically, how would you compare the new album to what you have delivered with your past couple of releases?
It's the same musical territory- blues based, melodic rock music with vocal harmonies and guitar solos.  The trick is to keep things fresh by trying different sonic textures, timbres, etc.  We do this by using different instruments and varying the tones from song to song. We're pretty conscious of having a good variety on our albums.
I always love to find out the meaning behind the choice of a bands name or album title and given your album is self titled, I guess you get the question of what does 'The Sheepdogs' represent as a name?
It's a name, that's about it. I always liked "the" band names of the 60's and especially animal ones.  People love to draw the connection between our hirsute appearance and sheepdogs themselves, but its just coincidence.
How did the songwriting and recording take place for the album, was this something significantly different to the approach you have taken in the past?
It was very different.  Our last album was the sound of a band with not much going on- not too many commitments, fans or expectations.  We were laid back and took our time recording the album on our own over the course of a summer.  This time we had a 2 week window to work with, a studio with professional equipment, and several extra pairs of ears. There's no one way to make an album, just different ways.  We enjoyed both.
Would you say there were any major influences on the new album lyrically?
I try to let the lyrics flow subconsciously. A lot of the time I try to write them really fast, then go back and edit, try and make some sense of them. I find if I focus too much on the lyrics I get too self-conscious, hence the stream of consciousness approach. It's a good way to let little pieces of yourself flow out without sounding too pretentious.
I've picked out three songs from the album and would love to hear your comments and thoughts on each of these tracks:
Feeling Good – Just good a good old fashioned stomp of a song. I wrote the chords and melody years ago and when I showed it to Pat I suggested we throw the Garry Glitter drumbeat underneath.  He's no stranger to that drum pattern.
Javelina! – We jokingly called this tune "jazz Odyssey" when we first started rehearsing it because of the changing time signatures. I love instruments playing in harmony, whether it's horns or guitars or whatever.  Whenever you harmonize guitars in thirds like this it always ends up being reminiscent of the Allman Bros, which is fine by me.
Is Your Dream Worth Dying For? – I know a lot of young adults who are striving to be musicians, visual artists, etc, basically any profession that is a passion and not necessarily a guaranteed paycheck.  It's about finding that drive to commit to what you love in spite of the fact you may be broke and struggling in a lot of ways.
You recorded with Patrick Carney drummer from The Black Keys.  What led you to working with Patrick and how did the experience with him turn out?
Simply met him and asked him. He's a rock n roll guy and he's done a lot of different projects. Also, I've listened to the Keys since 2002. Experience was great, nothing fancy, just laying tracks, hearing each other's opinions, arguing, laughing about dumb shit, the usual studio stuff.  We all take it seriously, but in a very casual, informal way.
When you think back to the recording sessions for the album, what are 3 thoughts/memories that most immediately come to mind?
–  cutting the first couple tracks without a click track and without headphones. we were all just in the room watching each other.
– playing a lot of NBA Jam on Sega Genesis
– eating tacos from this taco truck in Nashville. Best tacos we've ever had.
You have recorded a baseball themed video clip for 'The Way It Is', what were you shooting for as far as the concept with that?
Just wanted to make something that was funny.  Too many videos are boring with the requisite shots of bands miming along to their songs. We asked the Sklar Brothers to help us make something that would be a laugh, not so serious.
As far as touring, you are currently in the midst of a USA tour and have a bunch of Canadian dates coming up with Yukon Blonde – how have the new songs adapted into a live scenario?
They've transitioned well.  We've added my brother, Shamus, to the mix- he's playing organ and keys and singing harmonies and playing a little trombone.
For those of us who haven't yet had the opportunity to see you perform live…yet, how would you describe what you aim to deliver with your live show?
The live show is very important. It's our bread and butter and we aim to kick ass every time we hit the stage.  We have 4 part harmonies, we play guitar solos-sometimes in harmony as well, we play a diverse set and we always keep it uptempo and high energy. We try to bring a party to every town we come to.
So how extensively can we expect you to be touring internationally in the near future – does a return to Australia beckon anytime soon?
Absolutely. We'd love to come back, we had a tremendous time over there. I was born in Sydney and lived in Adelaide till I was 10, so it's like home coming for me, with family and everything.
Essential Information
From: Saskatoon, Canada
Band members: Ewan Currie – Guitar and Vocals, Leot Hanson – Guitar, Ryan Gullen – Bass and Backing Vocals, Sam Corbett – Drums and Backing Vocals
Website: www.thesheepdogs.com
Latest release: The Sheepdogs (September 7, 2012 – Warner Music Australia/Atlantic)