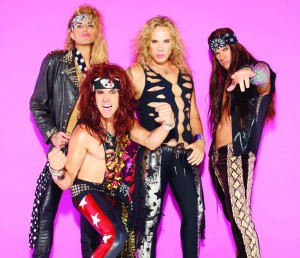 "Tonight sums up what this band is all about, they're metal, they're bringing it back and if this crowd and those around the world have their way, it won't be going away again in a hurry."
So, I'm pretty sure that the wigs outnumbered the real long haired males tonight but regardless, the fact that people have come in droves tonight dressed in all forms of 80's metal style tonight means one of two things. A) We've gone back in time which would rule or 2) That Steel Panther are in town.
Before tonight I've seen Steel Panther now seven times, dating back to 2007 when they were Metal Skool and I saw Satchel hang from the roof over the crowd playing the 'Eruption' solo it was something pretty special and since then they've always put on an amazing show and it's now so great to see how they've progressed from playing the Key Club in West Hollywood to now be a major draw card all around the world. So tonight as they play their first headlining show in Sydney at the Big Top at Luna Park, a place who's slogan is 'Just For Fun' it is the perfect environment for one of the most entertaining bands you'll ever see live.
The Art did their best to warm up the crowd with some great tunes and a bitchin' drum solo courtesy of drummer Jordan which is a ballsy move in a support slot but nice work. The hard thing about supporting a band like Steel Panther is that everyone just wants to see Steel Panther but I have to give The Art credit for what they did tonight, a great set and hopefully we'll hear more from these guys soon.
With the likes of RATT, Danger Danger, The Darkness and Iron Maiden blaring through the monitors before the set and the crowd already in sing along mode, the house lights dim to screams as 'In The Future' sets up the opening riff and pounding drums of 'Supersonic Sex Machine' and we're off, Steel Panther are about to show us how it's done…  They launch straight in to 'Tomorrow Night' which was easily a crowd favourite and played perfectly, this song is something else I tell ya.  "Are you motherfuckers ready for some heavy metal?" Satchel asks to a very responsive audience, oh, the answer was yes by the way, and this is what works for this band, the banter is simply amazing and there aren't many bands around that can do this, in fact I can name two.  When you have band introductions taking five minutes and you simply don't care because you're in stitches and truly this is what makes the show what it is, perfect timing and a bass player named Lexxi…
'Fat Girl' was up next and I think even the band were surprised with the response on this one. The 'Whoa ohs' from the crowd were something pretty damn cool, this song though is one of the funniest things ever written and always great to hear live "Thar she blows…" 'Asian Hooker' is definitely a favourite which started a splitting of the crowd sing along battle between Satchel's side and Michael Starr's. This wasn't your usual 'whoa oh' 'yeah eh' repeat after me sing along, there were moms involved, lots of 'fucks' and even some bald guy got to be part of it. Genius stuff indeed…
The hardest part about a Steel Panther show is truly where to watch. There's so much going on with the band members, from 'choreography' to hair flicks to jumps to microphone horse play and even crowd interaction mid song, this is what truly makes it a show and a fucking good one. 'Just Like Tiger Woods' played straight in to 'Gold Digging Whore' which has the BEST sing along yet by the crowd, I mean I've never heard the letter E sung with such passion and gusto. If you know the song, you know what I mean.
If you haven't seen it before, Satchel's guitar solo is something to see. He is amazing, simply amazing, and hot, wait, what? I mean… As he gets behind the drums and takes over the kick drum for a medley of 'Smoke on the Water', 'Breaking The Law', 'Master of Puppets', 'Crazy Train', 'Sweet Child O' Mine', 'Iron Man', 'Paranoid', and sing along favourite 'Do-Re-Mi'… Too good and yeah, you need to see it to know what I'm talking about.
It wouldn't be a Steel Panther show without boobs, and there were boobs a plenty thanks to some Brazzers girls during 'Turn out the Lights' leading to some fun antics on stage much to the pleasure of the mostly male crowd. 'I Like Drugs' is the happiest of songs and the underlying banter of doing cocaine all evening certainly suits this song. Time for the heavy metal ballad, Stix got up from the drums and heads to the front of the stage to show us his piano skills on 'Weenie Ride' and Satchel gave it up for his guitar solo as the star of the song. In his defence, it was pretty bitchin' and it was also great to see the lighters out tonight and held aloft too, it was a real old school gig tonight in more ways than three.
When you get 'Party All Day' and 'Death To All But Metal' back to back I have to say that you get the formula for one hell of a rowdy crowd. 'Death…' Is a stand out tonight and sums up what this band is all about, they're metal, they're bringing it back and if this crowd and those around the world have their way, it won't be going away again in a hurry.
Encore time and after stories of their exploits in the few minutes they were offstage it was time for arguably the greatest power ballad ever in 'Community Property' and that's not even me kidding. This song is amazing; there is so much heart, so much passion and so much love. Isn't that what it's all about? The crowd lapped it up and had their arms waving without a care in the world, it was awesome to see. 'Eyes of a Panther' was a gimme in the set and kicked ass, as did show closer '17 Girls in a Row' complete with smoke cannons, the only thing missing was pyro. Next time Panther, next time…
A very gracious Steel Panther thanked the crowd and "All kidding aside we fucking rule…" says Satchel, which sums up the night as Michael Starr stays behind to remind everyone not to drink and drive but to do a 'bump' before it if you're going to, such a gracious host. These guys are so good at what they do, the jokes are genius, the banter is hilarious and aside from all that they are probably one of the tightest bands of musicians out there today and I can't wait to see what's next for Michael Starr, Stix Zadinia, Satchel and Lexxi Foxx.
So brush off your spandex and 1985 – 1990 (insert band here) tour t-shirt and enjoy Steel Panther for what they are… Fucking amazing entertainment. I had a ball tonight as did the sold out crowd. Oh yeah, did I mention that? Sold out! Heavy Metal is back, baby…
Essential Information
Venue: The Big Top, Luna Park – Sydney
Date: October 5 2012
Supports: The Art
Website: www.steelpantherrocks.com

Set List
In the Future
Supersonic Sex Machine
Tomorrow Night
Fat Girl
Asian Hooker
Just Like Tiger Woods
Gold Digging Whore
Guitar solo
Turn Out The Lights
I Like Drugs
Weenie Ride
Party All Day
Death To All But Metal
Community Property
Eyes of a Panther
17 Girls in a Row
Catch Steel Panther on their remaining Australian dates presented by Soundwave Touring:
SATURDAY 6 OCTOBER
SYDNEY, BIG TOP LUNA PARK  – 18+
www.bigtopsydney.com / www.oztix.com.au / www.ticketek.com.au  
SUNDAY 7 OCTOBER
MELBOURNE, FESTIVAL HALL – Lic & Unlic Areas
www.ticketmaster.com.au
 TUESDAY 9 OCTOBER
ADELAIDE, THEBARTON THEATRE – Lic A/A
***CHANGE OF VENUE AND DATE FROM MON 8 OCT. ALL TICKETS REMAIN VALID***
www.oztix.com.au / www.venuetix.com.au 
THURSDAY 11 OCTOBER
PERTH, METRO CITY – 18+
 ***CHANGE OF DATE FROM WED 10 OCT. ALL TICKETS REMAIN VALID***
www.oztix.com.au