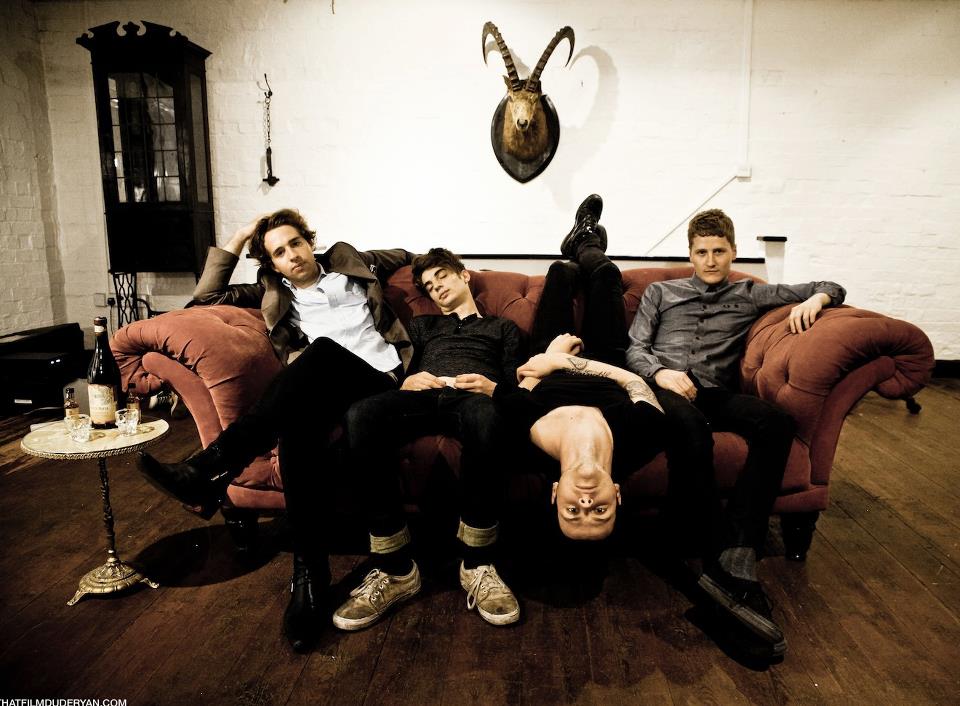 "I guess we're quite different from a lot of other acts on Soundwave and I think we'll definitely stand out and I'm really excited to be given a platform to play with bands that don't sound like us but there should be some common interest there at least."
From Official Bio: Without gods, idols, or laws, there's absolute freedom. Individuality reigns supreme, and you're free to do whatever the hell you want. That's precisely what SHARKS do on their first full-length album for Rise Records — 'No Gods' [Spring 2012]. Instead of merely adopting the rules and regulations of the iconoclastic chaos of punk or British indie music the youthful UK quartet swims in a space between both styles. Over the course of eleven infectious anthems, SHARKS sharpen timeless melodies with an explosive edge tempered by intricate riffing and hypnotic harmonies. It's pure, poetic, and powerful.
Really excited to be coming to Australia, mostly to check out the "crazy animals" we chatted to Sharks drummer Sam Lister about their pending visit for Soundwave, their debut album 'No Gods' and their luck with bass players…
Hi Sam, thanks for taking the time to talk to us.
Hey buddy, much appreciated, thanks for your time.
You were due to head to Australia in August but you're now heading over to play the completely sold out Soundwave festival…
Yeah, we've got pretty lucky really haven't we?  It kind of looked like we weren't even going to be going to Australia at all and then we got the offer for Soundwave and it was kind of like 'Oh my God, this is crazy!' but we're really, really grateful we got to do it.
Can you give us an idea of what people can expect if they come and see you on the day?
I'd like to think something entertaining, energetic, a bit of a flash from the past, I guess we're quite different from a lot of other acts on Soundwave and I think we'll definitely stand out and I'm really excited to be given a platform to play with bands that don't sound like us but there should be some common interest there at least, but hopefully a nice kind of light break on the day if you're there.
I think everybody's going to be there, seems the whole country wanted to be there…
(laughs) yeah, it seems that way.
The bill itself is huge as you'd know. Are there any bands you're specifically excited about sharing the tour with?
There's a lot yeah, well first and foremost I have to mention our really close friends Gallows who are heading over there, we've toured with them numerous times and stuff and they're really good friends of ours, so just to be there with them is really exciting. You also have Fucked Up, The Wonder Years, Madball, Cypress Hill, Cancer Bats… Blink 182 are playing, right? Metallica, I'm not so much of a Metallica fan, but it has me intrigued to see it.  The Lawrence Arms and Lucero, just to name a few but those are the main ones…
So, a few more and you pretty much read out the whole bill…
(laughs) yeah, I know…
Your debut album 'No Gods' has been out for a little while now though, how has the reaction been to it?
I think good, I think we were a bit dubious when we had it finished that the reaction might be a bit mixed, but I feel generally especially press wise, all the reviews have been really good and it's good, yeah, really good.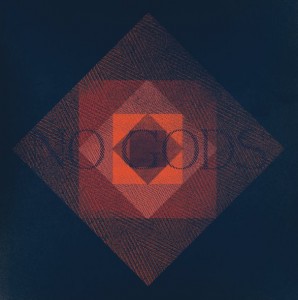 In putting 'No Gods' together, I was reading that you didn't want to, nor pay attention to any trends, do you think this helped to make the album what it became?
Yeah, I hope so, I think we definitely engineered it to sound like a branch of bands coming through, you know?  It's always been, especially in England bands blow up real quick, someone told me it's the tall poppy syndrome, that happens a lot in England, and that's what we really want to try and avoid that.
Influence wise, who would you site as helping Sharks to become who they are?
Well, a lot of people.  I think we're all really influenced by a lot of British music, especially from the Clashy, Buzzcocksy, Billy Braggy era of things, but definitely I know James is influenced by a lot of American music as well.  I know he's a big fan of Alkaline Trio and The Descendants and more of the punk stuff like that, also a huge fan on the new wave of British music with bands like The Cure and stuff like that.  It's a pretty wide range to be honest.
Then throw it all in a blender and make Sharks…?
Yeah (laughs) well I'd like to think so, I don't know…
You've been a band for 5 years now, with EP and compilation releases why did it take so long to release your debut album?
Well we were just trying to find someone to put it out to be honest for years and years, and as soon as we found someone we kind of tried to get the ball rolling with doing the record.  We were genuinely looking for a label and someone to release the record for a long time and it just kind of came about the way that it did.  It's not a super cheap thing to do as you can imagine… everything we did before that was just funded ourselves but we could never get enough together to do a whole couple of weeks or however long we needed, but it all kind of worked out in the end.
It may have worked as over the years you could build a fan base and then when the album comes out they already know who you are…
Yeah, sure, I'd like to think there was some of that.
Is it true that you're already working on material for a new album?
Yeah we're actually hoping to get the new record out pretty quickly actually, we're hoping to have it written and wrapped up by the end of the year.  Then hopefully have it out in the first half of next year.  I think we'll play one or two new tracks at Soundwave, but it's coming along nicely, yeah.  We have about six or seven finished already.
I have to ask, what is it with Sharks and bass players?  Seems you've had more guys play bass in the band than any other band, ever! 
(laughs) yeah we've been through a bit of Spinal Tap in the bass player department…
Is Carl a little worried at this point?
No, not at all, essentially we had not the most amicable split with our first bass player, and since then we've basically had a lot of fill ins to get through the last year of touring, cause we were on the road for nine months and our bass player left two months in, so we had a lot of time left to fill where we just had to get different guys to fill in and stuff like that.  So we ended up having something like six bass players in a year or something ridiculous you know (laughs).  We're really set up now and we have a really good friend of ours Carl playing now who I'm pretty sure has made things pretty complete for us, so yeah, I think the hard year is over but it's been a bit of a joke really (laughs).
Well as long as no one exploded then it's alright…
Yeah we were actually going to start telling people that a few of them spontaneously combusted or died in gardening accidents or stuff like that… but that never came about…
You've just made a video for 'Luck' what can we expect to see?
Lots of taxidermy and just us looking really tired (laughs) we did it at two in the morning or something in James' house and it was quite a long night to be honest, I probably don't look my best in it, but it's a good one, it's a good video and I'm excited to drop it.
With 2013 just around the corner, have you got any sights set on what you want to achieve in this coming year?
I think we definitely want to get this record done, and going to Australia is a pretty mad start to the year and if it follows in that vein I think it'll be a pretty big one.  Just going to ridiculous places… I don't really know what we have in store, this is just what we do, just roll with it and see where it goes really.
Thanks for your time Sam and we look forward to seeing you at Soundwave.
Cheers, I'm just really excited to go, thanks a lot buddy.
Essential Information
From: Royal Leamington Spa, UK
Band members:  James Mattock – Vocals / Guitar, Andrew Bayliss – Guitar, Sam Lister – Drums, Carl Murrihy – Bass
Website: Official Facebook Page
Latest release: No Gods (Out Now – Rise Records)
SOUNDWAVE FESTIVAL – FEBRUARY/MARCH 2013
SOUNDWAVE FESTIVAL VENUES AND DATES
SATURDAY 23 – BRISBANE, RNA SHOWGROUNDS – SOLD OUT!
SUNDAY 24 – SYDNEY, OLYMPIC PARK – SOLD OUT!
FRIDAY 1 – MELBOURNE, FLEMINGTON RACECOURSE – SOLD OUT!
SATURDAY 2 – ADELAIDE, BONYTHON PARK – SOLD OUT!
MONDAY 4 – PERTH, CLAREMONT SHOWGROUNDS – SOLD OUT!
For more information head to www.soundwavefestival.com