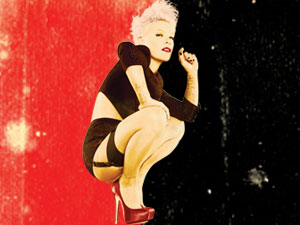 THE TRUTH ABOUT LOVE TOUR AUSTRALIA 2013
 The P!nk Sensation Continues!
Extra Shows Across All Markets
Tickets On General Sale 9am Tomorrow
 TUESDAY OCTOBER 16, 2012 –  Australia's love affair with P!NK continues! Following the overwhelming ticket demand during the pre-sale windows – and ahead of tickets going on general sale tomorrow morning at 9am – seven additional show dates have been added to the national tour itinerary.
P!nk has confirmed two extra shows in both Melbourne (July 16 & 17) and Sydney (August 9 & 10) plus an extra show in Perth (June 29), Adelaide (July 5) and Brisbane (July 23), taking the national tally to 28.
The first tickets for these new shows, as well as remaining tickets for all of the previously announced shows, go on sale at 9am (local time) tomorrow, Wednesday October 17.
There is a limit of six tickets per transaction.
Head to www.livenation.com.au for full tour and ticketing information.
Renowned around the world as one of the most dynamic live performers of her generation – and by far the most successful female touring and recording artist ever in the Australian market – P!NK's 2009 Funhouse Tour was one of the biggest Australian tours ever.
Starting off as a 20 show run, overwhelming demand meant that the tour extended into a three-month stay, with P!nk eventually playing a phenomenal 58 sold out shows to more than 670,000 fans around the country. Funhouse broke Australian box office attendance records, reaching a staggering 17 sold out shows and 220,000 ticket sales at Melbourne's Rod Laver Arena, 12 stunning Sydney shows and 11 at Brisbane's Entertainment Centre.
'The Truth About Love Tour' is primed to deliver awe-inspiring performances in the now trademark P!nk style – thoroughly captivating audiences with her rockin' vocals and a formidable catalogue of hits, all delivered with a kick-ass attitude and spectacular staging.
The 2013 tour announcement follows the release of P!nk's sixth studio album, the ARIA #1 debut, triple-Platinum 'The Truth About Love', featuring the massive airplay and ARIA #1 smash 'Blow Me (One Last Kiss)' and Top 10 hit single, 'Try'.
Since her debut in 2000, P!nk (Alecia Moore) has released seven albums – 'Can't Take Me Home', 'M!ssundaztood', 'Try This', 'I'm Not Dead', 'Funhouse', 'Greatest Hits So Far!!!' and 'The Truth About Love' – and sold more than 40 million album and 65 million singles (nearly 20 million of these, digital tracks).
P!nk's sales exceed well over one million DVDs worldwide and to date, 15 of P!nk's singles have reached #1 in at least one or more countries, including 12 singles in the Top 10 on the US Billboard Hot 100 Chart.
In Australia, three-time Grammy winner P!nk has sold more than 6.5 million albums, and a staggering 8 million units of her music.
Her previous studio album 'Funhouse' spent months in the ARIA #1 spot and was the highest selling album of 2010, featuring #1 airplay smash hits 'So What', 'Sober', 'Please Don't Leave Me' and 'Bad Influence'.
'Greatest Hits So Far!!!' resided in the ARIA #1 position for 13 consecutive weeks and featured ARIA #1 single 'Raise Your Glass'.
'Funhouse Tour Live In Australia' DVD was the #1 highest selling DVD of the decade and is currently certified at an incredible 30-times Platinum.
 THE TRUTH ABOUT LOVE TOUR 2013 AUSTRALIAN DATES
  PERTH ARENA
TUESDAY 25, WEDNESDAY 26, FRIDAY 28 & SATURDAY 29 JUNE
ADELAIDE ENTERTAINMENT CENTRE
MONDAY 1, TUESDAY 2, THURSDAY 4 & FRIDAY 5 JULY
ROD LAVER ARENA, MELBOURNE
SUNDAY 7, MONDAY 8, WEDNESDAY 10, THURSDAY 11, SATURDAY 13, SUNDAY 14 JULY
TUESDAY 16 & WEDNESDAY 17 JULY
 BRISBANE ENTERTAINMENT CENTRE
FRIDAY 19, SATURDAY 20, MONDAY 22 & TUESDAY 23 JULY
SYDNEY ENTERTAINMENT CENTRE
TUESDAY 30 & WEDNESDAY 31 JULY
FRIDAY 2, SATURDAY 3 & TUESDAY 6, WEDNESDAY 7, FRIDAY 9 & SATURDAY 10 AUGUST
 TICKETS ON SALE 9AM TOMORROW, OCTOBER 17
 For complete tour and ticket information, visit:
 www.pinkspage.com, www.thetruthaboutlovetour.com or www.livenation.com.au