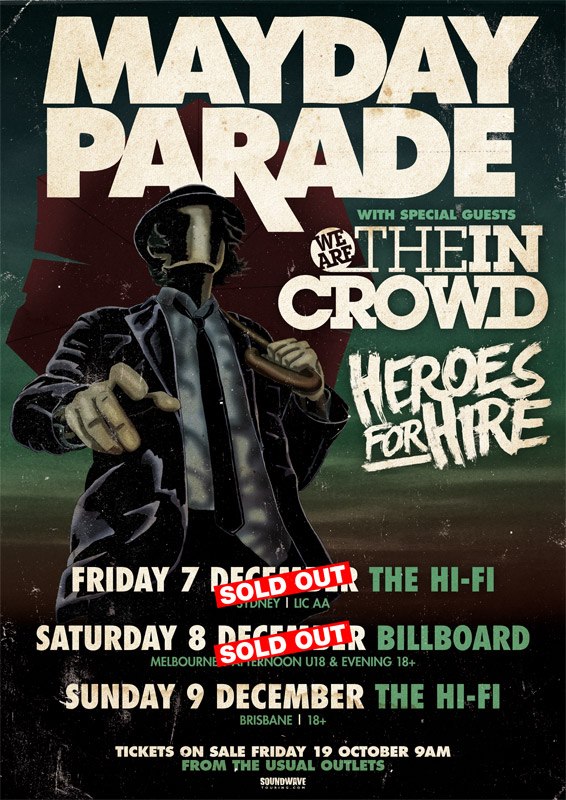 Once in a while a band comes along who have crafted a sound that's so unique it's hard to believe they haven't been playing together for decades; that band is MAYDAY PARADE.
MAYDAY PARADE's debut album 'A Lesson in Romantics' had Property Of Zack gushing that it was a "combination of spry, incisive pop-punk and sprawling, filter-free balladry". MAYDAY PARADE have been perfecting their unique brand of pop-inflected punk ever since and this is nowhere more evident than on their latest self-titled album which will even "put a smile on the faces of even the biggest doubters." – Alter The Press
In a genre that's so crowded it takes something special to get yourselves noticed. WE ARE THE IN CROWD certainly fit into the category of getting noticed and are gaining attention worldwide at an incredible rate armed with an irresistible combo of male and female vocals. This is a band that has all their dominoes poised and their debut album 'Best Intentions' just gives us a taste of what's on the horizon "and you can't help but feel it's going to do massive things for them." Punktastic
2012 has undoubtedly been HEROES FOR HIRE's biggest year to date. A slot on the Soundwave Festival and the group's maiden trips to Thailand, Japan and China all culminated in the writing and recording of their third full-length effort, 'No Apologies'.  HEROES FOR HIRE will be saying farewell to this year with an almighty bang as they join this massive Pop Punk triple bill!
TICKETS ON SALE NOW
FRI 7 DEC – SYDNEY, THE HI-FI – Lic AA
SOLD OUT
SAT 8 DEC – MELBOURNE, BILLBOARD –
Afternoon U'18 SOLD OUT
Evening 18+ SOLD OUT
SUN 9 DEC – BRISBANE, THE HI-FI – 18+
www.thehifi.com.au