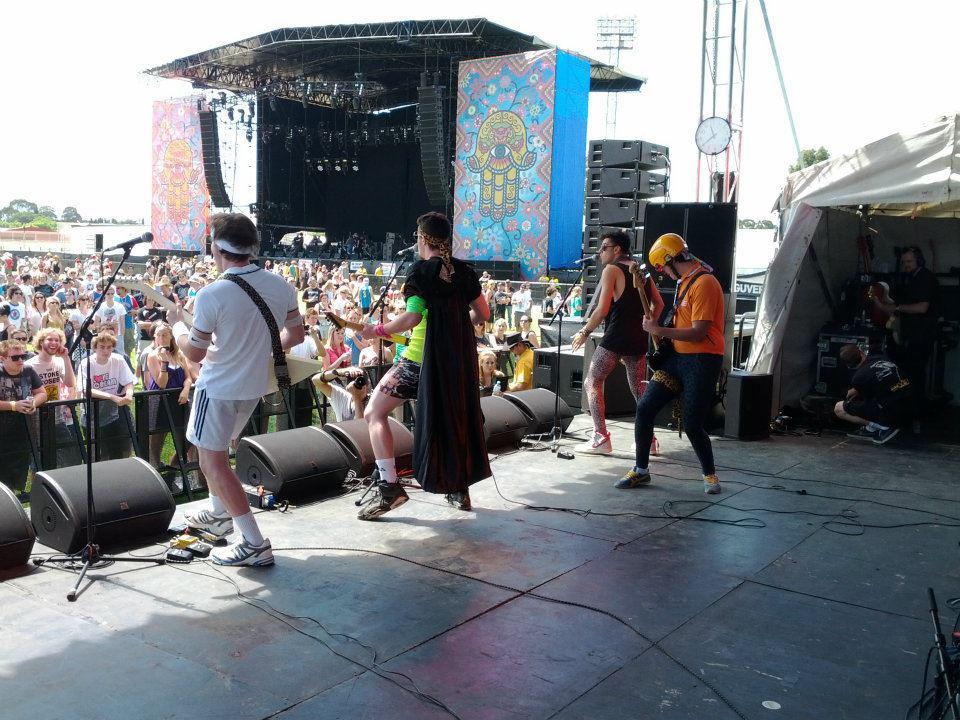 Official Bio: "If Love Cream were to be described in one word it would be "LoveCream".
Love Cream come from the cozy eastern suburbs of Adelaide and into your ears. They are at the forefront of the Sex Rock musical genre. Having played the 2012 Adelaide Big Day Out in February and subsequently amassing a large and ever-growing cult following, one thing is for certain: The 'Cream always rises to the top.
In a time where the golden age of rock is a thing of the past, and acoustic-wielding, cardigan-clad, non-prescription glasses wearing bedwetters dominate the guitar-based music scene, Love Cream arise to right wrongs and return all things ballsy back to music.
Ladies and Gentlemen, Prepare To Be Creamed."
October 13th @ the Cavern Club in Adelaide, Love Cream, along with Hansel, Generation Swine and Laced In Lust will be playing the inaugral 'Glam Junkie's Sleaze Ball', a night of sleaze rock debauchery!
http://www.facebook.com/pages/Glam_Junkies-Sleaze-Ball
Let's start with the basics first, for those not familiar with Love Cream how would you describe what Love Cream are all about, both musically and visually? 
Well Scott, Love Cream stand for original songwriting, breaking cliches, making more cliches to be broken only again by the originality of our cliches. Love Cream also stand for attractive ladies when they leave the table, because that's just gentlemen-like.  Visually, a Love Cream show is the equivalent of sex with your step-sister.  It's like being kicked in the balls, but in a good way.  Sort of like being colour blind and watching porn through a kaleidoscope. Which is sort of like a Love Cream show.  We're trying to "bring back the balls to rock", or so to speak and we put on the show we'd pay to see.
Can you introduce each member of the band and give us a rock 'n' roll fact or myth about each?
Gallo "The Tap" Gallo: Singer and Drummer. He now sells hand-made wooden ornaments after years of dreaming.
Nick Robinson: Lead guitarist and main songwriter. He compulsively blew all his money on industrial white goods.
"Sexy" Phil: Lead Bassist. He once died for 3 seconds onstage from being too sexy, which resulted in him needing de-sexification surgery. The surgery was unsuccessful.
"Farmer" Dan: Drummer and Lead Rhythm Guitarist. He is now the proud owner of a John Deere S-30 Combine Harvester
Vinnie Dynamo: Lead Singer and sexual icon, he recently returned from a brief tour of Las Vegas where he became the first man in the Northern Hemisphere to fight in an organised 3 rounds against a live bear. Although he lost, he retained his honour as well as most of his appendages and will go down in history as the first man in the Northern Hemisphere to fight in an organised 3 rounds against a live bear.
So tell us what do you have on the horizon as far as EP/album releases…are you currently, writing, recording or waiting for the multi-million $ record deal haha?
We are currently in pre-production for our debut EP, which we will record in November on the Gold Coast with musical wonderkid Casey Jones of De La Cruz fame.  It's 5 tracks of 'Cream classics and is rumoured to be called "Spank the Ham". Those rumours are false. It will be called "First Taste" and should be released in early January.  The multi-million dollar contract should be here any day now..
What or who are some of the greatest influences on your music, in both a lyrical and musical sense?
Undoubtedly KISS. We have two Jewish brothers as lead singers, and are still learning our instruments, what more can I say? Those guys were like The Beatles of music. Absolutely prolific.  Lyrically, I think Love Cream does what it says on the box. We sing about what inspires us most, breasts. We sing from the heart and groin.  Some may draw a comparison between us and Steel Panther and The Darkness. Then again, some people voted for Hitler.
Here's one of those "hypothetical" type questions, that one day may or may not come true…if you had the opportunity to play your music to one of your greatest influences, either alive or dead, who would it be and why?
There's simply too many to name, so I'll name all of them.  Jimi Hendrix, John Lennon, Elvis (Costello, of course), Lead Zeplin (I love that guy!), John Cena & Tha Trademark, Chad Kroeger, that singer guy from Aerosmith, you know, that one that died in the plane crash; Mick Jagger isn't it?
If you were a person in the crowd at one of your gigs, what five words would you walk away using to describe the performance you just witnessed?
"I think I just came."
In 2012 you hit the stage at the Big Day Out in Adelaide, tell us how you enjoyed that experience?
It was wild, playing on the same stage as us must've been great for The Living End.  Just kidding, those guys will make something of themselves someday.  Meeting Tony Hawk was definitely awesome, I mean he's the very guy I got 4 million points with in a 2 minute run on cruise ship.  Sexy Phil wasn't as lucky as the rest of us. He loaded up on oysters at the artists village and an hour later he succumbed to septicemia and subsequently spent the rest of the day shitting himself in Soundgarden's porta-loo.  On a whole though it was a great experience and will stay with us for life. Just like Phil's colon scars.
Can you remember the life defining sight, sound, touch and/or smell whilst growing up that made you think being a "rock star" was the path you wanted to tread?
Hearing Led Zeppelin's "Immigrant Song" when I was 10 changed everything for me.  In the years that ensued I built up my skills and sexual frustration and what climaxed was Love Cream.  To see the joy our music brings to people, and hear them screaming the words "I want to spray my love all over your face" back to me is a truly wholesome and fulfilling experience indeed.
For the benefit of those reading this in galaxies far, far, away, how would you describe the current music scene in Adelaide/Australia and Love Cream's place within it?
"Koona t'chuta, Solo? Klop Jabba poo pah. Goo paknee ata pankpa", which roughly translates to "Not big enough."  For obvious geographical reasons, Adelaide's music scene is largely ignored on a national and international scale. There's plenty of great talent and energy in Adelaide but you really have to head to the Eastern States to make any waves.  I'd like to think Love Cream are recognised across our fair city and stand out as much as a fat kid playing hide and seek.
With 2012 half way through, here's a chance to gaze into your crystal ball.  Over the next 12 months, Love Cream will have:
1. An EP released
2. A music video supporting it
3. A 5 album record deal with a $250,000 cash advance and a sponsorship with Powerade and Adidas.
Essential Information
From: Adelaide, Australia
Band members: 
Nick "Skippy The Bush" Robinson – Lead Guitars
Michael "The Italian Stallion" Gallo – Lead Vocals/Lead Drums
Will "Hair of the Wog" Plagakis – Lead Vocals and Lead Rhythm Guitar
Phil "Phoot Long" Tziortzis – Lead Bass
"Farmer" Dan Sparks – Lead Drums and Lead Rhythm Guitar