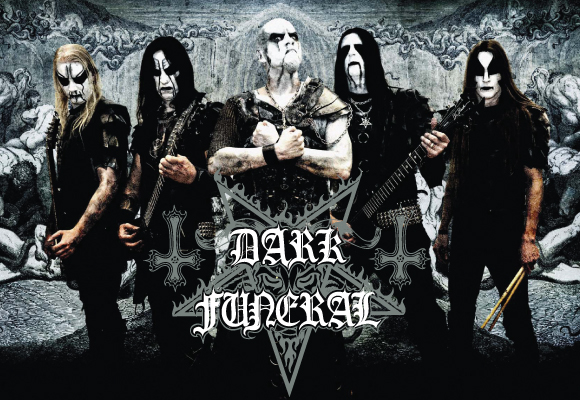 "So far the response to the touring with this new lineup is much better than I could have even hoped for.  Of course there's some fans that miss the old lineup, such as someone like Caligula, but I think so long as people give us a chance and check out the show, they will have second thoughts and see the new lineup works really fucking good."
Those "ineffable kings of Swedish Black Metal", Dark Funeral, are now just weeks away from terrorising Australia as part of their 'The Satanic War' tour that sees them rip through China, Hong Kong, Thailand and Malaysia.  Celebrating their 20th anniversary next year, Dark Funeral have established themselves as one of the worlds leading black metal bands, whether it be the response to their crushing studio albums or live releases, or for the brutal and relentless touring delivering everything you would expect from one of the leaders in black metal.
We spoke with remaining founding member, guitarist Lord Ahriman about the upcoming Australian tour and Dark Funerals place in delivering 20 years of uncompromising black metal.
Hey Lord Ahriman, thanks for taking the time to chat today!  So Dark Funeral are set to return to Australia in November, hopefully you guys are excited to be returning as the fans are to have you back!
Yes we are all looking forward to it, well we always look forward to going on tour, but some are always a bit more special than others, such as coming all the way to Australia.
How did you find your past experience here in Australia?  Any particular favourite memories, your tour went across New Years Eve didn't it?
Everybody was really friendly and the tour promoter was really friendly.  The crowds we met, everyone was really down to earth and cool.  Some countries the crowds can be a little bit too intense, but there in Australia everyone was nice and cool.
I always enjoy asking this question of International bands.  What comments do you have about Australia's reputation for producing extreme metal, at least from your observations over there in Sweden?
I remember back in the early 90's when I started Dark Funeral I was in touch with a lot of Australian bands.  Thinking about it now, there was certainly a bigger hype than what there seems now, at least from over here in Sweden.  I remember listening to quite a few Australian extreme metal bands back in the day.
Next year, Dark funeral will have its 20 year anniversary, have you got any special tours/shows/releases being planned yet?
Oh yes, there are lots of things being planned.  Firstly we are planning a small club tour, old school style and focus on playing mostly older stuff.  Then we will be doing a few selected festivals with special festival type shows that will say focus on The Secrets Of The Black Arts record with all the stage props and production on those ones.  We will definitely go right back to our roots at those shows you know, with bigger budget than ever for those few festivals.  It's going to be very interesting to do those shows!!
How do you feel the popularity of the band and black metal has grown in Sweden over the history of Dark Funeral?
You know you really have to tour a lot to keep the band going, but for us that's the lifestyle, to constantly be touring.  Things just seem to be getting better and better and of course there are periods where things don't go as good as you hoped, but that's life.  In general I think we've always been fortunate to have a very dedicated and strong fanbase.  This summer at some of the Festivals I recognised people who have been coming to our shows since 1996.  That's pretty fucking cool you know!
What do you consider to be the key things that you feel have contributed to your longevity, but more than that, the vital relevance of the band in extreme music?
Dedication and lots of hard work, that's really what keeps the band going.  You can't really get spoilt or lose that reality in this business otherwise it's just going to go downhill.
Throughout your history, how much have you noticed the demographics of your fan base change?  As you said earlier, there are certainly lots of familiar faces showing up, but are the younger generations really getting into the band as well?
Well it was a couple of years ago when I first started to notice a lot of younger generations getting into the band.  Ever since it's maintained that, where you'll see the younger kids in the front row and the older fans in the back.  But then there have been lots of new fans getting into the band via styles of music that gets mixed in with the black metal scene.  I remember the first time when we toured the USA, there were a lot of skaters coming out to the show.  I don't know why and perhaps it was to do with the speed of the music?  Then there's been a lot of goth type people who are really into black metal.  But I guess we've always had that variety and kept a core fan base.
You have toured through the European summer festival circuit and then have a big USA tour coming up before you hit Australia, so how has the band lineup settled down now, obviously firing on all cylinders?
You know you always learn knew things about everybody when you work together and when you tour.  Even if you've done 20 tours, you are always learning and talking about ways you can improve.  It's a good thing though, we are discussing things a lot more like that with this new lineup, compared to the old lineup.  So far the response to the touring with this new lineup is much better than I could have even hoped for.  Of course there's some fans that miss the old lineup, such as someone like Caligula, but I think so long as people give us a chance and check out the show, they will have second thoughts and see the new lineup works really fucking good.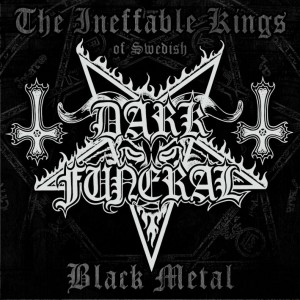 What production for your liveshow will you be bringing to Australia, what can we expect in a visual sense from the shows?  Obviously you will be playing smaller stages than say a Sweden Rock or Wacken Festival, but the shows will obviously be no less intense!
I must say I have to start thinking about that and look into the venues and stuff like that and take it from there.  It's something I'll dig into when I'm on the tour bus in the USA.  It will kind of be like vacation time compared to recent weeks where I've had 3 tours I've been planning for.  It's been taking up all my time to get things like the pre-production done for the three tours at the same time.
There has been mention of a new album coming in 2013, what can you tell us about where this album is at right now.  Have you started recording this yet?
We've started some work on it already, but there's still plenty of work still to be done.  The last few months we've been so busy touring and will be in the next few months.  But I've got a new laptop, a much more powerful laptop for the USA run, so I've been installing some new studio programs to help with setting up a small home studio on the tour bus.  I guess now it's about recording ideas.  I've got a studio application on my iPhone and can come up with some melodies out and about and then when I can get too a guitar as soon as possible, I can record them.  Even if it's acoustic or whatever, to just capture that idea then gives a chance to capture that and work on it further.
How do you feel the process for this album, both from a songwriting and recording point of view will be different from past albums, especially given you have a pretty fresh lineup?
This time we will definitely have the record completed with great pre-production before we come to the studio.  Before we've often done lots of writing whilst in the studio but this time we feel like if we have everything ready before we hit the studio we can spend more time in the studio to work on the finer details of the music.  It's very inspirational for me to work in the studio, but sometimes when you want to work on those smaller things, it's easier to do when you've only got them to focus on.
Well Lord Ahriman, you have a pretty busy 12 months coming up, kicking off with some Australian shows next month!
It certainly will be!  I think the coming year will definitely be a lot more interesting than the last few years, so we can't wait!
Essential Information
From: Stockholm, Sweden
Band members: Lord Ahriman: Guitars, Chaq Mol: Guitars, Dominator: Drums, Nachtgarm: Vocals, Zornheym: Bass
Website: http://www.darkfuneral.se
Tour dates presented by Metropolis Touring:
Thursday 22 November – Brisbane
The Hi Fi
Friday 23 November – Sydney
Factory Theatre
Saturday 24 November – Melbourne
Corner Hotel
Sunday 25 November – Perth
The Amplifier