Originating from parts unknown, we introduce you to Khaos.  So when I say parts unknown, well Khaos represents one of those musical collaborations made possible with the advent of modern technology these days – four people in four cities, come together to make one album, well in this case, a 5 track EP.  Khaos consists of Chandler Mogel, who I first was made aware of at Firefest in 2008 when he was singing for Talon, however he would be most well known to some of you as lead singer in Outloud.  On guitars there is Mark Rossi from Tribal, bass is handled by Nic Angileri of Jorn fame and drums, Trevor Franklin from Elis.  Having never played in the same room together, the EP Khaos Rising has been constructed entirely over the Internet with a mission of "making music without any kind of compromises – let creativity, musicality and energy flow, destroying barriers and breaking through obstacles".
Khaos Rising blends a mix of traditional heavy metal and modern metal riffs with soaring melodies.  If you imagine a cross between Starbreaker (Tony Harnell's superb project from a few years ago) and Alter Bridge, then you've pretty much found your mark with what Khaos deliver musically.  There's an intensity to the songs, bourne not out of fast paced and furious metal, but more the lyrical themes explored musically, song titles such as Distress Signal, Hated, Reason To Die, Mind Violence and Perfect Future should be enough to signify that Khaos are not about hard rock party anthems.
We check in with Chandler to delve further into the origins of Khaos and what they deliver musically.
Hey Chandler, thanks for taking the time to answer these questions about Khaos!  Ok, so first things first, whilst we know that this album was created over the Internet, across multiple continents – how exactly did you guys come to work together and first meet/be aware of each other?
Chandler:  No problem at all, it's always a pleasure Scott!  Thanks for your support.  Well, it all started with guitar player Mark Rossi (from Switzerland, and the band Tribal) laying down some demo tracks for a hitherto unnamed project.  He was doing so at Empire Studios in Germany with owner/engineer Rolf Munkes.  I had had some email correspondence with Rolf beforehand and he liked my work.  When Mark asked him if he knew any singers that might be right for the project, Rolf recommended that he give me a call.  After I heard the material I initially thought it was a little dark and heavy for me, but upon working out some lyrics and melodies it proved to work out really well.  Mark then got Swiss drummer Trevor Franklin (Elis) and bassist N I c Angileri (Jorn) and the lineup was complete!
I am personally always intrigued by the stories behind the choice of a bands name, so what is the story behind the name Khaos?
Chandler:  No real story behind it as far as I know.  Mark came up with it.  It was the working title for the project pretty much the whole time, and when it came time to think of a "real" name, nothing else sounded as good, so we said, "What the heck, this works!" J
Describe to us what Khaos is all about musically and lyrically?
Chandler:  Musically it's about creating something from nothing – Khaos. J  The subject matter goes a little deeper than what people might expect.  Lyrically it's different from song to song, for example the song Distress Signal is a planet's cry for help (as a society) and Perfect Future is about the questions regarding life that go through our minds constantly.  But then the song Hated switches gears and looks at self-abasement from more of a subjective point of view and Mind Violence touches on the irrationalities that occur when one is 'reacting' and can't think for himself.
I described in my review Khaos being a cross between, say Tony Harnell's Starbreaker and Alter Bridge.  What kind of music fans do you anticipate the music of Khaos appealing to?
Chandler:  I like that comparison, and agree.  Tony has always been a huge influence on me, and Mark Tremonti from AB is one of Mark's favorite guitar players, so it makes sense.  But we weren't trying to sound like either one of those bands….but I can see our music appealing to fans of both, even branching out as far to say melodic rock fans and American modern rock fans.  I feel there's something here for EVERY fan of rock music, in general.  So perhaps anyone immersed in this genre can find something to like about it!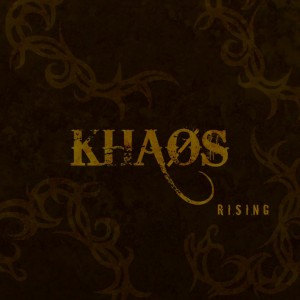 For you personally, being based in the USA and having worked with bands such as the Greece based Outloud, I imagine you are used to utilizing the powers of the Internet for writing and recording.  But talking specifically about Khaos, how did you find the whole experience?
Chandler:  Yes definitely.  Well, it's rather easy to do these days with all the advanced technology so it's safe to say it went quite smoothly.  Making the EP went relatively quick and was a blast.  We are working on the record in the same formula as the EP as far as recording – I'm doing vocals here in NJ and the band is recording their tracks at Empire Studios in Germany.
When writing for this EP, how did that exactly take place – obviously a lot of swapping files and ideas over the Internet, but did you also extend to using things such as Skype/video conferencing?
Chandler:  No we didn't use Skype.  A lot of Facebook Messenger though! J Basically it started with Mark sending me the instrumental ideas (rough structures) of the songs.  Then I would come up with a vocal melody and lyrics, and arrange the template idea he had to fit the melody and lyrics (for example, extending or shortening what would be considered a verse or chorus section).  That's about it, that's the formula we used for the EP, but for the record we are exploring starting with a melody and coming up with music around that, instead of the other way around.
Lyrically, there's a lot of heavy themes covered on songs such as Mind Violence, Hated, Perfect Future for example…were the lyrics to the songs all written by yourself?
Chandler:  Yes.  I have to give credit to Mark on Reason to Die for the title and the initial idea for some of the lyrics.
On Khaos Rising, you have used producer Rolf Munkes from Germany, what were you guys shooting for as far as the ultimate sound and listener experience?
Chandler:  Mark had worked with Rolf before in Tribal and I was familiar with his work from some of the records he has done so we knew what to expect.  He did a stellar job and has been a big part in helping us find our sound through this initial outing.
The EP has been released as a teaser at this point in time for a full length album – how far advanced are you guys towards writing, recording for the album?
Chandler:  That's right.  Writing is about 90% done at this point and we are almost ready to go into the final recording phase of the album.  We expect to release it early to mid next year.
Obviously down the track maybe when the album is out, do you intend to play a bunch of live shows and tour?
Chandler:  Most definitely!  We have high hopes for the record and intend to take it as far as it can go.  We already have some opportunities we are pursuing on the live front.
Here's a chance to gaze into your crystal ball, over the next 12 months, Khaos will have:
1.  Ten Million Fans
2.  A World Tour
3.  Nothing but love for each other! J
Essential Information
From: USA & Europe
For fans of: Starbreaker, Alter Bridge and lyrically thought provoking metal
Latest release: Khaos Rising EP (October 29th, Mark Rossi Records)
Website: www.facebook.com/Khaos2012