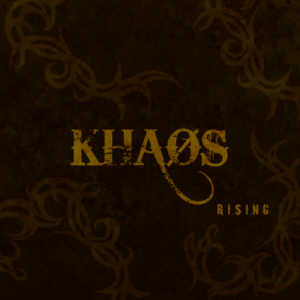 Originating from parts unknown, we introduce you to Khaos.  So when I say parts unknown, well Khaos represents one of those musical collaborations made possible with the advent of modern technology these days – four people in four cities, come together to make one album, well in this case, a 5 track EP.  Khaos consists of Chandler Mogel, who I first was made aware of at Firefest in 2008 when he was singing for Talon, however he would be most well known to some of you as lead singer in Outloud.  On guitars there is Mark Rossi from Tribal, bass is handled by Nic Angileri of Jorn fame and drums, Trevor Franklin from Elis.  Having never played in the same room together, the EP Khaos Rising has been constructed entirely over the Internet with a mission of "making music without any kind of compromises – let creativity, musicality and energy flow, destroying barriers and breaking through obstacles".
Khaos Rising blends a mix of traditional heavy metal and modern metal riffs with soaring melodies.  If you imagine a cross between Starbreaker (Tony Harnell's superb project from a few years ago) and Alter Bridge, then you've pretty much found your mark with what Khaos deliver musically.  There's an intensity to the songs, bourne not out of fast paced and furious metal, but more the lyrical themes explored musically, song titles such as Distress Signal, Hated, Reason To Die, Mind Violence and Perfect Future should be enough to signify that Khaos are not about hard rock party anthems.  From what I've heard vocally of Chandler Mogel previously, I have to say that the songs on Khaos Rising seem to suit his vocals perfectly.  There's a smooth, soulful, almost soothing quality to Mogel's vocals, but when mixed with dark and intense lyrics about topics such as the degradation of society for example, you get a very interesting dynamic.  Guitar lovers, there's lots of blistering guitar solos to dig your ears into courtesy of Mark Rossi – no better example than the 6 minute epic Perfect Future. 
Khaos Rising serves as a teaser for a full length album to come at a later stage in 2013.  In the meantime, Khaos Rising should well and truly serve as an introduction to a band you well and truly need to keep an eye out for.  If this is what can be produced across the Internet – then what awaits when the band finally get together and write and record in the same room?
Essential Information
From: USA & Europe
For fans of: Starbreaker, Alter Bridge and lyrically thought provoking metal
Release date: 29th October 2012
Produced by: Rolf Munkes
Record label: Mark Rossi Records
Website: www.facebook.com/Khaos2012
Track listing:
Distress Signal
Hated
Reason To Die
Mind Violence
Perfect Future
Reason To Die (Radio Edit)
Perfect Future (Radio Edit)