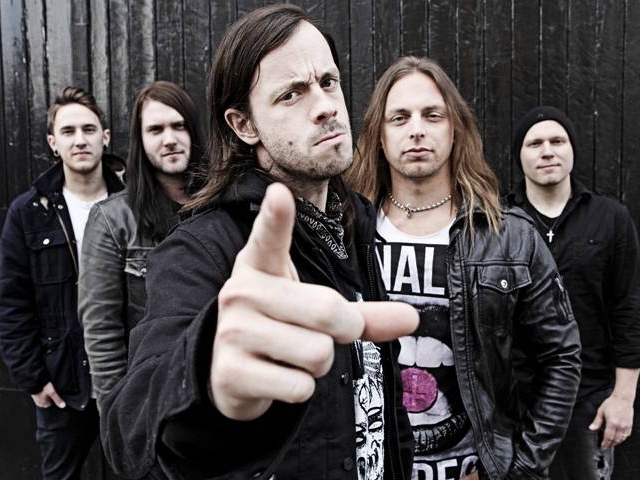 "I think it kind of sounds like everything that's been going on in the rock, metal, hardcore whatever you want to call it, scene in the past twenty years, it's kind of just a massive roll up of all of that basically crammed in to one record."
Supergroup is a term that has been thrown around a little too often, and over the years it seems to have lost its way, but Axewound are bringing it back in a big way.  When you combine members from Cancer Bats, Bullet For My Valentine, Rise To Remain, Pitchshifter and Glamour Of The Kill, you get Axewound and you also get their debut album 'Vultures' out of it.  It is one hell of a record and one that if you dig Metal, you will love.
Bass player Joe Copcutt was nice enough to chat to us about the Axewound, the music, their debut album and its creation, touring and more.
Thanks for taking the time to talk to us today Joe.
No, thank you!
What was the idea behind putting Axewound together?
Well I think it was all Matt's idea to begin with, he wanted to just do his thing and write something slightly different from 'Bullet' I think, and just do whatever came to mind in terms of the writing aspect and I think the dudes he wanted to get on board he's obviously toured with us all in the past before, so I think he had a good idea of who he wanted to get on board and stuff.  So yeah, I mean it was all Matt's doing really, it was all his idea to get the project together and we were all stoked to be a part of it, we've obviously known each other in the past and it was a great collaboration to just get some mates on board and just have a good time basically.
How quickly did you all gel musically to ensure that you were all on the same page?
It was all really good, again we've all toured with each other in the past and all of our bands are all not a million miles away from each other so to speak , so we all knew we were capable of delivering the goods so to speak in terms of our musical ability or whatever, but it didn't take long at all.  Jason and Matt did the majority of the writing, so when me and Mikey jumped on board it was kind of all good to go, but we obviously loved the record, it's a killer record and it's not a million miles away from what me and Mikey play in 'RiseTo Remain' and 'Glamour' as well. So it all worked out super well and literally before we play a show we walk in and have A rehearsal, maybe two if we 're kinda feeling generous to ourselves we might have two, but it just works so well and we all connect so well and the playing is super tight, it's a killer collaboration.
The album has been out for a week or so now and has been getting some great reviews, I guess the music speaks for itself, but were you worried of how it would be received?
Yeah, I mean I had no idea man, we went on this tour and we just came back and every night was totally rammed, it was sold out on the night, kids from front to back were going crazy.  Hanging out with kids at the merch stand after the show, everyone was loving the record, we can't totally get over how stoked the kids were about it, I think we were at number 19 at the mid-week sales in the UK, overall, that's not just in the Rock charts, that's the overall charts and we were like 'What?!'  This record is heavy as hell (laughs) the reaction has been great and the kids seem to be loving it and it's wicked to see.
As a band did you set out to try and do something different to what you have all already been a part of or was it a case of bring the best parts of all your bands and make Axewound?
Yeah I think it was kind of like that, I think it kind of sounds like everything that's been going on in the rock, metal, hardcore whatever you want to call it, scene in the past twenty years, it's kind of just a massive roll up of all of that basically crammed in to one record. I think that's what definitely Matt's intentions were when writing it, was just write whatever comes naturally and what you know and that's what we've all been brought up on in the past twenty years or whatever.  It just happened naturally that it turned out like that.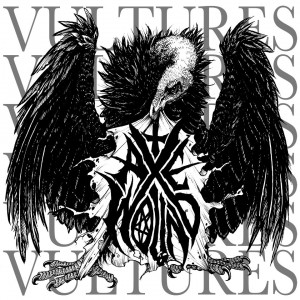 Is it true that there was no pre work on the album and you basically went in to the studio and recorded a song a day over 10 days to create what would become Vultures?
Yep (laughs) yeah it was as simple as that.  Jason the drummer is an actual machine, I don't think he's human actually, he's such a powerful guy, he's so intelligent with music and I think that really helped with the writing process as well, Matt's been on the scene for ages and made some amazing records so he knows a thing or two as well.  Having those two on board as they wrote the majority of the record I think it was literally one day, bang, another song, bang, bang ,bang and they just rattled it out and I think it worked really well.
How stressful was it though making a record this way compared to the dare I say 'normal' routine ha ha
(laughs) I think because it's a side project and because everyone's got their full time projects, there was no pressure on this and I think that's what everyone loved so much about the whole project, if it's the record, if it's the touring, even down to the merchandise, it's just all a good time and I think people love that and it's a bit of an escape from their full time things.  So I think when it came down to the recording process it was very much the same, there was no pressure, there was no heat on it, people just literally wanted to do what they wanted to do, and no pressure from labels and any of that sort of stuff, so I think people just had a great time with it and I think people can hear that in the record.  The name speaks for itself you know, we're not taking it too seriously, we're just a bunch of dudes, friends having a good time and rattling out some rad tunes that are heavy as hell you know what I mean, that's the vibe on the whole thing.
Aside from being the opening track, what was the idea behind calling the album Vultures?
I think the main track, I'm not actually sure, it's probably Liam's doing.  The main track, it's all our favourite track on the album, we open the tour with that as well, it's such an anthem and such a heavy track as well that we were like 'Let's just call it Vultures' it slays, so why not…
Was it weird that you'd just released 'City of Vultures' with Rise To Remain and now 'Vultures' with Axewound?
Yeah about a year ago with Rise, I have a new project coming out, we're just about to record actually, maybe we should call the band Vultures or something, I don't know, I'm surrounded by Vultures these days.  It's just a coincidence though; it was nothing related obviously (laughs).
Touring wise you're doing shows across the States and Canada, but it'd be remiss of me to not ask if there are any Australian touring plans in the future?
Oh man, I would love to.  I've only been there once obviously with Soundwave last year, but that is honestly one of my favourite tours ever. I hope so… that's the only downside of it being a collaboration, trying to tie up everybody's schedules, it's pretty tricky.  We'd all love to, there's been talks about it, it's come up in conversation in meetings and stuff, but even trying to pencil it in somewhere is tricky, but one day I really hope so, soon, maybe next year, who knows?
I was going to ask about that, when you have guys from Bullet and Cancer Bats all over the place it must be hard to try and bed them down basically…
Yeah exactly, that's the trickiest thing of it all, especially cancer Bats, they tour like all year round (laughs) so trying to steal a bit of Liam's time, and Matt's as they're always so busy, it's a tricky one but luckily we're all on the same management and Rise To Remain was in the same management, so we know a lot of the same people which makes things a lot easier as well so that helps out, but it's a tricky one but it's all worth it.  For that week tour, Liam left after the last show and so did Mikey to go and tour in the States, so it's a crazy schedule for everyone but it's all worth it.
Is Axewound a project that will continue do you think or is it some fun for now and right place, right time kind of thing?
We were kind of talking about that just between ourselves towards the end of the tour, the reaction's been so great and we didn't really know what to expect, I think we just did it originally for a bit of a laugh really, but the reaction's been killer and the shows have been great.  I think we'll definitely come back and we'd love to do some more shows and we've got the US and Canadian run in November, so we'll see how that goes as well, but I think we'll look to play some more shows and who knows, maybe do another record in the future as well.
Try and nut that one out in five days…
(laughs) exactly, we'll just rattle one out next week…
Now as you have just released the album, let's try this, can you give us five words that you think sum up the album perfectly?
Five words… Heavy, Brutal, Radness, Dope… and Killer.  Those five would probably sum it up for me.  I should've probably done 'Vultureness' in there (laughs), I don't know, it's just straight up, its in your face Metal, heavy as hell, great tunes, you can put it in your car and then go to a festival and get in a circle pit.  It's just the perfect metal record I think for anyone that likes metal, it's not going to challenge you like 'ooh this is slightly different…' it's just straight up, in your face take it or leave it, one of those kind of records which I love.
Thanks for your time Joe, and hopefully we'll see you down here next year…
No worries, thank you very much. Fingers crossed man, I hope so.
Essential Information
From: UK
Band members: Matt Tuck – Guitars / Vocals, Liam Cormier – Vocals, Jason Bowld – Drums, Mike Kingswood – Guitar, Joe Copcutt – Bass
Website: http://www.axewounduk.com
Latest release: Vultures – Out Now (Sony Music Australia)