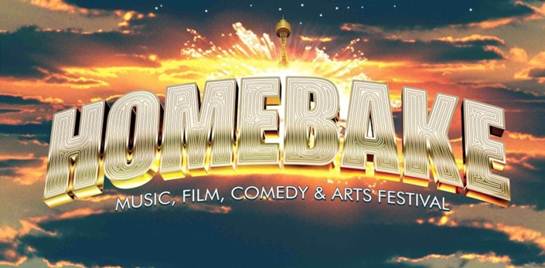 HOMEBAKE Music, Film & Arts Festival 2012 – The Global Edition
… But wait, there's more!
For Release – Thursday, 11 October, 2012:  Not that long ago, we heralded our big announcement of Homebake Music, Film & Arts Festival 2012 with a 'Global Edition' theme devoted to a mega array of fine talent celebrating the predicted December doomsday (of course, we don't think the world will end but why the heck not celebrate it!).  And now we're back to add the finishing touches!
Adding to this impressive HOMEBAKE 2012 line-up of talented Australian and New Zealand acts (and one very special iconic act from the USA), what better way to follow up on our 'unwritten charter' of supporting a wide variety of local talent than to give a bunch of new, established and overall exciting and talented bands the opportunity to expose their collective musical wares to the masses.
So folks, instead of competing against the plethora of festival announcements flooding this great country of ours whilst making sure to 'team with the theme', it is with much pleasure that we introduce to you to the bands who will join and complete the line up for this year's HOMEBAKE celebration of music, comedy film and more …
For their first time ever on HOMBAKE's stages … TAME IMPALA's debut record from 2010, Innerspeaker, received a massive international reception thanks in part to its irreverent, contemporary spin on assumedly dead and forgotten sounds, as well as its unique and infinitely surprising way around a melody. It was youthful, romantic songwriting in a melting technicolour dreamcoat. Their second album, Lonerism, is on a new level of cosmic and was released last week after being selected as a feature album on triple j.  And it's out just in time to truly blow your mind before what is bound to be a mesmerising performance at HOMEBAKE 2012.  (www.tameimpala.com/)
In a million years, how will our ancestors view us? How will history write our time and place? Well it hasn't been that long a way to the top for these guys but LAST DINOSAURS are all about making first and lasting impressions, and their debut album, In A Million Years, captures this in more ways than one.   You might have hummed along to their summer anthem Honolulu on radio, or maybe they've stuck in your mind as those four dashing Brisbane lads with a musical finesse beyond their years.  It's no secret too that LAST DINOSAURS have been turning heads overseas and In A Million Years was released in the Northern Hemisphere earlier this week.  And it's already getting a lot of attention including iTunes Single of the Week, 7Digital Album of the Week, Spotify Radio Show, Deezer coverage and a Muzu takeover.  Come see for yourself when LAST DINOSAURS rock the stage at HOMEBAKE 2012. (www.lastdinosaurs.com/home/)
Bring on the party!  HERMITUDE formed in 2001 when Blue Mountains duo Luke Dubs (Luke Dubber) and Elgusto (Angus Stuart) paired up with a shared love of beats and turntablism. The offspring of professional musicians, they'd performed together in jazz and funk bands since their early teens.  Eleven years and four albums later and HERMITUDE have established their reputation for brilliant studio productions with an engaging and innovative live show – incorporating a confident, almost effortless musicianship with a deft grasp of technology. And with their latest offering HyperParadise their sound has  progressed into more electronic territory, embracing instrumental hip hop's electronic relative 'future beats'. It's only taken eleven years, but we're glad we can finally welcome HERMITUDE to HOMEBAKE 2012. (www.facebook.com/hermitude)
Have you seen how many YouTube views these guys have scored?! Matt K Von And Jonny Castro are PARACHUTE YOUTH , a super-hot Australian duo originating from Sydney and Adelaide respectively who met two years ago at a boring shindig (read: six or seven guys just bonging around the couch). After thirty minutes they left the less-than-party party, went home, got arty and made their first track, It Can't Get Better Than This. In the two years since the boys first worked together they teamed up with a completely blown away Ajax from Sweat it Out Records who in turn recruited a completely bowled over Sam La More to engineer the single. Upon sending it to a few friends, the single quickly spread and It Can't Get Better Than This was the first played song on triple j in 2012, at the stroke of midnight in celebration of the year ahead. And the celebrations will continue when PARACHUTE YOUTH take to the HOMEBAKE 2012 stage. (www.facebook.com/ParachuteYouth)
And yet another HOMEBAKE debut, this time from Melbourne MC SETH SENTRY.  Seth first appeared on the live circuit in 2003 through performances with local hip hop/drum and bass outfit, D.S.O.L. In 2005 he reached third place in the Revolver Battles competition. He also organized and appeared in weekly hip hop night at The Old Colonial in Fitzroy, which led to an appearance on The Forthwrite Mixtape in 2007 and a guest feature on Pez's album, A Mind of My Own, in 2008. After posting a number of songs on triple j's Unearthed website, he was selected to be an Unearthed Featured Artist.  Seth went on to have the most downloaded track on triple j Unearthed, was nominated for an Unearthed J Award and The Waitress Song reached #31 in triple j's Hottest 100 for 2009.  In 2010 Seth continued to tour and finalise recording of his debut album with Melbourne producer, Matik. In August 2010 he featured on Horrorshow's Our Song, ahead of a national tour with them and also featured in 360's song, Closer. Having recently been released SETH SENTRY brings to the HOMEBAKE stage his debut album This Was Tomorrow.  (www.sethsentry.com/)
Hey hey it's ……. HEY GERONIMO are a Frankenstein make up of Brisbane indie-pop bands, Blame Ringo, The Boat People and Montpelier, and they're… bringing their kooky, upbeat brand of party music to the people. The supergroup are fresh from supports with Bluejuice, Hungry Kids of Hungary, Ernest Ellis, Ball Park Music and The Jungle Giants and tour dates on the road with Owl Eyes and Stonefield. The stupid jokes haven't impressed anyone yet, but the songs are mega, and if you're not dancing by the end of the set, then they'll probably buy you a beer! With current mega hits Why Don't We Do Something and the well timed single Carbon Affair, we welcome the lads on board the HOMEBAKE 2012 party bus. (www.facebook.com/HeyGeronimo)
Gathering masses of new fans as we type are four piece Newtown misfits, STICKY FINGERS who are misspending their youth while we watch and  are delivering a refreshing vibe to Australian music in the process. The band began their rise when drummer, Beaker and bass player Paddy Fingers, met busker Dylan Frost one night in early '09 outside the Coopers Arms hotel in Newtown. Dylan, fresh from NZ, was on the streets with his guitar busking outside the pub "We met him when the Coopers Arms bouncer started telling us we should give him some money" Paddy recalls. Frost's melodic sense brings the Kiwi spirit and melodic lineage to the band. Frost, the youngest member of the band (the rest of the band are 20), has 19 years of life and a hundred years of heartbreak in his voice. And the band surround it in textural and psychey, atmospheric melodies punched out by the STICKY FINGERS' rhythm section's blunt soundscapes. With their much heard recently released new single Caress Your Soul off their upcoming debut album, STICKY FINGERS will be bringing their unique blend of psychedelic dub rock to HOMEBAKE 2012. (www.facebook.com/stickyfingersmusic) 
Here's another triple j Unearthed discovery!  UNDERLIGHTS started 2012 with a bang with the first two singles off their self-titled debut EP, Now That You're in Love and Remnants, picked up by triple j and community radio stations nationally. Fast forward 8 months and plenty has happened. A few bumps in the road saw the departure of vocalist and guitarist Jack Friels with only a couple of weeks to spare before UNDERLIGHTS' Big Sound appearance in September. The ensuing scramble to find new members so they could still hit the stage in Brisbane saw the introduction of two new members, Paddy Harrowsmith (ex Ghostwood) on guitar and Dave Constable on keys. Now armed with new members, a bigger sound and a swag of new songs, UNDERLIGHTS are determined to finish off the year just as it began, with a massive bang… on the stage of this year's HOMEBAKE. (www.facebook.com/UNDERLIGHTS)
Talk about flavour of the month!  Officially forming as a band in February, the last six months have been pretty epic for Clark Griswold's antipodean offspring. THE GRISWOLDS released their debut single, Mississippi, in February, and within three weeks its tropical percussive beats had been picked up by over 100 blogs worldwide, and charting at #8 on US college radio's indie charts.  In June, they followed up the global hit with second single, Heart of a Lion, an infectious blast of party-pop that was immediately added to high rotation on triple j, and stayed in triple j's Top 20 most played songs for eight weeks in a row. Again the international airwaves were quick to take notice, with the single attracting airplay in over 20 countries worldwide, and coming in at #12 on the 'We are Hunted' Charts.  THE GRISWOLDS are ready to make their mark at HOMEBAKE 2012.
(www.facebook.com/thegriswolds)
And representing the North ….. LIME CORDIALE are a Sydney based quartet who grew out of the northern beaches music scene. Consisting of brothers Oli and Louis Leimbach, Brendan Champion and James Jennings, the group came about after the boys recognised their mutual love of all things pop and their desire to create original and exciting music. Drawing from their classically trained background and experiences from their awkward teenage years, LIME CORDIALE strives to create strong pop music with a fresh sound. With an initial EP, Fearless Cat, released in July this year, a debut album is currently being completed with both new and old songs all to be revealed at HOMEBAKE. And we welcome you to enlighten your eardrums at HOMEBAKE 2012. (www.limecordiale.com/)
With a bunch of new acts in the HOMEBAKE 2012 bag, don't forget that there's heaps of other action going on including the triple j Unearthed band comp where one lucky band scores a spot on HOMEBAKE stages. Previous winners include (now) megastars Boy & Bear and The Rubens.  Enter now at triplejunearthed.com/competitions/default.aspx?TripleJCompetitionId=187
But wait, there's still more!  We've already announced our first amazing selection of comedy acts appearing on the HOMEBAKE COMEDY STAGE (presented by Sydney Comedy Festival), and shortly we'll be announcing more bigger-than-Ben-Hur laugh-a-minute mega stars guaranteed to impress. 
We've still got loads more as well as competitions, activities and more.  And, with the full line-up now announced, we here at HOMEBAKE HQ also extend huge congratulations to all our HOMEBAKE 2012 stars who scored ARIA Award nominations including ANGUS STONE, KIMBRA, HILLTOP HOODS, SAN CISCO, HUSKY, THE BAMBOOS, DZ DEATHRAYS and HERMITUDE We don't think we've ever had this many ARIA Award nominees grace the stages at HOMEBAKE ever! We'll be rolling out the red carpet come December 8 at Sydney's Domain!
Whilst the countdown is on to the big day, we ask that you stay tuned and visit the websites at www.homebake.com
and join our official Homebake Festival page at Facebook www.facebook.com/homebakefestivalofficial for all up to the minute news, special features, competitions and more.
HOMEBAKE Music, Film, Comedy & Arts Festival 2012 The Global Edition

Saturday December 8th, 2012 – The Domain, Royal Botanic Garden, Sydney City, NSW
TICKETS ON SALE NOW!
Taking the gloom out of doom as we celebrate the Mayan 'end of the world' with the biggest party in the park!

It's the Global Edition starring Explosive Performances by ….
(Via the USA, the legendary and iconic multi million selling hit makers….the 'atomic') BLONDIE, HILLTOP HOODS, (Direct from huge sold out shows worldwide and a starring role in Californication) TIM MINCHIN, KIMBRA, (together but not together) ANGUS STONE, JULIA STONE, BIRDS OF TOKYO, DANIEL MERRIWEATHER, (finally returning home to OZ) SAM SPARRO, (the legendary) THE SAINTS, SOMETHING FOR KATE, (A special 'best of' return by electro pioneers) SONICANIMATION, (NZ's multi-platinum megastars) SHAPESHIFTER, SIX60, JINJA SAFARI, THE BAMBOOS, TIM ROGERS of You Am I (with full band and special guests), SAN CISCO, EMMA LOUISE, POND, BALL PARK MUSIC, SEEKAE, DZ DEATHRAYS, DIAFRIX, HUSKY and FULL TOTE ODDS
AND NOW JUST ANNOUNCED……
TAME IMPALA, LAST DINOSAURS, PARACHUTE YOUTH, HERMITUDE, SETH SENTRY, HEY GERONIMO, STICKY FINGERS, UNDERLIGHTS, THE GRISWOLDS and LIME CORDIALE!
Plus more to be announced including the crème of comedy stars, short films, and our triple j Unearthed Winner + Redbull Bedroom Jam Competition Winners
And the previously announced Comedy Stage Stars (presented by Sydney Comedy Festival):
Tom Ballard, Heath Franklin's Chopper, Mel Buttle, Benny Davis – The Human Jukebox, Cam Knight (MC), Daniel Townes (MC), Ronny Chieng, Matt Okine, Rhys Nicholson, Genevieve Fricker, Dave Williams, Nick Cody, Anthony Salame, Michael Hing, Nice Kicks – Steen Raskopoulos and Susie Youssef, Laura Hughes
+ more to be announced

Featuring…
FOUR STAGES (Main Stage, The Big Top, The Dome, the new Rowland S Howard Stage) + more!
THE HOMEBAKE CINEMA PAVILION, (Curated by Kieran Darcy-Smith / Blue-tongue),
The Brand New HOMEBAKE COMEDY STAGE (Presented by Sydney Comedy Festival), MULTIMEDIA, INTERNATIONAL FOOD FAIR, ROVING ACTIVITIES and PERFORMERS, INTERNATIONAL FOOD FAIR, MARKET STALLS, ARTIST SIGNING TENT, YOUTH and COMMUNITY INFORMATION and AWARENESS STALLS and more!
Homebake supports YouCan – http://www.youcan.org.au
 
TICKETS ON SALE NOW
Only $99.00 incl GST + Booking Fees according to selected ticketing agency (see below)
* Ticketek phonecharge: Ph 132 849 or web: http://www.ticketek.com.au
* Purchase tickets online via HOMEBAKE direct – at http://www.homebake.com.au or Tel: 1300 762 545
   Nb: this service is provided by Oztix Australia – http://http://www.oztix.com.au/
* Moshtix: Ph 1300 438 849 or web: http://www.moshtix.com.au
PLEASE BE ADVISED THAT HOMEBAKE IS AN OVER 18's EVENT – YOU MUST BE OVER 18 (EIGHTEEN) YEARS
OF AGE TO PURCHASE A TICKET – Relevant Government authorised photo ID required on entry and if you wish to drink alcohol – ie; passport or drivers licence.

Visit the website – http://www.homebake.com and http://www.facebook.com/homebakefestivalofficial
NB: Please be aware of all conditions associated with purchase of ticket to Homebake.