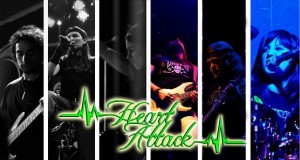 From Official Bio: HEART ATTACK is a Hard 'n' Heavy band from Greece dedicated to 80's-early 90's sound delivering dynamic but also melodic songs straight from the heart for those who care…They were formed back in the dawn of 2010 by singer George Drimilis (ex-Raging Storm) and Stergios Ntikos on drums. The line-up was completed when ?ichael T. (keyboards), George Patelis (bass guitar) and Stefanos Georgitsopoulos (guitars) joined the band. They have launched many live shows sharing the stage with many bands such as Cloven Hoof, Newman, Outloud, Work of Art, Konkurent, Hungry Heart, Wild Rose, X-Piral, Crimson Fire, Secret Illusion etc. always in a party mood which the audience seem to appreciate by supporting the band right from the start! By June of 2012 they released a 4-song containing promo and they are currently working on some new material for their debut album which can be expected sometime within 2013.
We've heard some ripping stuff coming out of Greece and it's a pleasure to add another band to a hopefully ever growing list.  We present to you 'Heart Attack' as our newest Best Thing You've Never Heard…
Let's start with the basics first – give us a quick rundown on what brought this incarnation of the band together and what is the inspiration behind the band name Heart Attack?
Apart from being huge fans what motivated us the most was the fact that although Hard Rock/ melodic Heavy was very popular in our country there was an unexplainable lack of any important Greek band  on the genre for almost two decades. Our name has a double meaning, it can be interpreted as a disease and something aggressive but also as a harmful attack of our hearts to capture yours and generate emotions. We also wanted our name to be something memorable and I think it completes this mission too 😉
Can you please introduce yourself and each member of the band and give us a rock 'n' roll fact or myth about each of them?
I am a normal guy who wants to sing all the time and for almost a decade I 've been a member of an obscure/epic metal band called Raging Storm…Our drummer Marianiki is also a member of an all-female Metal band called Normah…One of our guitar players (Teo Ross) is about to launch his debut solo album while the other one (Kostas) is also the high-pitched vocalist of Power Crue (historic Greek Heavy/Power metal band)…Nikos on the bass is also a member of Ragenheart and Spitfire (one of the most important and influential bands of our country) and finally Lila apart from being a great keyboard player and a sexy goddess is also a professional cook on the catering business!
If you were to give us only five words to describe what people can expect when listening to the music of Heart Attack what would they be?
Melodic straight-forward catchy songs
Hearing your four track promo, the vibe and feel is a great throwback to the 80's and 90's genre of metal, what is it about that era that you feel needs to still be shared with the world through your music?
The 80-90's era itself needs to be revitalised! It was a time where everything was simpler and purer before aggressiveness and hybrids pollute our favourite music. Each month we had to choose among masterpieces which one couldn't afford to buy…There's no comparison in any way with today's releases
In terms of your song writing, what do you consider to be the most important ingredients that make up a Heart Attack song?
It has to be melodic first of all and the lyrics must be able to tell a story…I hate abstract and Pythian-like lyrics with multiple and subjective meaning
Both lyrically and musically, who or what would you say inspires/influences your music the most?
Usually lyrics come first and they are based on everyday experiences, personal feelings  (mostly about love or the lack of it) and stimulation from people and situations all around us .The music part is a bit tricky and we can never know when or how a good idea may pop up
So, can you personally remember the life defining moment whilst growing up that made you think I want to be a "rock star" and that was the path you wanted to take?
I was an all kind of music fan and singing all the time as long as I can remember myself, but it never occurred to me to be in a band (not even the school  choir) until I reached 20, when suddenly  it was like a lightning strike on me and began writing lyrics and melodies! This urge was getting stronger and stronger so here we are now…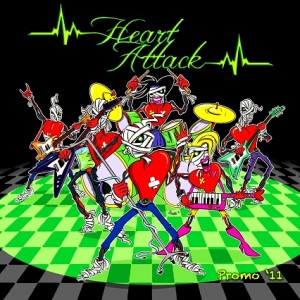 Are you currently working on a full length album and if so, when do you think we could we expect to hear something?
Yes we are exactly in this process by the time…I believe that we 'll be able to share with you some new tracks during this year but our full album should be expected sometime within 2013
No stranger to live shows, how would you describe a Heart Attack show to someone who may not have seen you before?
There is energy for sure! We never forget that we are fans of this music too and we are not something different from the people that follow and support our effort. There's no fancy image- making, clothing and attitude, it's just us, our songs and our friends having fun and sharing feelings with each other.
It seems that at the moment Greece is a great place for emerging Rock and Roll bands, what is it about the scene over there that lends itself to such great music coming from it?
Yes this is true but unfortunately in my opinion the reason for this is not very flattering …We Greeks have our eyes set abroad more than we should and we are willing to follow the flow than to create our own path, but still there are many bands that worth having a career outside our narrow borders
So, let's say hypothetically that you get to share the stage with any band / artist living or dead, who would it be and why?
Bon Jovi would definitely be our choice among the living cause they are one of our main influences and still an amazing live band with great songs. I hope there is an afterlife so that we have the opportunity to jam with Elvis Presley whose work and attitude was extremely influential and crucial for the music we love. He was the king and he 'll always be a legend!
Lastly, here's a chance to gaze into your crystal ball.  In the next year, Heart Attack will have:
1. Our debut album ready
2. Some more great gigs
3.More fans attending our shows, hot chicks willing to have some fun even after the show is over and guys getting mad about my girl-bandmates!
Thanks for your time George and of course, May the Rock be with You.
Thank you Troy, it's been a pleasure and a great honour for us!!! All the best to you and your readers!
Essential Information
From: Greece
Sounds like: 80's – 90's style Melodic Rock
Band members:  George Drimilis – Vocals, Marianik? Toka-Drums/backing vocals, Teo Ross- Guitars, Lila Moka-Keyboards/backing vocals , Nikos Michalakakos- Bass guitar, Kostas Tokas-Guitars/backing vocals