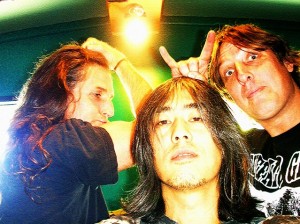 Having recovered substantially from a well-publicised incident, Peter "Blackie" Black will take his band The Hard-ons back on the road in Australia in November and December!
Hard-ons' irresistible march around Australia was abruptly halted back in May due to the said incident. Blackie has since recovered well, in no small part due to the support of the Hard-ons' fans and the underground musical community here and abroad. Now, having undertaken tours to Japan and Europe already, the legendary trio will take their shows for the first time since Blackie's recovery to their motherland. Tucked under their arms are the juicy reissues SMELL MY FINGER and DICKCHEESE, two powerhouse double cd sets that were overdue for their lush and pristine remaster/reissue treatments! Songs from both of these reissues will be showcased live – in many cases, for the first time in twenty years!
Please attend one of these shows of the unstoppable Hard-ons. An ear-blasting night of rampaging punk, metal and bubble-gum pop will be guaranteed for all! Hard-ons: good for Australia.
Hard-ons: good for you.
Stephen Ahn
The bassplayer's brother.
WEBSITE: http://www.hard-ons.net
HARD-ONS & ARTIST VOICE PRESENTS…
THE HARD-ONS
Friday, 30th November 2012
SYDNEY, The Sando – NSW
w/ Vaz (USA) & Dead
Moshtix: 1300 GET TIX (438 849);
www.moshtix.com.au Tix: $14 pre & $18 door
Saturday, 1st December 2012
NEWCASTLE, Cambridge Hotel – NSW
Moshtix: 1300 GET TIX (438 849);
www.moshtix.com.au & www.bigtix.com
Tix: $12 pre & $15 door
Friday, 14th December 2012
MELBOURNE, Northcote Social Club – VIC
w/ The Spazzys, Dead
www.northcotesocialclub.com
1300 724 867 Tix: $14 pre & $16 door
Saturday, 15th December 2012
ADELAIDE, Enigma Bar – SA
w/ Shit Magnet
Door sales only Tix: $15 door