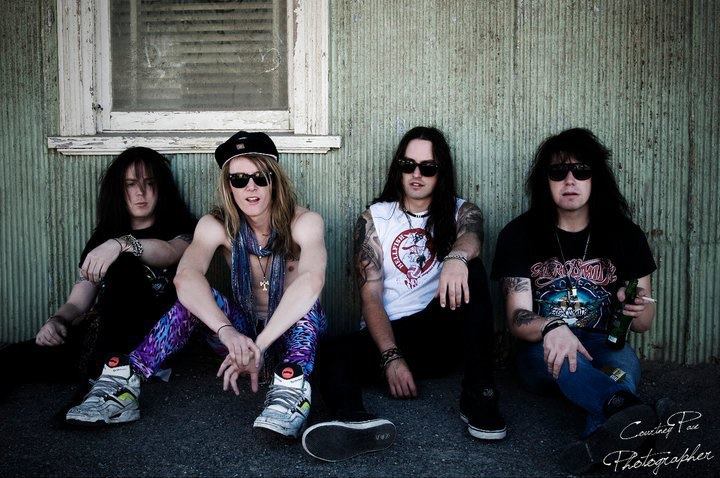 There's no better authority than the 'Glam Junkie' himself to introduce Generation Swine to his upcoming Sleaze Ball – "I stumbled across these guys in a gutter one night…looking like they'd just stepped off a plane from L.A, circa 1987. Their combination of leather and lycra was drenched in a mixture of Jack Daniels and glitter, as they lay right beside a pool of vomit filled with used syringes and Metal Edge magazines….They looked like rock stars back then, and October 13 will see Generation Swine bring their sleaze fueled debauchery to Glam Junkie's Sleaze Ball, October 13th at the Cavern Club, Adelaide."
Well there's a teaser, now we'll hand it over to drummer Stace Branford for more insight into one of Adelaide's sleaziest, Generation Swine….
Let's start with the basics first, for those not familiar with GENERATION SWINE how would you describe what GENERATION SWINE are all about, both musically?
We are all about the live show. We get off on the crowds reaction, we drag girls on stage and make sure everyone's involved. We get told we're a glam band, we're a hair metal band, we're girls… Yeah we wear the tight pants and have rad hair but we are all about the party atmosphere. Those that try and stereotype us obviously haven't seen the range in influences that we show when we play live. We're all about the punters that come to our shows, and leave, and come back again.
I love to know the story behind the choice of band name, so what is the background to the name GENERATION SWINE?
We got the name from a cross between Hunter S. Thompson's book Generation of Swine and the Motley Crue album Generation Swine.
Can you introduce each member of the band and give us a rock 'n' roll fact or myth about each?
We have myself Stace on drums, Oopie on bass, Matty D with vocals and Cam on Guitar. I'm sure there are plenty of "Rock n' Roll" things I could say, although I'm sure some of these people involved will find out and it will bite us in the ass! You'll have to come experience it with us, we're in Adelaide October 13. Sydney October 20. And Melbourne November 2. Come cause some debauchery and we can do this interview again!
So word on the street is that you guys have finished recording your album. So here's your chance to tell us all about it – when will it be released, do you have an album title yet, tell us all…?
Take it to the STREETS! Release date is mid November, will be available all over the world, through iTunes and hard copies will be in stores as well. The album is called Fuel N' Fire, it's got 10 tracks. Most of which we have never played live before. Musically you can tell we've brought all different aspects to the table, we've got some thick tracks that give a bit of The Cult vibe, then some "over production" Queen type tracks. Then that real Axl Rose attitude "Garden of Eden" type track. A real Stonsey feel to a new slower track. It was one of the best experiences we've been through as a band. Working with Jimmy at Capitol Sounds Studios here in Adelaide was awesome, he gave us rad direction and we could not be happier with the end product. We've also recorded our take on Queen classic Tie Your Mother Down, this can be downloaded for free through our Facebook page. Bit of a teaser to the album. For NOTHIN'!
For those familiar with your past couple of EP releases, how do you feel the album compares in terms of sound and style etc?
It's in it's own league. The past few recordings we had recorded purely so we could tour. We've matured musically ten fold since '08, but we're still the same bunch of dudes. Those who have our previous releases will get right into this new one.
What or who are some of the greatest influences on your music, in both a lyrical and musical sense?
I think mainly that 80's Sunset Strip era lyrically. We're always on about girls, late nights, illicitness, drinking… Musically, we're all over the place, just depends where our heads are at. We're getting into a bit of a funk/groove sense of things, but still with our snarly attitude and power riffs. Bands like The Cult, New York Dolls, GNR Use Your Illusion era, obviously KISS, Rose Tattoo and all that pub rock.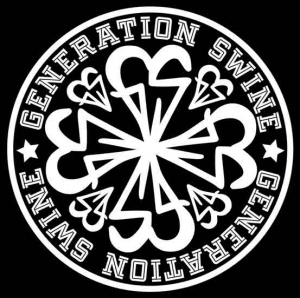 Here's one of those "hypothetical" type questions, that one day may or may not come true…if you had the opportunity to play your music to one of your greatest influences, either alive or dead, who would it be and why?
Personally, it would be Parliament Funkadelic. They are fuckin' mental! I'm obsessed with The Mothership Connection.
Can you remember the life defining sight, sound, touch and/or smell whilst growing up that made you think being a "rock star" was the path you wanted to tread?
We're still growing up, but I think what sealed it was when we toured Sydney for the first or second time. Pulling the fridge out of it's housing and discovering a mysterious brown paper bag with Chinese writing on it, thinking we struck it rich we opened the bag to find a couple of magazines, "Diaper Babes" and "Pissing Porn"… Yeah that was probably what really told us Rock n' Roll is where we want to be…
For the benefit of those reading this in galaxies far, far, away, how would you describe the current music scene in Adelaide/Australia and GENERATION SWINE's place within it?
We've been around for a little while now, toured extensively, recorded, played all the venues in Adelaide and we're appreciative of all the support that punters give here. Each city around Australia has it's own "scene". Adelaide's "scene" is up and down, both with local and national/international acts, Adelaide gets left off major tours because the Adelaide people buy tickets at the door of events, maybe that's just not worth the risk to big promoters… I don't know, there's always going to be two sides of the coin with that one. As long as there's a pub/club/venue/arena atmosphere we're happy to play. We always put the effort in to our shows. And if it wasn't for the people who come out to our shows, we would have stopped a long time ago.
We will be playing a couple shows for the remainder of the year where you can grab a copy of the new album Fuel N' Fire. Dates are here:
October 13th, The Cavern Club, Adelaide
October 20th, Notes, Sydney
November 2nd, Back In The Day, Melbourne
November 23rd, The Cavern Club, Adelaide
December 8th, Show TBA
December 14th, Fuel N' Fire Official Release Party, The Cavern Club, Adelaide
For all tour/album information, head to our FaceBook page, www.facebook.com/generationswinemusic or go to our website www.generationswine.com.au
Cheers n' Beers!
Stace