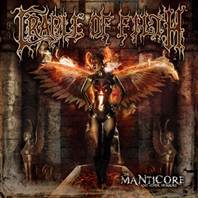 CRADLE OF FILTH RETURN TO SUPREME INFERNAL DECADENCE WITH NEW MASTERWORK THE MANTICORE AND OTHER HORRORS ON NOVEMBER 2, 2012
Cradle of Filth formed in Suffolk in 1991 and after a string of demo recordings released their debut album, 'The Principle of Evil Made Flesh' in 1994. The band have gone on to become one of the UK's most successful metal acts, known for their dynamic symphonic style of gothic black metal, along with the dark poetic lyrics from the hand of enigmatic front-man Dani Filth.
The title of this, Cradle of Filth's tenth studio full-length, can be likened to a bestiary, a collection of stories on Monsters; personal demons, Chimeras, literary fiends and world-enslaving entities to blame but a few, Manticore being the ravening title track. It is a song about a beautiful mythological horror that comes to be feared as the disfigurehead of foreign occupation in the Indian provinces.
The songs 'Illicitus' and 'Pallid Reflection' bare the sweet ingredients of vampirism and lycanthropy; the wicked 'For Your Vulgar Delectation' and 'Frost On her Pillow' are woven perversely into grim fairytales, whilst classic, monumental tracks like 'The Abhorrent' and 'Siding with the Titans' both extol tentacular Lovecraftian values.
The album itself possesses an altogether new atmosphere for the band, incorporating a heavier, faster NWOBBM (New Wave of British Black Metal) punk vibe that is both current and cruel, blended with ornate orchestration and the quirky immediateness of 2000's Midian opus.
Recorded in eight  weeks at both Springvale and Grindstone studios (where it was also mixed by Scott Atkins), Suffolk, the album is testament to the longevity of The 'Filth, as not only does it reek of Cradle's (feared or revered) brand of delicious metal vamperotica, but this thoroughly modern album places the band firmly in fresh killing fields anew.
Singer Dani Filth had this to say on the new album:
'This is our tenth commandment in metal. We have diversified and kept alive the spirit of this band and breathed it into something that I can proudly say, slays like an absolute motherf**ker. The Manticore is coming… Long live the filth!'
Tracklist:
1. The Unveiling of O
2. The Abhorrent
3. For your Vulgar Delectation
4. Illicitus
5. Manticore
6. Frost on her Pillow
7. Huge Onyx Wings Behind Despair
8. Pallid Reflection
9. Siding with the Titans
10. Succumb to This
11. Sinfonia
www.cradleoffilth.com 
www.myspace.com/cradleoffilth
au.roadrunnerrecords.com
http://www.facebook.com/roadrunneraustralia
The Manticore And Other Horrors is out on November 2 through Roadrunner Records