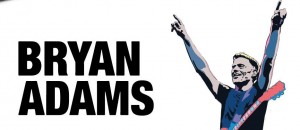 The Frontier Touring Company are delighted to announce the return of multi-Grammy Award winner Bryan Adams to Australia for his first arena rock tour since 2005.
In 2011 Bryan treated Australian fans to his up close and personal 'Bare Bones' sell out theatre tour.  It left critics and fans alike raving as Bryan played the most intimate venues of his career in Australia.
2013, however, will see Bryan return to the rock 'n' roll roots that made him a household name across Australia and the world, with a tour that is earning glowing reviews across the globe.
"Adams…put on an extraordinary show, playing for close to two-and-a-half hours with no breaks, and no skimping…he was energetic, engaged, funny.  He sounded great…" The Globe And Mail, Toronto
"Adams gave the fans exactly what they came to hear." The Gazette, Montreal
"Adams…whips the crowd into an early frenzy and keeps them there through more than two hours.  He works the stage, and the crowd, running to mikes posted on each end of the stage and the centre, playing to each section, giving each one that personal touch."  The Telegram, Newfoundland
As Canada's best-known ambassador, Bryan Adams has spent the last three decades making music history. He has sold over 65 million records, toured six continents and achieved #1 status in over 40 countries around the world. With hits like, "Cuts Like A Knife", "Summer of '69", "Kids Wanna Rock", "Can't Stop This Thing We've Started", "(Everything I Do) I Do It For You", "Heaven" and most recently "Thought I'd Seen Everything", Adams status as one of the great songwriter's of our time, has been solidified.
For the past year Adams has been performing his full band arena rock show to sold out audiences in Europe and Canada in celebration of the 20th anniversary of the release of his multi-platinum, award winning album "Waking Up the Neighbours". These concerts have been interspersed with his Bare Bones show in select cities.
He is a Companion of the Order of Canada and has been inducted into the Canadian Music Hall of Fame and has a Star on the Hollywood Walk of Fame. Bryan has been nominated for Academy Awards, Golden Globes and Grammy's and his handprint has been added to the Wembley Square of Fame in celebration of his 25th show at the famed stadium. In his home country, Bryan has been recognized at the Juno Awards with the Allan Waters' Humanitarian Award and a week later he received the prestigious Governor General's Performing Arts Award for Lifetime Artistic Achievement.
Bryan's outstanding live concerts have established him as one of the world's best rock singers, performing over 120 concerts a year.
Bryan Adams' tours of Australia have sold out time and again, so make sure you get in fast when tickets go on sale on Thursday 8 November.
BRYAN ADAMS – APRIL 2013
Pre-sale tickets available via www.frontiertouring.com/bryanadams from 2pm AEDT Thurs 1 November to 2pm AEDT Fri 2 November
(or until the pre-sale allocation is exhausted)
General public on-sale Thursday 8 November 9am local time
Thursday 18 April                 WIN Entertainment Centre, Wollongong
Ticketek 132 849 or www.ticketek.com.au
Friday 19 April                       Sydney Entertainment Centre
Ticketmaster 136 100 or www.ticketmaster.com.au
Saturday 20 April                  Rod Laver Arena, Melbourne
Ticketek 132 849 or www.ticketek.com.au
Wednesday 24 April             Adelaide Entertainment Centre
Ticketek 132 849 or www.ticketek.com.au
Friday 26 April                       Newcastle Entertainment Centre
Ticketek 132 849 or www.ticketek.com.au
Saturday 27 April                  Brisbane Entertainment Centre
Ticketek 132 849 or www.ticketek.com.au
www.facebook.com/bryanadamsofficial
www.frontiertouring.com/bryanadams
www.twitter.com/frontiertouring