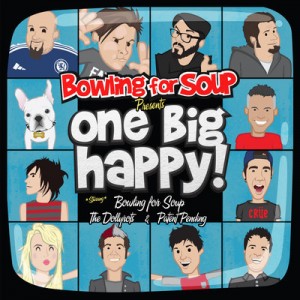 What I'm about to say, probably makes this review pretty pointless, but I reckon that if Bowling For Soup was to release an album full of farts, spoken word poop jokes, or barks courtesy of the bands unofficial 5th member, Sherman the dog, I would still proclaim it to be the greatest thing ever released.  Thinking about it, BFS have managed to include all of the above mentioned things on one of their releases over their 18 odd years, but on One Big Happy, we see BFS teaming up with touring partners The Dollyrots and Patent Pending for one of those split type albums where each band records versions of each others songs and in this case, each band also presents 1 new track.  If you've seen BFS touring in the USA or the UK at some point in recent years, you already know who The Dollyrots and Patent Pending are, that I'm certain?
How could you go wrong with a song titled Let's Go To The Pub?  Well that's what BFS present in the way of a new track, with the band in all their rifftastic guitar fuelled glory delivering another superlative anthem that just reeks of classic BFS…and the smell of Miller Lite.  The Dollyrots have released one of my favourite albums of 2012 and their new track Just Like All The Rest could quite easily have been lifted off this years release, it's just that damn good.  Patent Pending is the band I'm least familiar out of the 3 and throw up a dash of pop quirkiness with their new track, Psycho In Love.  With Jaret Reddick teaming up with The Dollyrots Kelly Ogden the other new track, Love Ya, Love Ya, Love Ya is just instantly freakin' awesome, and with a chorus lyric of "I love you, love you, love you and I'm never going leave you, but I kinda hope you fuc*ing die", it's a genius love/hate love song.  Imparting their own musical personalities on each others songs works super and refer to the track listing below for the details.  If I was forced to pick a favourite one from the bunch, I'll go with The Dollyrots who add an extra level of bitchiness to the BFS staple, The Bitch Song. 
One Big Happy is an essential guilty pleasure for fans of the three bands involved, as simple as that…oh and it's the greatest thing released, ever.
Essential Information
For fans of: Bowling For Soup, The Dollyrots, Patent Pending
Release date: September, 2012
Label: Brando Records and Que-So Records
Produced by: Mostly Jarinus and Linus Of Hollywood
Website: www.bowllingforsoup.com
Track listing:
Let's Go To The Pub                                   Bowling For Soup
The Bitch Song                                            The Dollyrots
Shut Up And Smile                                     Patent Pending
Just Like All The Rest                               The Dollyrots
My Heart Explodes                                    Bowling For Soup
Hyperactive                                                 Patent Pending
Psycho In Love                                          Patent Pending
Spin Me Around                                        Bowling For Soup
Little Miss Impossible                             The Dollyrots
Love Ya, Love Ya, Love Ya                       Jaret reddick & Kelly Ogden