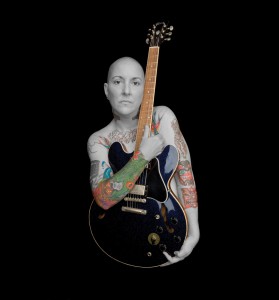 BEVERLY MCCLELLAN ALBUM RELEASE & UK TOUR WITH STEVE VAI
'Fear Nothing' [Tour Edition}
December 1
Blues rock powerhouse vocalist Beverly McClellan from smash hit TV show "The Voice" USA  is set to release her album "Fear Nothing" in the UK & Europe through Favored Nations on Dec 1 before embarking on the UK leg of her world tour with guitar virtuoso Steve Vai.
The television show, "The Voice" introduced her to millions of viewers as a singer of stunning power and range with the presence and ability to draw comparisons to Etta James, Janis Joplin, Bonnie Raitt and Melissa Etheridge, to name just a few of the great torchbearers whose legacies she evokes. Now McClellan is set to make her debut international release with Fear Nothing, an album which presents her as a true and original artist — a songwriter, multi-instrumentalist and dynamic presence with the ability, authority and desire to carve her own place in music history.
McClellan, who is an openly lesbian artist and activist for LGBT charities, believes she has a message: "It's simple: be yourself, love yourself, always be honest, and let the rest come naturally. That's the way I live my life and make my music," she says. And that's the easygoing Zen she applied to the recording of Fear Nothing at Los Angeles' House of Blues studios with producer David Z. (Prince, Fine Young Cannibals, Billy Idol, Buddy Guy).
A soulful rock singer with honest lyrics and a raw sound, Beverly plays over 10 instruments and has already released five independent albums. Originally from Virginia, she's worked the clubs and bars around Fort Lauderdale, Florida for nearly 20 years, always looking for that big break.
Having recorded lead vocals for the song "John the Revelator" on Steve Vai's 2012 album The Story of Light, McClellan is excited to be bringing her music to the world out on the road with the legendary guitar maestro this autumn.
Beverly McClellan's "Fear Nothing [Tour Edition]" is released Dec 1 and will only be available in Europe. This special package contains 3 never before released bonus tracks.
 "Beverly is a vocal powerhouse to be reckoned with, who holds her own with the best of them." Christina Aguilera
"Everything about her goes out to you much like a bright light. She is an exquisitely rare and colorful exotic bird who spreads her wings for everyone." Steve Vai
"I love her." Bret Michaels
 'Fear Nothing' [Tour Edition] Track Listing:
1. I See Love
2. Lyin' To
3. It Ain't Me
4. Nobody's Fault But Mine
5. I Can't Hide Me
6. Well Wondered
7. Love Will Find A Way Out feat. Keb Mo
8. Come To Me
9. I Never Will Forget
10. Tender Of The Most
11. Precious Times
12. Do It (Bonus Track)
13. As I Walk On (Bonus Track)
14. A Case of You (Bonus Track)
Check out Beverly's 'The Voice' audition here:
http://www.youtube.com/watch?v=Z8F9tGW1t8c
 UK Tour Dates with Steve Vai:
Dec 1st – Guildhall, Portsmouth UK
Dec 2nd – Hammersmith Apollo, London UK
Dec 3rd – Civic Hall, Wolverhampton UK
Dec 4th – Vicar St, Dublin Ireland
Dec 5th – City Hall, Newcastle UK
Dec 6th – Regent, Ipswich UK
Dec 7th – Apollo, Manchester UK
 LINKS:
http://www.beverlymcclellan.com/