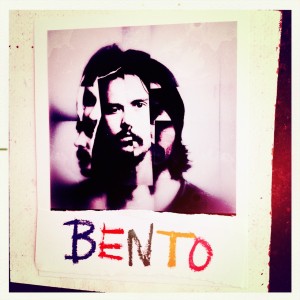 Ben Gillies' Bento. The countdown to 'Diamond Days' album release begins! Fans have the chance to attend the album launch party!
The sparkling debut album by Bento, DIAMOND DAYS, marks a new musical creation from Ben Gillies, drummer and co-founder of Silverchair.
The first single Diamond Days has been embraced by fans at home and abroad. The catchy chorus along with the song's sentiment made it the perfect unofficial soundtrack of the recent AFL finals (Diamond Days and was used numerous times throughout the semi and grand final broadcasts).
To celebrate the release Bento are offering the single Diamond Days as a FREE download from HERE 
The DIAMOND DAYS album is set for release on Friday, 26 October, 2012.  Prepare yourself for twelve new bristling and glistening rock & roll songs, with Ben up front, singing his heart out, singing his own songs, and opening up like you've never heard him before. The album was co-produced by Ben Gillies and Eric J Dubowsky (Faker, Art Vs Science) and features an array of Ben's muso mates throughout. 
An exclusive and intimate album listening party and showcase of the incredible Diamond Days art exhibition will take place in Sydney on Tuesday, 23 October and Bento is giving fans an opportunity to be a part of the celebrations. Watch the Bento art creation come to life below
Bento will be giving away 20 double passes to fans to attend the invite only event via registration at www.facebook.com/wearebento from today, with one lucky grand prize winner scoring a meet and greet and private tour of the exhibition with Ben and his collaborator, Sydney artist Aaron Kinnane.