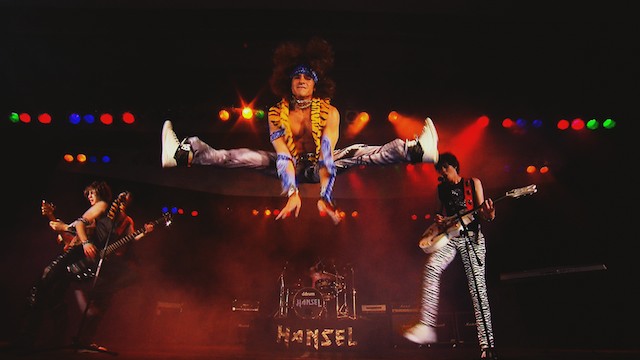 About Hansel: "Mindlessly pouring propane onto the flame, Hansel reignites the fire of rock inside. Hair and metal are combined in a blaze of arena rock glory as the snakeskin clad Novacastrian dudes hit the stage. Like love children of the gods of rock they toy with the sound of a golden age and set it loose upon the world again. Now with a modern edge that's as sharp as Orion's sword Hansel return to bring hair metal back to it's rightful place… your soul."
October 13th @ the Cavern Club in Adelaide, Hansel, along with Love Cream, Generation Swine and Laced In Lust will be playing the inaugral 'Glam Junkie's Sleaze Ball', a night of sleaze rock debauchery!
Let's start with the basics first, for those not familiar with Hansel how would you describe what Hansel are all about, both musically and visually?
Hansel are all about the glory of rock. We are glam, hair metal dudes who just want to see a crowd pumping their rock fists in the air and screaming out rock. We wear pretty loud outfits and play pretty loud music so I think they match each other well.  We're flamboyant on stage… It helps to loosen people up to have a good time, so it's cool to wear stuff that's a little outlandish. Snakeskin, spandex and hairspray are essentials in a glam rockers wardrobe.
Can you introduce each member of the band and give us a rock 'n' roll fact or myth about each?
Why don't we let you guess which is fact and which is myth?
Jett Jones – Lead singer
All that hair…. totally real
He is 6 foot tall… actually he is pretty short 5'5'', which may explain why he is always jumping.
Grind – Lead guitarist
Refuses to read fiction.
Has impeccable hygiene
Snake – Drums
Recently joined a gym, you can totally tell
Claims he was the one that invented Instagram, only he called it snakepics. Apparently the only people who joined were dudes who wanted to take photos of their wieners.
Thruster –  Rhythm Guitar
Former drummer in Hansel
Former Hansel makeup artist
Ezi Fingers – Bass
Really hairy for a small dude, at least that's what the ladies say.
Likes a Turkish massage when it's hot.
The single Murder 101 and your album Never Say Die propelled you from Newcastle and gathered you interest from around the world….then seemingly you disappeared from the scene until 2012, when you appeared on Australia's Got Talent.  So fill us in what happened in those couple of years?
It was a huge response we got for both our EP Mission to Rock and album Never Say Die. We were so stoked. We sold a bunch of albums internationally via itunes and CD hard copies. We got a lot of media coverage, which was also really cool, as well as a ton of film clip airplay with Murder 101.  We got interest from various labels. a few of which were based in Europe. So Jett made his way to Scandinavia to chase a chick…(what else) and follow up a deal we had in the works. As it is in many the rock story – the record deal fell through and Jett ended up living in a mountain village of 300 people in one of the Norwegian fjords (no bullshit) hanging with his Norgie girl.
It took over a year and a half, but as Jett was lining up his return to Oz, he got a phone call from an Australia's Got Talent producer asking if he wanted to perform on the show… great comeback gig opportunity. A couple of quick phone calls to the boys and Hansel was back in the rehearsal studio raring to rock out once again. Now we're doing some shows about the country and getting back into the studio with demoing happening now.
Life's rocking twists and bumps…
Speaking of Australia's Got Talent, how was that experience bringing glam rock, pyro and flaming guitars to national TV?  
The Australia's Got Talent (AGT) experience was surprisingly really cool for something that most of us consider not so hot right now. The crew were all about the rock show and we were definitely up for a bit of pyro action. So, when Grind asked for a flaming guitar head stock the pyro effects guys were all over it.  It was killer.  It's not everyday a non multi million dollar budget band gets to rock out with big show stage lighting, pyro and special effects on tap… plus the AGT producer chicks were all really hot. Danni Minogue and her personalities was also pretty smokin' up close and personal too.  So all in all a good experience and a great comeback gig story for us too.
Have you guys been working on new material for a new album/EP release in the near future?
We will be unleashing a couple of new songs at the Adelaide Glam Junkie Sleaze Ball gig. We're totally pumped or it. Jett got inspired by Danni's pair of personalities, so he's got at least two big new tunes out of the AGT gig. Jett's actually been writing quite a lot and we will be heading back into the studio in what's been touted as the Chinese year of the Hansel – 2013.  So, get prepared for some heavy hitting glamtastic metal!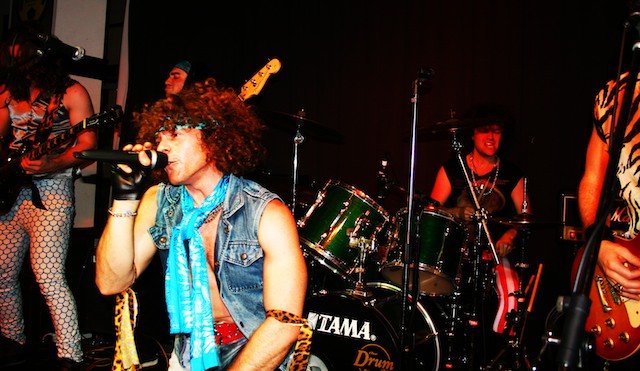 What or are some of the greatest influences on your music, in both a lyrical and musical sense?
Grind really likes Phil Collins, but I'm not sure how that inspires his shredding guitar solos?  All of us have pretty broad tastes in music.  Most of us are pretty well into old school Van Halen, Motley Crue and Iron Maiden. Jett loves Guns N Roses, Appetite For Destruction, Bon Jovi's Slippery When Wet and The Darkness Permission to Land albums. Snake is well into Kiss And TJ still thinks he's playing in a Pennywise covers band. Ezi Fingers digs a bit of Barry White to get down to with the ladies.  Because in reality we listen to a pretty broad range of music from metal to punk to reggae and hard rock our sound is influenced and somewhat modernized as compared with the glam metal that was made back in the good old days.
Here's one of those "hypothetical" type questions, that one day may or may not come true…if you had the opportunity to play your music to one of your greatest influences, either alive or dead, who would it be and why?
I reckon most of us in the band would like to play with… uh to Megan Fox. We love hot chicks.  Seriously, I think most of us would like to play to someone like Eddie Van Halen, because he influenced the rock we love so much and he is a legendary shredder.  Grind would also like to play to Ghandi,
If you were a person in the crowd at one of your gigs, what five words would you walk away using to describe the performance you just witnessed?
a) "Why did Sandilands hate that?"
b) 'Wow I wanna fuck them'
c) 'Rocking, split kickin', metal, motherfuckers'
Can you remember the life defining sight, sound, touch and/or smell whilst growing up that made you think being a "rock star" was the path you wanted to tread?
Realizing that chicks love dudes in bands was a moment that influenced most of us.  The film clip to Van Halen's 'Hot For Teacher' made me (Jett) want to be a rock star so that I could have a really hot school teacher dance around in a bikini in my classroom.
For the benefit of those reading this in galaxies far, far, away, how would you describe the current music scene in Newcastle/Australia and Hansel's place within it?
I'm gonna quote Hansel on this one – "Where the cars are fast, but the girls are faster and the night explodes like a firecracker, you get everything you need here in Rock City" (the night explodes part is a metaphor for having sex).
With 2012 well over half way through, here's a chance to gaze into your crystal ball.  By the end of 2012, Hansel will have:
1. Bigger hair
2. Tighter pants
3. A new album written and ready to record
Essential Information
From: Newcastle, Australia
Band members: Jett Jones – Lead singer, Grind – Lead guitarist, Snake – Drums, Thruster –  Rhythm Guitar, Ezi Fingers – Bass
For fans of: Those who like the FUN in hard rock!
Website: www.hanselsohotrightnow.com