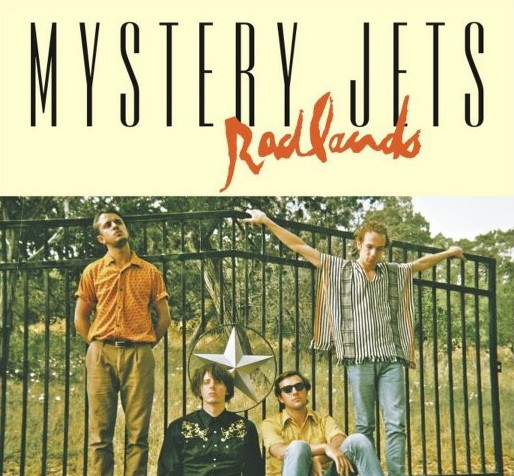 UK indie popsters Mystery Jets are set to return to Australia in a couple of weeks for what will be now their third visit.  Whilst they may have been here before, this will be the first time they've played the Fat As Butter Festival, not to mention had the opportunity to play a bunch of songs off their latest album, Radlands.  With the concept album of Radlands being another musical progression for the band, there will also be a couple more seats occupied on the plane over here this time around with the band lineup now expanding to incorporate additional elements such as pedal steel into their lush live pop soundscapes.
Along with the appearance at Fat As Butter Festival in Newscastle, the band are also playing a bunch of headline dates on the East Coast, presented by Chugg Entertainment.  We spoke with William Rees about the bands return to Australia as well as probe him about Radlands…
Hey Will thanks for taking the time to chat today!  Coming up in September you will touring Australia which will be your 3rd time out here won't it? What are you looking forward to about coming back?
Good weather, good food, friendly people and just the whole adventure of being in Australia playing gigs.  I think we've always had a great audience in Australia and people seem to like us a lot and I'm looking forward to seeing that warmth and experiencing that again.  It's cool this will be our third time over there but increasing amounts of people seem to like us and we like them, so it will be a lot of fun.
You've now got four albums to choose from as far as your setlist goes and a recent album in Radlands, what can we expect to hear out here in Australia?
I think we're going to very much be playing the songs we've been learning to play over the last few months.  The new album came out in March and since then we've been trying to get as many of the new songs into the set as possible and perfect them as well as possible.  So what you'll get to hear is a band right in the middle of its Radlands phase, so there'll be a bunch of new songs in the set and a handful of older songs updated and given the Radlands makeover, such as using things like pedal steel.
Speaking of new tracks and Radlands, how have you found those new songs settling into your setlists?
It was actually quite hard as a lot of the older songs didn't really fit that well in amongst the Radlands material, but then there's a bunch that fit really well and almost as though they could fit on Radlands.   But there's about 5 or 6 tunes that completely work with the new stuff and there the ones well concentrate on playing.  The other ones that don't work too well, they feel too different and now feels like us in a different guise.  It just doesn't make sense to play songs such as After Dark for example, so we are working within a particular palette we won't be too all over the place.
The transition to a 6 piece, how has that settled as far as the live performances?
It's been really great.  It started as we needed to get another bass player because Kai left and we also felt we needed to get a pedal steel guy because there's so much of that on the new album that it would be stupid not to bring that element into the live performance.  We had no choice really but to go and find some people to join the ranks.  They're great people and we are all good friends and we get along like a house on fire, so it's been pretty easy.  There haven't been any real hiccups in a musical or personal sense and I know that lineup changes and thinks like that which can happen to bands along the way, they can be really difficult and even split bands up, but in our case its all been great.
If you look back to the bands very beginnings, with the musical progression of the band, have you noticed any major changes in your fanbase?
At the very start, our first record attracted a very mixed audience.  There were older men and older women and it attracted a very mixed audience, even young kids as well. With our second record it was almost like overnight our audience became younger, mostly between the ages of 12 to 20. It was almost in a way freaky looking out into the audience and seeing nothing but young girls.  The third album, it was again younger girls, but with a few more boyfriends thrown in.  Now it's back to a really mixed crowd again.  That's where we really want to be at, we're a little older now, so it's nice not to be playing to such a younger crowd and now have one that's a little more discerning.
You relocated and recorded the album in Austin, Texas.  Whilst this was obviously a specific intention – did you actually jump on the plane with some songs already written/ideas…. or is Radlands pretty much entirely the product of being in Austin?
We had a handful of ideas and between us we had about 20 demos, which were largely unfinished songs.  The idea was to go to Austin and finish those and write a bunch of new stuff as well and really just see what happened and soak up the environment and put it into the music.
Thematically, do you consider Radlands to be a concept album?
Yes it is a concept album, when you look at it in a traditional sense.  I think most albums tend to be a concept album because it's easier to make an album when there's a unifying idea.  Most albums out there, whilst maybe not overtly conceptual, actually have a concept.  But this is definitely a concept record in the traditional sense, there's a narrative that runs right through the album and each song plays a part in piecing together that narrative.  There's a character Emerson Lonestar who's the mouthpiece for the album.  So it's a concept record in the way that say Genesis would do a concept record.
When you think back to your time in Austin working on the album – what's your most immediate memory?
There would be a time every day, I think it would be around 4pm in the afternoon, a family of deer would walk through our back garden and that was always quite a magical time.  We'd all go and sit on the porch and have something to eat or drink and this family of deer would just calmly walk through the garden and then just stop and look at us.  They'd pause for a moment and we'd look back at them…then they would carry on again.  That was always a really magical time as it was like nature and man coming together and sharing something and then going off and doing what they both needed to get on and do.  That's something I'll never forget about making that album.
2012 has been very quickly flying by, by the time you get back from Australia it will be October – what's on for the rest of the year for you guys?
We've got a UK tour coming up, with a headline show at the Royal Festival Hall in London. That's going to be kind of a Radlands finale for us.  We will be making a DVD of the tour, which will be coming out next year, and we've also got the second and third part of the comic that came out with Radlands.  So that's all really exciting for us and a way of tying up all the lose ends of Radlands and looking to the future and working out what the new direction will be!
Essential Information
From: London, UK
Band members: Kapil Trivedi, William Rees , Blaine Harrison, Henry Harrison, Peter Cochrane, Matt Park
Website: www.mysteryjets.com
Latest release: Radlands (30 April 2012)
Tour dates:
Thu 20th Capitol, Perth, WA
WITH VOLTAIRE TWINS
www.oztix.com.au
Sat 22nd Fat As Butter Festival, Newcastle, NSW
www.fatasbutter.com.au
Sun 23rd Metro Theatre, Sydney, NSW
WITH TOUCAN
www.ticketek.com.au 132 849 www.metrotheatre.com.au
Tue 25th The Hi Fi, Brisbane, QLD
WITH YOUNG MEN DEAD
www.thehifi.com.au
Wed 26th The Corner Hotel, Melbourne, VIC
WITH NORTH EAST PARTY HOUSE
www.cornerhotel.com 03 9427 9198
www.mysteryjets.com
www.facebook.com/mysteryjets
https://twitter.com/mysteryjets
www.XIIITouring.com
www.twitter.com/XIII_Touring
www.chuggentertainment.com