Official Bio: "Tommy Justice is an English musician, singer and songwriter, playing hard rock with a classic metal edge.  Tommy is the former singer and guitarist of hard rock band Ruff Justice and also former guitarist and singer of Hard rock band PsychoHero.  After 4 years with Ruff Justice and winning 1st place in Hertford's battle of the bands in 2006, Tommy decided to end Ruff Justice in late 2008 to join Stevenage based hard rock band PsychoHero.
Tommy has now gone onto a solo venture, putting together a band, which sees the reunion of Tommy working with original Ruff Justice Bass player Richie Scott.  Tommy has released his debut album Setting Fire To History' produced by John K (Biomechanical) with the singles Love You To Death and Every Inch The Rockstar."
Check out our interview below with Tommy as we dig deeper to find out what makes him one of the best things you've never heard…
Let's start with the basics first, how would you describe what Tommy Justice is all about in a musical sense
First and foremost, entertainment!  I believe a crowd who have paid money to come to see you deserve a show.  My philosophy is very similar to the band KISS. I hate seeing bands up on stage wearing a jumper that their granny knitted for them last Christmas, playing a guitar with no charisma, looking like they're having as much fun as at a funeral… that's boring to me, I walk out of those gigs.  A gig should be more than just a gig, it should be a show, a spectacle, something special that lets the audience know that you're giving 110%.
You have released a full length album titled 'Setting Fire To History', so enlighten us, what's the background to the album title and what were some of the biggest influences on the album in both a musical and lyrical sense?
The album title came from a lyric in one of the songs (The Day They Stole The World).  During the making of the album we were all racking our brains trying to think of an album title that was punchy and sounded strong and we couldn't think of anything. I thought about 'self titling' it, but Tommy Justice by Tommy Justice didn't really do it for me… At the last minute my dad just came out with it, apparently he was listening to the album and had one of those 'brain wave' moments…
My biggest influence musically and lyrically is Guns N Roses, but the album has influences from all over the rock/metal genre.  There are parts that sound like early Iron Maiden meets Metallica in songs like Thrill Seeker and Take It All Away.  But then songs like Love You To Death have a real Alice Cooper meets KISS kinda twist.  But then again people probably wouldn't believe that my guitar influences include Martin Barre and Mark Knopfler.  I suppose the Slash/Jimmy Page influence jumps out in a more immediate way.

We've picked out a couple of our favourite songs from the album, now it's your turn to tell us a little bit about each song:
Every Inch  – Was written by song writing partner Rich 'Psycho' Baldwin. We were in a band together a few years ago called PsychoHero and that was the main song of the set. When the band ended and I went solo Rich suggested I put the song on my album insisting I was 'every inch the rockstar…' He's right, of course.

Open Ride  – Goes back to my first band Ruff Justice. We were rehearsing one night and the guitar riff just came from no-where. A true 'lightening-moment'. I knew right away that the song had real potential and it came together really quickly. There was no chopping it up and reworking parts, it wasn't that kind of song, it was finished almost as quickly as it started.
The Day They Stole The World – Is weird.  The song started in around 2007 and sat on the shelf for a few years.  Around 2010 I played the main riff to Rich and he was immediately inspired so we began knocking ideas around.  It became one of the more serious tracks on the album as it's all about 9/11 and how power can corrupt and consume people, and how others can push their 'idea of the ideal' on everyone else.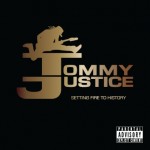 When you think back to the recording sessions for the album, what 3 things/memories most immediately come to mind?
Well the first thing that always comes to mind was the countless impressions of Arnold Schwarzenegger performed by my producer John-K. His impersonation of Arnie is so spot on you'd think he was in the room.
But in a weird way it helped because when you're trying to perform, especially vocals, and you're having a tough time nailing the perfect take, it gets very frustrating, and I'm quick to temper sometimes and whenever I'd get angry or frustrated John K would go into 'Arnie-mode' and shout "CMON DO IT! YOU CAN DO IT TOMMY JUSTICE! USE YOUR MUSCLE!". Worked every time.
Second memory is how we were lucky enough to get a perfect drum sound in a very short space of time on day 1 of recording. Some bands spend days getting 'the perfect snare' which turns into weeks getting 'the perfect kit'. So many factors come into play – the ambiance of the room, where you put the drum kit in the room, where you place the mics on the kit, bla bla bla… but we literally set the kit up, put the mics on and bam! We had a killer drum sound!
Third memory is when we came to recording the guitars. We tried out loads of amps. A Marshall JVM, a JCM, even a vintage Marshall JMP. But none of them worked. And I was so set in my ways of using Marshalls. But then my buddy Lee suggested trying out his Blackstar. After plugging into it and hitting a few chords I was totally floored. The sound that came out of this Blackstar totally blew my nuts off! And I've been using nothing but Blackstar amps ever since!
In terms of your song writing, what do you consider to be the most important ingredients that need to feature in a Tommy Justice song?
Catchy chorus, killer guitar solo and lots of harmonies! I love vocal and guitar harmonies, I get off on them! Very much like Def Leppard & Queen! Big harmonies that you can picture filling a stadium. When it comes to guitar and vocals I don't like the 'less is more' approach. That doesn't work for me. I love backing vocals that fill up the background and guitar solos that harmonise notes because they jump out more!
Here's one of those "hypothetical" type questions, that one day may or may not come true…if you had the opportunity to play your music to one of your greatest influences, either alive or dead, who would it be and why?
Alive – Axl Rose. The guy gets such a bad rep. Fair enough he's sometimes late on stage, but the man is a musical genius! I'd love to sit down and write music with that guy, and I'd love to know what he thinks of my music, it would certainly be an experience to have a conversation with that dude…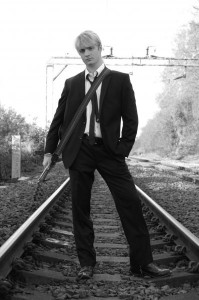 Gigs, gigs, gigs…here's your chance to tell the world about any upcoming shows you have on the horizon?
Well, I played a particularly memorable gig a few weeks ago in Harlow, Essex. It was somewhat of a home coming gig for me, and we were very well received – the crowd was awesome and the show was filmed for a live show that'll be uploaded on YouTube very shortly. After the show I was approached by the promoter for a festival in Stevenage, Hertfordshire. The show is on 26th August and is a charity event.
I guess the real news is being asked back to Weyfest for the second year running. Last year me and the boys played on the second stage but this year we've been asked to open the main stage! Other bands at the event are Asia, 10cc, Martin Barre (Jethro Tull), Steve Hackett among others…

If you were a person in the crowd at one of your gigs, what five words would you walk away using to describe the performance you just witnessed?
1. Exciting
2. Energetic
3. Loud
4. Musically…
5. …brilliant
For the benefit of those reading this in galaxies far, far, away, how would you describe the current music scene over there in London/UK and Tommy Justice's journey to find a place within it?
Best word to describe the London scene is 'eclectic'. There's an extraordinary mix and menu of music from all around the world, often mashed up together. Open the weekly listings magazine Time Out at any page and you'll be faced with choices as diverse as Jewish kletzmer, Indian bhangra, Brazilian samba, eastern European folk, traditional English folk, Spanish flamenco, jazz, blues, reggae, rock, pop, classical – you name it, London's got it!
But as for the UK generally, what actually gets played on the radio tends to be abysmal. Popular music is in a terrible state, largely thanks to those terrible TV talent shows. I'm not going to name and shame the 'artists' I dislike, but let's say that popular music needs a major kick up the arse! And Tommy Justice is the man to deliver that kick…!
Here's a chance to gaze into your crystal ball, over the next 12 months, Tommy Justice will have:
1.    Longer hair
2.    More tattoos
3.    A smaller overdraft thanks to the success of my album and the larger gigs that it will enable me to play.
Essential Information
From: London, UK
Sounds like: The love child of Mutt Lange, Desmond Child, Chris Laney and Kane Roberts…
Website: http://tommyjustice.com
Latest release: Setting Fire To History (2011, Powder Monkey Records)
Check out samples and purchase it right here on iTunes: http://itunes.apple.com/gb/album/setting-fire-to-history/id509581270