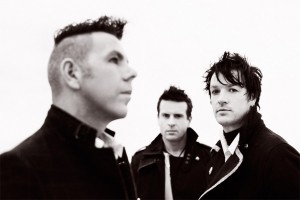 As a massive thank you to their loyal and dedicated Melbourne fan base 
THE LIVING END
 are stoked to announce the addition of 
TWO EXTRA MELBOURNE SHOW DATES 
to their upcoming 
RETROSPECTIVE TOUR
 in November and December this year.Due to the unprecedented demand to see the band perform live in their hometown, 
THE LIVING END
 will now play a special encore performance of their second album 
ROLL ON. 
The show is all set to take place at 
THE CORNER HOTEL
 on 
THURSDAY DECEMBER 20th
 after tickets to the first 'Roll On' show completely 
SOLD OUT
 within 24 hours of going on sale. Tickets for the extra Melbourne performance of Roll On are 
ON SALE NOW 
via The Corner Hotel and Oztix.In addition to this show 
THE LIVING END
 will also perform their 
FIRST UNDER 18s MELBOURNE SHOW IN OVER SIX YEARS!
 In answer to the vocal social media demands of the new generation of TLE devotees (many of which weren't even born when the first TLE album was released), the boys will take to the stage to perform their debut album 'The Living End' at 
THE CORNER HOTEL
 for a 
DAYTIME SHOW 
(12:30pm – 4:30pm) on 
SATURDAY DECEMBER 22nd. 
Tickets for this show are also 
ON SALE NOW
 via The Corner Hotel and Oztix.
There will be absolutely no more additional shows added to THE RETROSPECTIVE TOUR, so punters are warned to grab their tickets now so as not to be disappointed. With the additional two shows this now brings the total run of TLE performances at The Corner Hotel in December to 11 and the total shows on THE RETROSPECTIVE TOURto 39, making this tour one of the longest tours ever attempted by the band.
With a little under two months until THE RETROSPECTIVE TOUR kicks off, the boys have hit the rehearsal studio in preparation for the massive feat of performing their 78 ALBUM TRACKS live in full for the very first time.
**Limited tickets for The Retrospective Tour are ON SALE NOW! Full tour dates and ticketing information can be found below**
THE LIVING END
THE RETROSPECTIVE TOUR
Seven shows in a row / One album in full per night
TICKETS ON SALE NOW!
Thu Nov 01 – State of Emergency
Fri Nov 02 – Modern Artillery –LIMITED TICKETS AVAILABLE
Sat Nov 03 – The Ending is Just the Beginning Repeating
Sun Nov 04 – Roll On – LIMITED TICKETS AVAILABLE
Mon Nov 05 – The Living End – SOLD OUT
Tue Nov 06 – The Living End
Wed Nov 07 – White Noise
THE GOV – ADELAIDE SA 
Sun Nov 11 – Roll On
Mon Nov 12 – The Living End – LIMITED TICKETS AVAILABLE
Tue Nov 13 – The Living End
Wed Nov 14 – White Noise
Thu Nov 15 – State of Emergency
Fri Nov 16 – Modern Artillery – LIMITED TICKETS AVAILABLE
Sat Nov 17 – The Ending is Just the Beginning Repeating
THE HI FI – SYDNEY NSW 
Wed Nov 21 – White Noise
Thu Nov 22 – State of Emergency
Fri Nov 23 – Modern Artillery – LIMITED TICKETS AVAILABLE
Sat Nov 24 – The Ending is Just the Beginning Repeating
Sun Nov 25 – Roll On
Mon Nov 26 – The Living End – LIMITED TICKETS AVAILABLE
Tue Nov 27 – The Living End – LIMITED TICKETS AVAILABLE
THE ZOO – BRISBANE QLD
Sat Dec 01 – The Ending is Just the Beginning Repeating
Sun Dec 02 – Roll On – LIMITED TICKETS AVAILABLE
Mon Dec 03 – The Living End – SOLD OUT
Tue Dec 04 – The Living End – SOLD OUT
Wed Dec 05 – White Noise
Thu Dec 06 – State of Emergency
Fri Dec 07 – Modern Artillery
THE CORNER HOTEL, MELBOURNE VIC
Tue Dec 11 – The Living End – SOLD OUT
Wed Dec 12 – White Noise – SOLD OUT
Thu Dec 13 – State of Emergency – SOLD OUT
Fri Dec 14 – Modern Artillery –SOLD OUT
Sat Dec 15 – The Ending is Just the Beginning Repeating – SOLD OUT
Sun Dec 16 – Roll On – SOLD OUT
Mon Dec 17 – The Living End – SOLD OUT
Thu Dec 20 – Roll On – ADDITIONAL SHOW
Fri Dec 21 – The Living End –  SOLD OUT
Sat Dec 22 – The Living End – U18 DAYTIME SHOW 
Sat Dec 22 – The Living End – SOLD OUT