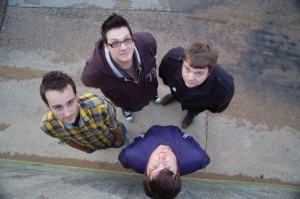 From Bio: The Finest Hour are a 4 piece band based in Cleethorpes/Grimsby area of Lincolnshire, England. Drawing influence from Indie, Punk, Ska and Folk music, the band have toured extensively throughout the UK, covering The North and Midlands, London and Scotland taking in famous venues such as The Cavern Club in Liverpool, Half Moon in Putney, The Adelphi in Hull, Dry Bar in Manchester, Birmingham Barfly, Ginglik in Shepherds Bush to name a few.
The lads released two singles 'Battle Scars' and 'Move On' in 2010, and have just released 'Keep Your Chin Up Kid' on Kitchen Gig Records. They are currently working on their debut album. For reviews and other nice things people have said, visit www.thefinesthourmusic.com

We liked what we heard from these guys and made them worthy of one of our Best Things You've Never Heard… also, we like their sense of humour, check out their original bio after the interview…
Let's start with the basics, can you please give us the story of The Finest Hour, how you came together and what's the inspiration behind the band name?
Me and Kav were both solo acts playing open mic type gigs in Cleethorpes so we met through doing that. We ended up running a regular gig together and then started doing the odd tune as a duo, it all progressed gradually from there. After a few lineup changes, we met Craig and Luke through mutual friends. The band name is obviously taken from the famous Churchill speech, we wanted something that sums up our feelings towards what it is we're doing. We've set out to make some memories as well as some music, something we can look back on when we're older and say 'we had a great time doing that'. 
Can you now please introduce each other and give us a rock 'n' roll fact or myth about you both?
Paul Kavanagh, vocals and acoustic guitar. Is fluent in a language he invented himself and has vowed never to speak it whilst anyone else is within earshot.
Rob Bywater, vocals and electric guitar. Born at 11.14pm on a Wednesday night, with fully formed sideburns.
Luke Whotton, drums. Has a resting heart rate that is exactly the same tempo as 'Rhythm Is A Dancer' by Snap!
Craig Cox, bass guitar. Was once interviewed by police officers investigating the shooting of a Mr P. Mitchell from London, though no charges were brought against him.
If you had to give us your best door to door sales pitch to convince someone to listen to your forthcoming debut album 'These Are The Good Old Days' before they slam the door in your face, what do you say to them?
It's a varied bunch of our best work from the last two years complete with vocal harmonies in Northern accents, driving basslines, lively beats and big choruses to a backdrop of nightclubs, ex-girlfriends, money troubles and good friends.
I have to ask about the name of the album, 'These Are The Good Old Days' is this reference to anything specific or just a lovely way to reminisce?
I saw it once on a signpost outside a village shop and it made me smile. 'These' can't be the 'old' days in any case, and I always imagine it being said in a sarcastic way. Also, it's the kind of thing I've heard people in pubs talking about all the time, people looking back to the times when they were younger and saying how much better things were, when the truth is they probably weren't.
In terms of your song writing, what do you consider to be the most important ingredients that make up a song from The Finest Hour?
We're quite honest about the fact that we're not always looking to push boundaries and break new ground, we're just making music that we enjoy playing. That's not to say that we never do, but we're not afraid to keep a something that's been said or done before as long as its something that we feel is worth keeping. Writing wise it usually works one of two ways, either I will bring in a finished song for everyone to contribute to, or one of us will start with an idea and we'll move it on section by section. We don't have a set recipe for what our songs should contain, we try and treat each one individually.
Both lyrically and musically, what or who inspires/influences your music the most?
Writing wise I have a lot of influences, Billy Bragg, Frank Turner, Paul Weller to name a few. Sam Simmons of The Accord is a brilliant songwriter and makes me step up my game. Joe Solo from Scarborough has some fantastic songs and to see him live is inspiring. I could go on all day about my favourite songwriters.  
Your sound takes on a mix of indie, pop, rock, ska, punk and I'm sure a few other genres I've forgotten, yet it all works.  How did you manage to find the perfect blend of what became the sound for The Finest Hour?|
Lots of trial and error. We've written a lot of songs over the last few years to reach this point, some only ever made it as far as one gig, some never left the practice room. We're evolving with each new song, our next album will no doubt be different again.
I wanted to ask about your song 'Never Heard of Dylan' can you give us the story behind this one?  Surely this must be fictional as everyone knows who Bob Dylan is, right? ha ha
I thought so too! It is based on a couple of different people that I've blended into one character, but I did meet a girl who had not heard of Bob Dylan, though she did know some of his songs through cover versions she'd heard. 
For a bit of fun, say you get the chance to open for any artist in the world, who would they be and why?
Kav would kill me if I didn't say The Verve, he's a little bit in love with them. We went to see them live in Blackpool a while ago and they were amazing. We wouldn't really fit with their style though. Each of us would probably have a different answer though I think we'd pretty much agree on someone like Paul Weller, I doubt there'd be too much argument there. If he asked we'd say yes put it that way!
Lastly, here's a chance to gaze into a magic mirror.  In the next year, The Finest Hour will:
1. Play loads of gigs
2. Make our second album
3. Start making some money would be nice (though I'd like to point out these are in priority order)
Essential Information
From: Cleethorpes, UK
Sounds like: Ska / Folk / Pop
Band members: Paul Kavanagh – Vocals / Acoustic Guitar / Harmonica, Rob Byswater – Lead Guitar / Vocals, Craig Cox – Bass, Luke Whotton – Drums
Website: www.thefinesthourmusic.com
Original Bio:
The Finest Hour are a band of merry'uns who travel up and down this fair country plying their trade wherever people will let them. If you care to click on the music player (above) you can hear what this sounds like.
They've been doing this now since 2007 gaining more friends than enemies along the way and playing more shows than they can actually put a number to. It'd be a big number though. Bigger than 7. Much bigger.
Some highlights include support slots for signed acts such as Chris Helme and The Yards, Orphan Boy, Neville Staple, The Brightlights, The Lights, Mystery Jets, Zane Lowe, Twisted Wheel and Harijan.
Some higher lights include playing on an ice cream shop roof, terrifying Jimmy Carr, getting lost in Islington, having fans randomly turn up to gigs in far flung exotic places (like Oldham), getting lost in Leeds, playing an acoustic set to Austrailian and German people in a travel lodge room at 4am in Kings Cross, getting lost in Ulceby, Holtonstock 2007, Holtonstock 2008, Holtonstock 2009, getting lost in London, getting Lost series 1 on DVD (see what I did there?), having 'wanted' posters of their roadie up behind all the bars in Preston, having to convince police that it wasn't actually him who'd deserted the army and just someone who looked like him, I could go on.. …..so I will……. cramming 12 people into budget hotel rooms, making a man with a beard cry, being played on Chorley FM, laughing at a woman who fell over on a train, a lot, in fact I'm laughing now thinking about it, she was alright it just looked so funny, she fell cartoon style in the vestibule (that's a great word isn't it? 'vestibule') like she'd slipped on a banana skin. Where was I?
Some nice things people have said include:
"Powerful stuff"
Zane Lowe BBC Radio 1 DJ
"An anthem of the times!"
Little Red, Manchester Radio Online
"A band with a great future"
Non Stop Music
"Geezers with some real energy!"
Kav Sundhu (Ex Happy Mondays)
"Fucking epic!"
Stuart Fletcher (The Yards, The Seahorses,Happy Mondays)
"This Indie and Ska influenced band have a very interesting set-up with two front men, Kav and Rob, both offering vocals on the two tracks. It sounds different to anything that I've heard before and for 'Battle Scars' it really works"
Woho Music
"the raw energy of the E Street Band and even, dare I say it, The Jam" Leeds Music Scene
"Not to be missed"
Trackr Records
"Continue to impress at every gig…continue to craft fine songs…Guitarist and songwriter Rob Bywater could be the resort's answer to Billy Bragg and in Paul 'Kav' Kavanagh they have the archetypal frontman, backed by a superb rhythm section in drummer Luke Whotton and recently added bass player Craig Cox" –
Andy Edgeworth (Grimsby Telegraph)
"Knew how to work the crowd into uproar. They certainly have a new fan in me"
GX Magerzine
"Fucking good band! Handsome singer…"
Paul Kavanagh