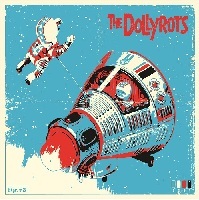 LA based pop-punk rockers The Dollyrots are back with a brand new video for"Hyperactive," the lead single of their upcoming self-titled album. The video is premiering now over at ARTISTdirect and The Dollyrots will be released Sept. 18th on Storefront Recordings.
Directed by independent filmmaker, author and KROQ DJ, Kurt St. Thomas, who teamed up for the first time with Special Effects pioneer James Renald, "Hyperactive"is a fun romp that shows just how much you can do with visual effects in today's world of digital media.
After a debut album on Lookout! Records (Eat My Heart Out) and two albums on Joan Jett's Blackheart Records (Because I'm Awesome, A Little Messed Up) The Dollyrots decided to go DIY for their new album and launched a wildly successful Kickstarter campaign that provided recording funds in exchange for locks of their hair and lots of other fun stuff. The result, The Dollyrots, is a mix of super-slick modern pop, classic three-chord punk rock, and a healthy dose of 80's new wave. All the sugary, catchy, and aggressive elements that define The Dollyrots remain, while producer John Fields' spontaneous and decisive recording style creates an urgency unheard since their first album.
In addition, The Dollyrots' music has earned them song placements, commercials, and acting stints in film & TV including Disney / Pixar's Brave, Hewlett-Packard, Kohls,CSI:NY, ABC Family's Greek, Ugly Betty, Vampire Diaries, The Price is Right, Easy A,Sisterhood of the Traveling Pants 2, Reaper, and Bring It On: Fight to the Finish, among others.
The Dollyrots will head to the UK in the fall to support Bowling For Soup, but you can catch them on their national US tour now with Prima Donna. Full dates are below:
# – with Prima Donna
9/6/12     Viper Room    West Hollywood, CA
9/19/12    The Riot Room    Kansas City, MO #
9/20/12    The Blue Fugue    Columbia, MO #
9/21/12    Bombay Bicycle Club    Clive, IA #
9/23/12    The Triple Rock Social Club    Minneapolis, MN #
9/24/12    The Crunchy Frog    Green Bay, WI #
9/25/12    Township    Chicago, IL #
9/26/12    The Crooked I    Erie, PA #
9/27/12    31st Street Pub    Pittsburgh, PA #
9/28/12    The Comet with Prima Donna    Cincinnati, OH #
9/29/12    Buzzbin    Canton, OH #
9/30/12    Fed Live    Harrisburg, PA #
10/1/12    Kung Fu Necktie    Philadelphia, PA #
10/2/12    Knitting Factory Brooklyn    Brooklyn, NY #
10/6/12    Chameleon    Pittsfield, MA
10/7/12    Roundout Lounge    Kingston, NY
The Dollyrots out 9/18 via Storefront Recordings.
"To sum up The Dollyrots' self-titled album: It is pure power-Pop-Rock excellence with a splash of Punk.  Most of the entire album's songs are rapid, fast-paced attacks on your senses, song after exhilarating song.  You're not sure what just happened, but you like it, and you want to hear it again." -Mars Bands