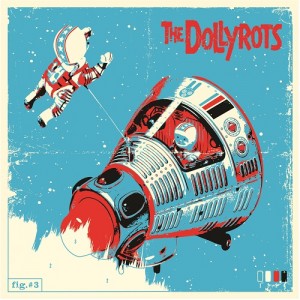 In 25 words of less: "I think The Dollyrots has just become my favourite "pop" album of 2012!"
I always like to give credit, where credit is due and when it comes to The Dollyrots, I have to thank Bowling For Soup for putting me onto The Dollyrots as a result of their mutual association over the years touring together and more recently, recording covers of each others songs (such as this months release 'One Big Happy' – unpaid community service announcement complete).  The snarly pop punk of Because I'm Awesome and My Best Friends Hot off their 2007 release was my first musical introduction quite a few years ago and I've been hooked on The Dollyrots ever since.  After releasing their past two albums on Joan Jett's Blackheart Records, this time around the duo of  Kelly Ogden and Luis Cabezas have gone totally DIY, funding the album via fan contributions Kickstarter style and the bottom line is that The Dollyrots have amped up their musical awesomeness in mighty style.
I really don't know where to start with writing this review – there's so much going on during this album, there's so much I could write about, but all I want to do is listen and clap my hands, rather than write this review, but how could I write if I'm clapping my hands?  I guess you could say this album makes me Hyperactive –yep there it is, the punchline.  First single off the album Hyperactive, offers no better example of what The Dollyrots are all about – some kind of animal sound opens the track, a wall of guitar crunch kicks in courtesy of Luis Cabezas, there's the part quirky and lotsa bouncy vocals from Kelly Ogden, a glorious pre-chorus, before the gigantic cheerleader chorus chants of "we are, we are, we are…." knock me off my feet, there's a guitar solo, a key change, big slammin' power chords, some "oh yeahs, oh yeahs", then there's more animal noises, a blast of power drums, acoustic guitar, more glorious cheerleader chants and a climactic ending…all of that in 2.33minutes!  Check out video below, why?, because it's awesome…
The Dollyrots have such an incredible knack of combining summery pop goodness with a distinct rock sound, a real punk attitude and song after song that sticks in your head like super glue.  Like seriously, try escaping contagious songs such Twist Me To The Left, Satellite, Time Will Stop or So Wrong It's Right.  They mix things up a little here and there with the lyrical angst and driving bass of F U Famous, the ultra summery No Doubt kinda vibe of South Of The Border, through to the more serious overtones of After 2012.  Because I'm Awesome also gets revisited, a song that has recently featured in the new Disney Pixar Trailer for Brave.  Producer John Fields who has literally worked with almost everyone lends his stellar production polish to the album .
However disjointed this review reads, that's because that's what this album does to me….  Look, all you need to know is that I think The Dollyrots has just become my favourite "pop" album of 2012!
Essential Information
From: Los Angeles, USA
For fans of:  Pop, punk, rock awesomeness!
Produced/mixed by: John Fields (Pink, All Time Low, Jimmy Eat World, Goo Goo Dolls, Lifehouse, Switchfoot)
Release date: 18 September 2012
Record label: Storefront Recordings
Website: www.thedollyrots.com
Track listing:
1. Starting Over
2. I Wanna Go
3. Hyperactive
4. Satellite
5. Twist Me to the Left
6. Time Will Stop
7. So Wrong It's Right
8. F U Famous
9. Pretty On the Outside
10. South of the Border
11. After 2012
12. Staring Over Again
13. Because I'm Awesome